A Monday visit to a local nursing home gave Blanchet Catholic School students a chance to practice the values of Saint Benedict: service, hospitality, moderation, prayer, respect for persons, and community.
The Salem school's Friends of Benedictine Club visited Providence Benedictine Nursing Center in Mt. Angel to do craft with residents.

The club was formed about 20 years ago, according to club advisor Chris Lieder, and was established by a student member who had family at the nursing center. Lieder has been the advisor for the past five years. 
The club goes out once or twice a month. They form a group in the living room with residents, but they also have splinter groups that visit with individual residents in their rooms who aren't as mobile. They have done life journaling projects with residents, and also simply spend time visiting.
The club members like to do crafts, as the craft leaves the resident with a tangible reminder of the visit and the crafting helps build camaraderie. The club has about a dozen members, and they include ninth through 12th grade students. 
"The kids have to get outside their comfort zone, but it's good for all involved," Lieder said. "The challenge of connecting two generations becomes easier once both parties realize that they really do have a lot in common. This has been our first time back after two years due to COVID, and we do try to come out at least twice a month regularly."
STORY TIP OR IDEA? Send an email to Salem Reporter's news team: [email protected]
JUST THE FACTS, FOR SALEM – We report on your community with care and depth, fairness and accuracy. Get local news that matters to you. Subscribe to Salem Reporter. Click I want to subscribe!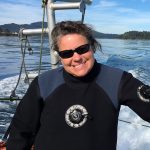 Laura Tesler has lived in Salem, Oregon for 20 years and is originally from Flint, MI. Laura has been an underwater photographer for 15 years, and is an avid scuba diver. Topside, she has been taking photographs since age 12, and currently works on assignment for the Salem Reporter, and full time purchasing land for fish and wildlife habitat in the Willamette Valley. Laura attended Oregon State University, and has traveled extensively all over the world and the United States.