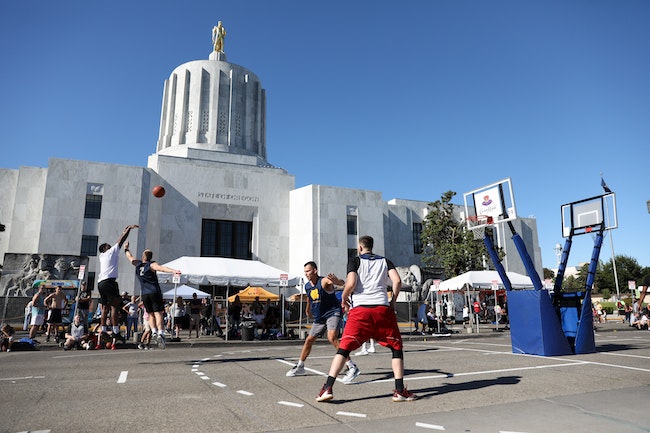 Salem Reporter is a web-based news organization focused exclusively on reporting about the Salem area. We're locally owned and managed, founded in 2018. Salem Reporter provides readers a mix of clear and compelling coverage of local government, insights into the people who hold power in the Salem community and daily news about everything from community events to students making a difference.
Our team of experienced journalists delves into local government, schools, business, nonprofits, and state government. We aim for clear reporting that shows why an issue matters, gives you the information you need during major events or disasters, and empowers you to get involved in your community. We are focused on always being accurate and fair in our reporting. We carry no opinion columns or editorials.
Reaching us
Phone: 503-575-1251
General inquiries: [email protected]
Mailing address: 72585 Middle Fork Lane, Bates OR 97817
Your news team
Les Zaitz, editor
[email protected]
O: 541-421-3089
Rachel Alexander, managing editor; education/nonprofits/city government
[email protected]
O: 503-575-1241
Rachel Alexander is Salem Reporter's managing editor. She joined Salem Reporter when it was founded in 2018 and covers city news, education, nonprofits and a little bit of everything else. She's been a journalist in Oregon and Washington for a decade. Outside of work, she's a skater and board member with Salem's Cherry City Roller Derby and can often be found with her nose buried in a book.
Ardeshir Tabrizian, public safety and housing/homelessness reporter
[email protected]
C: (503) 929-3053
Ardeshir Tabrizian has covered criminal justice and housing for Salem Reporter since September 2021. As an Oregon native, his award-winning watchdog journalism has traversed the state. He has done reporting for The Oregonian, Eugene Weekly and Malheur Enterprise.
Abbey McDonald, community news reporter
[email protected]
Abbey McDonald joined the Salem Reporter in 2022. She previously worked as the business reporter at The Astorian, where she covered labor issues, health care and social services. A University of Oregon grad, she has also reported for the Malheur Enterprise, The News-Review and Willamette Week.
Les Zaitz, editor
[email protected]
O: 541-421-3089
About our editor
Two-time Pulitzer finalist Les Zaitz is an Oregon native. He started his professional journalism career right out of high school, hired in 1973 as a general assignment reporter for the Salem Statesman Journal. He continued writing as a staff reporter and correspondent while attending the University of Oregon, working for the Springfield News, the Oregon Journal, UPI, and the New York Times.
1976-1987 ­– Reporter for The Oregonian, handling various beats before taking an assignment in 1982 to the newspaper's investigative team.
1987-2000 ­– owner and publisher of the weekly Keizertimes newspaper in Oregon. His family still owns the newspaper, which consistently wins journalism awards.
2000-2015 – senior investigative reporter, investigations editor
2016-present ­– publisher and editor, Malheur Enterprise in Vale, Oregon.
2018-present – Editor and CEO of Salem Reporter, a digital news source in Salem, Oregon.
2021-2022 ­– Founding editor, Oregon Capital Chronicle, the Oregon affiliate of States Newsroom.
His family bought the Malheur Enterprise in 2015 to rescue it from closure and Zaitz assumed the duties of publisher after retiring in October 2016. The newspaper since then won state, regional and national journalism awards. The newspaper has had partnerships with ProPublica, Report for America and the Solutions Journalism Network to deepen the Enterprise's reporting in its rural community. The newspaper also hosts interns, sponsored in part by the University of Oregon and the International Society of Weekly Newspaper Editors.
Les has won state, regional and national journalism awards for more than 40 years. In 2007, he was part of a team that won the prestigious national George Polk Award and was a finalist for the Pulitzer. He was a finalist for the Pulitzer in 2014. He is a five-time solo winner of Oregon's Bruce Baer Award, the state's top award for investigative reporting. The Oregon Newspaper Publishers Association in 2016 awarded him its highest honor for career achievement – an award not given since 2010. In 2020, he was named an SPJ Fellow, the highest honor of the national Society of Professional Journalists.