After pulling the glowing, molten glob of glass from the 2,000 degree furnace, Art Obendorf sat down to turn it into a small treasure.
Obendorf was crafting a glass bird, something he had already done over 120 times in recent months. He and his wife Gail, owners of Glass Art Oregon, supplied the art for a new community project to distribute them throughout Salem parks for anyone to find and take home for free.

His concentration was evident even through two pairs of glasses — one for sight, the other over those for protection — as he rolled the iron rod holding the glass. He picked up a metal tool and pinched a flat piece out near the end.
"There's the tail," he said, barely audible over the hum of two furnaces and a large cooling fan that occasionally blew his long beard up into his face.
Another pinch, quicker, as the glass began to cool from glowing orange to a calm sea green. There was the beak.
After some finishing touches, Obendorf walked to the back of his workshop, which is also his home's garage, and gave the end of the rod a decisive whack with the wood part of a handheld broom. The glass bird plopped face down into a tub of sand, where he gave its underside a "GAO" seal before putting it in a 900 degree annealer — an insulated metal container with shelves — to cool down overnight.
Pamela Garland, watching from outside the garage, cheered. For her, the glass birds are the fruition of a hope to start something that would bring the Salem community together. It's a dream Obendorf was happy to lend his craft to make possible.
Starting June 1, his creations will be "hidden in plain sight" throughout Salem parks, distributed in one park throughout the month through September, for community members to find.
Garland's life revolves around community building. Her three step-children play baseball, football and volleyball, and as an American Sign-Language interpreter she is involved in the local Deaf community.
"I'm around a lot of people all the time, and just wanted to bring everyone, to give them a place to be. And to possibly create more connections with each other and just really kind of get that camaraderie, that kinship and really that sense of community back," she said.
She approached the Salem Leadership Foundation, knowing she wanted to do something that got people outside into Salem's parks, and would be accessible for everyone.
The foundation connected her with Glass Art Oregon. The business has done prior community projects, and teaches classes. Obendorf was pondering something similar to Lincoln City's annual Finders Keepers Glass Floats hunt that could get Salemites out and about.
He said he loves the foundation, so his first reaction was "yeah, no problem," and his second was that he knew he wanted to make birds. 
There was no particular inspiration for doing birds rather than orbs, Obendorf said, beyond wanting something different and with character.
"They're so cute," he said.
Salem Leadership Foundation funded the project with $1,620, split between its four Salem leadership teams who selected the parks, Garland said.
"We're happy to do it. It's a blast," Obendorf said, pointing to the blazing furnace then laughing with Garland over the pun.

Starting next month, Garland and her family will be hiding the birds in the parks in plain sight. Accessibility for all is her main goal, and she said they won't be putting birds high up in trees or under bushes.
The birds won't be put out all at once, either. Each of the four parks will see 30 birds during its designated month, and Garland will distribute random amounts at a time, such as two birds one day and five the next week.
The first park, be Weathers Street Park in east Salem from June 1 to 30, at 4188 Weathers St. N.E.
In July, they'll be hidden in Woodmansee Park, at 4629 Sunnyside Rd. S.E.
August's birds will be in Orchard Heights Park in west Salem, at 1165 Orchard Heights Rd. N.W.
In September, the birds will be at Northgate Park, at 3575 Fairhaven Ave. N.E.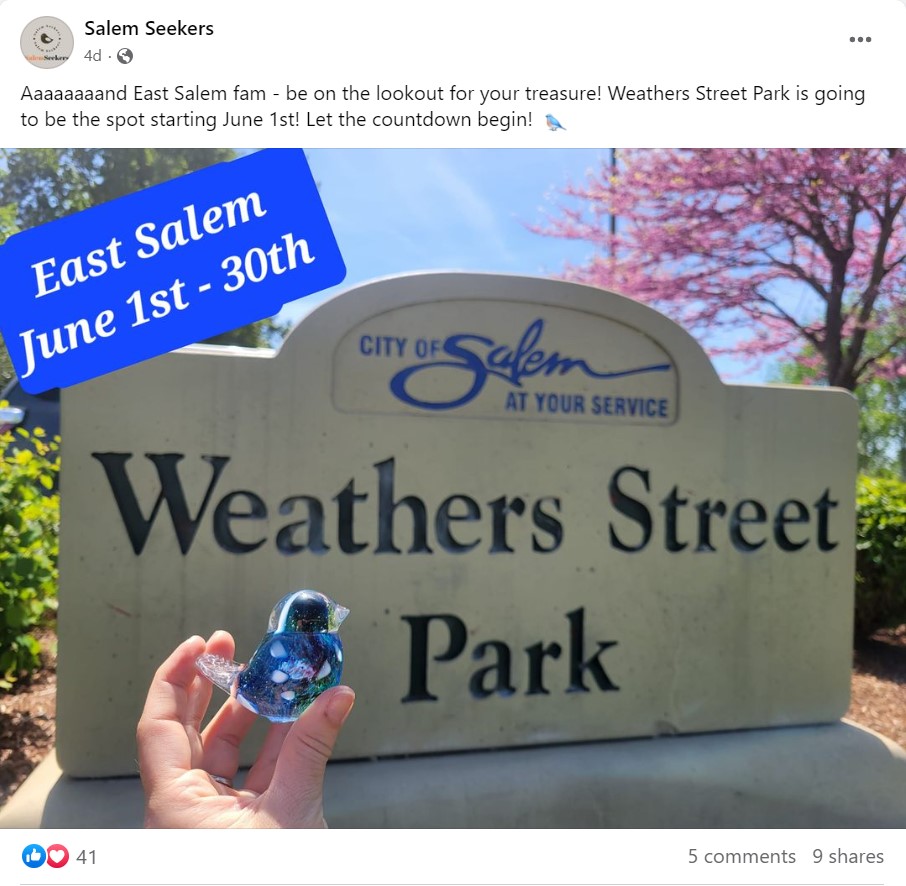 Each bird will have a tag tied to it with a QR code, and finders are encouraged to follow the link and share their stories.
"I'm just excited for people to find them," Obendorf said. He hopes people will cherish their handmade finds for years to come. "If you don't find a bird you still get out in a park."
He and Garland ask that people limit their search to one bird per household, to let as many people enjoy the project as possible.
Garland's Facebook group for the project, Salem Seekers, has grown in the past month with more than 200 followers. Oberland, who sells his creations at the Saturday Market, said people recognized the birds this past weekend after seeing the project online.
With just over a week to go, Garland is looking forward to helping people create memories in Salem's parks.
She hopes it will get neighbors talking with one another during their searches, and build a sense of community.
"We all want 'the village,' right? We have to do something to create the village," she said. 

Contact reporter Abbey McDonald: [email protected] or 503-704-0355.
SUBSCRIBE TO GET SALEM NEWS – We report on your community with care and depth, fairness and accuracy. Get local news that matters to you. Subscribe today to get our daily newsletters and more. Click I want to subscribe!
Abbey McDonald joined the Salem Reporter in 2022. She previously worked as the business reporter at The Astorian, where she covered labor issues, health care and social services. A University of Oregon grad, she has also reported for the Malheur Enterprise, The News-Review and Willamette Week.