June is just a few weeks away, and with it comes the start of Salem's outdoor event season.
Summer festivals, concerts and athletic events will take over the city's biggest parks and streets, with something major happening nearly every weekend until Labor Day.
Here's a guide to the fun.
First Friday Concerts – June 2, July 7, August 4
Riverfront Park, 8 p.m., free
These city-sponsored concerts are held on the first Friday of every month, following the Downtown Art Walk. All shows are at the Gerry Frank | Salem Rotary Amphitheater.
Performers are River City Rock Star Academy on June 2, Don Edwards on July 7 and Jake & The Hill People August 4
Public Works Day – Thursday, June 15
Riverfront Park, 11 a.m. – 2 p.m., free
Ever wanted to explore a big truck or see a drone fly up close? The day-long, family-friendly celebration of machinery will also have games and hot dogs.
Make Music Day – Wednesday, June 21
Locations around Salem, all day event, free
The worldwide celebration invites amateur and professional musicians to perform. Salem's event typically features multiple stages downtown, in Riverfront Park and at Willamette Heritage Center, as well as musicians on street corners and in bars and restaurants. Check the Make Music Day Salem website for more information and a schedule.
World Beat Festival – June 23-25
Riverfront Park, tickets $10-15, children free
Salem's multicultural extravaganza is back with a focus on the Philippines. Dragon boat races, a beer garden and a variety of food selections will return along with dance and music performances and arts and crafts and vendors. See more on the World Beat website.
Movies in the Park – June 30; July 14, 28; August 11, 25
Riverfront Park – Gerry Frank Amphitheater, free
A family-friendly movie series returns to the park this summer, with a lineup including Wakanda Forever, Puss in Boots: The Last Wish, and The Bad Guys. All movies are captioned and start at dusk. View the schedule and more here.
Fourth of July Spectacular – Tuesday, July 4
Oregon State Fairgrounds, 3-11 p.m., free admission but parking $10/car
On hiatus since 2019, the city's fireworks show returns in 2023 in a new location, moved from Riverfront Park to avoid disturbing nesting eagles.
The event will include a carnival with rides and food, and a concert performed by Alabama with special guest Jessie Leigh. Tickets for the concert are sold separately.
Fireworks begin at 10 p.m., and families can bring chairs and blankets to set up on the fairgrounds and view the show. More information is available on the city website.
Salem Art Fair and Festival – July 21-23
Bush's Pasture Park, admission free-$20
Colorful art will overrun the park for the weekend as artists working in every medium set up shop in the Salem Art Association's annual event. The event also features live performances, hands-on activities for kids, food vendors and more. Volunteers are also needed. Visit the Art Fair website for more information.
MIG Fest – Saturday, July 22
Minto Island Growers, starting at 2 p.m., tickets $20
The annual punk and ska music festival returns to one of Salem's best-known organic farms. Five Oregon and California bands will take the stage for the festival's third year. More information and lineup available on the MIG Fest website.
Ironman – Sunday, July 23
Riverfront Park
The triathlon drawing athletes from around the world returns to Salem, with the course including a swim in the Willamette. Riverfront Park serves as the hub and finish line for the race.
Hoopla – July 25-30
Locations near Oregon Capitol, free for spectators
The week-long 3×3 basketball tournament draws crowds to Salem as people of all ages get their hoops on. Team registration is currently open. Find more information on the tournament website.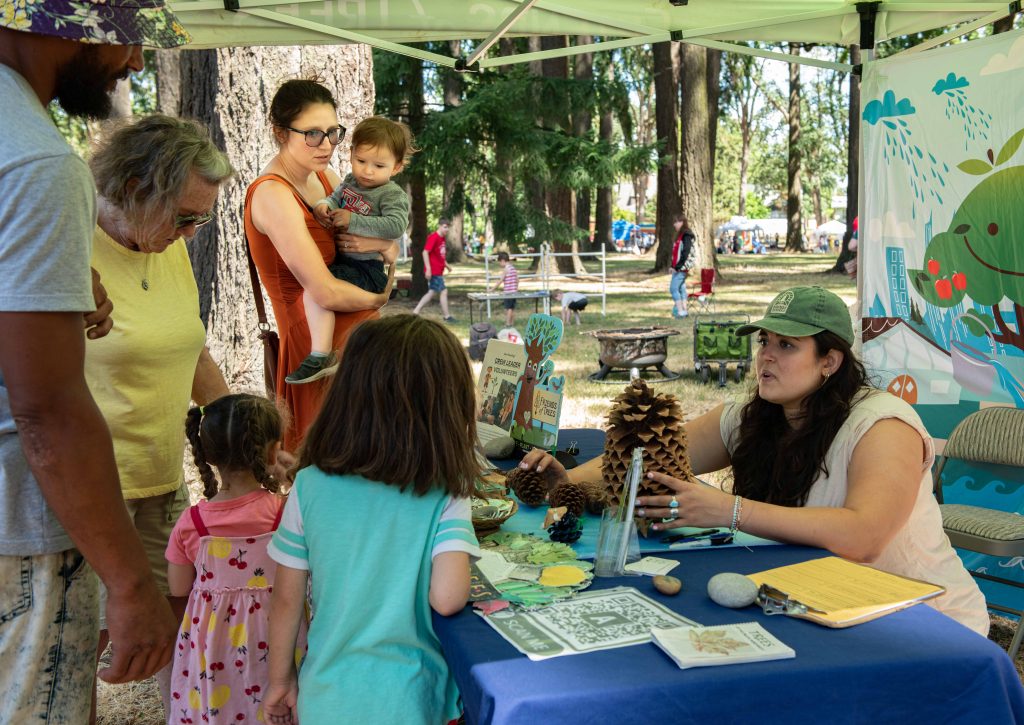 Family Fest – Saturday, August 5
Riverfront Park, 10 a.m.-2 p.m., free
The health and resource fair put on by Family Building Blocks draws thousands of kids to the park for a day of fun. More information is on the Family Building Blocks website.
Englewood Forest Festival – Saturday, August 12
Englewood Park, 10 a.m.-4 p.m., admission free
The annual neighborhood event celebrates one of Salem's hidden gems, historic Englewood Park. The event includes activities, live performances, artists and more. Stay up to date on the festival website.
Pride in the Park – Saturday, August 26
Riverfront Park, free
Capital Pride's annual celebration of the LGBTQ community is typically held in August to avoid conflicts with June Pride events in larger cities. The festival will feature vendors and live drag performances. More information is on the Capital Pride website.
Punx in the Park – Saturday, September 16
Marion Square Park, free
This all-ages punk festival and youth resource fair is back for 2023. Listen to six live bands, check out skate demos and learn about youth-focused resources in the Salem area. The event will also include a free clothing closet. Learn more on the Punx in the Park Facebook page.
Viva Salem – Saturday, September 23
Riverfront Park, 12-6 p.m., free
The city of Salem is putting on this Hispanic Heritage Festival to coincide with the month of the same name. Performers haven't been announced yet, and volunteers and sponsors are sought. Learn more on the city website.
Contact reporter Rachel Alexander: [email protected] or 503-575-1241.
JUST THE FACTS, FOR SALEM – We report on your community with care and depth, fairness and accuracy. Get local news that matters to you. Subscribe to Salem Reporter. Click I want to subscribe!
Rachel Alexander is Salem Reporter's managing editor. She joined Salem Reporter when it was founded in 2018 and covers city news, education, nonprofits and a little bit of everything else. She's been a journalist in Oregon and Washington for a decade. Outside of work, she's a skater and board member with Salem's Cherry City Roller Derby and can often be found with her nose buried in a book.