To wear a hat well, one must embody "hattitude."  
Know that every hat won't work with every person, that the height of your hat should be proportional to your body, and the width narrower than your shoulders. And never, ever, wear a hat darker than your shoes.

These were the rules laid out in "Crowns," a play presented by the Oregon Black Pioneers in 2007, directed by and starring Willie Richardson, who wore many hats in her lifetime.
The "Hattitude" event screened a selection of clips from the play on Thursday, Feb. 2, as part of an evening honoring the late Richardson and the community of people with hattitude in Salem.
The exhibition, which Richardson planned for months with the Salem Art Association, would be her last public message to the Salem community after a lifetime of service.
Though Richardson was there to open the exhibit on Jan. 6, she died on Wednesday, Jan. 25, a week before Thursday's special presentation. She was 74 years old.
Originally from South Carolina, Richardson moved to Salem in 1978 and quickly got involved in the community, according to her obituary.
In 1987, she became the first and only Black person elected to serve on the Salem-Keizer School Board where she advocated for students of color.
Richardson was one of the first members of the Oregon Black Pioneers, founded in 1993, and served as its president for two decades. The group of volunteers researches, documents and shares the history of Black Oregonians.
She opened Willie's Fashion Hats & More on Southeast Ferry Street in the early 1990s, and later renamed it A Time for Elegance before she closed it in 2010. Event attendees credited her with bringing the southern style of church hats to the Salem community.
Richardson reportedly owned around 300 hats, which she wore regularly, with elaborate tulle and shiny fabrics in royal blues, yellows and pinks.
A selection of them are on display through Feb. 26 at the Salem Art Association's Bush Barn Art Center, 600 Mission St. S.E.
An ever-prepared planner, Richardson selected a group of loved ones to speak at Thursday's event, and called them beforehand to share her vision for the evening.
They shared their memories of Richardson to an audience of over 50 filling the room, talking about the significance of wearing the right hat.
Among them was Cynthia Richardson, no relation, the director of the school district's office of Student Equity, Access and Advancement.
"I'm from Texas originally, I arrived here 25 years ago, and I thought 'oh, you know, I won't be wearing hats to church. I'll just be hatless, suitless,'" she said, and the crowd laughed. "No, not with Mama WIllie."
Before the event, Cynthia Richardson told Salem Reporter that her mentor had welcomed her to Salem when she arrived over two decades ago, and helped her navigate parenting within the majority white school district.
She also showed her where she could get her hair done or eat a comfort meal, things that were much easier to find in the South.
"This is the way Salem is, and it is different," she said. "You'd go for weeks at a time and not see another African American person, so getting accustomed to that."
During her speech, she said the tradition of Black southern women wearing hats to church stems from a Bible passage in Corinthians referring to women wearing head coverings during prayer. 
While the practice isn't limited to Black American churches, the particular use of elaborate hats in the community can be traced to a rich history of adornment in African cultures, she said.
Hats have become a symbol of fashion, dignity and self-expression during church.
"It is not just putting it on your head, and being done. It's about knowing when it needs to be tilted," Cynthia Richardson said, pausing to adjust the dark brown hat matching a monochrome ensemble with rhinestones. "…for the stylish African American woman, her hat represents her crown. A symbol that for generations has embodied the pride, beauty and soul of cherished custom and completes her well-manicured dress ensemble in the elegance of Sunday worship."
She said she envisioned Willie Richardson walking around heaven, making sure everyone was properly dressed for the occasion.
"Heaven hadn't seen hats yet, okay?" she said, laughing. "So it's with joy and pride that we display an attitude of hattitude, that we praise the lord with grace and style, for all that she's given each and every one of us."


Rev. Dr. Marilyn Williams, in a dazzling silver hat complimenting a white, black and red ensemble, spoke next. When she moved to Salem from Chicago, she was disappointed at the lack of church hats. Then, she found Richardson's shop.
"I'm like, 'praise The Lord. I can go somewhere and shop 'till I drop," Williams said during her speech. "Thanks to Miss Willie, she has continued to encourage me, no matter what, to 'wear your hat.' And I'm saying to all women, when you put a hat on, and put your suit on… you will feel that you're on top of the world."
Her husband, former Salem-Keizer NAACP president Benny Williams, also spoke. He wore a mustard yellow hat and a matching tie with a slash of blue. He said Richardson was the only person who had more hats than his wife, and someone committed to social issues in the community.
"She didn't let anything deter her, and we should all be of the same nature, being welcoming and inclusive. And understanding that this is one big community and she was a big part of it," he said.
Lora LaMon, a longtime customer and friend of Richardson, also spoke. She said she'd miss her steadfastness, and the way she could size up people and find the right hat for them with a single look. 
Gwen Carr, a leader at Oregon Black Pioneers, wore a hat with a tiger-stripe ribbon. She brought down the house with a story about a trip to a Riverside, California, hat shop. Richardson bought three or four hats, and Carr had asked how they would all fit on the plane.
"She said 'oh, I'm going to ship them… to your house.'" she said, where she could ease them into her wardrobe without her husband Thomas noticing. The Richardsons shared nearly 56 years of marriage.
Before the presentation, Carr told Salem Reporter that Richardson wanted the exhibit to celebrate hats, and people who loved hats. As her health worsened, the advocate knew that she would likely not be able to make it to the evening herself.
"She knew that we would take it forward," Carr said. "I know she told me, personally: 'Finish this no matter what happens.'"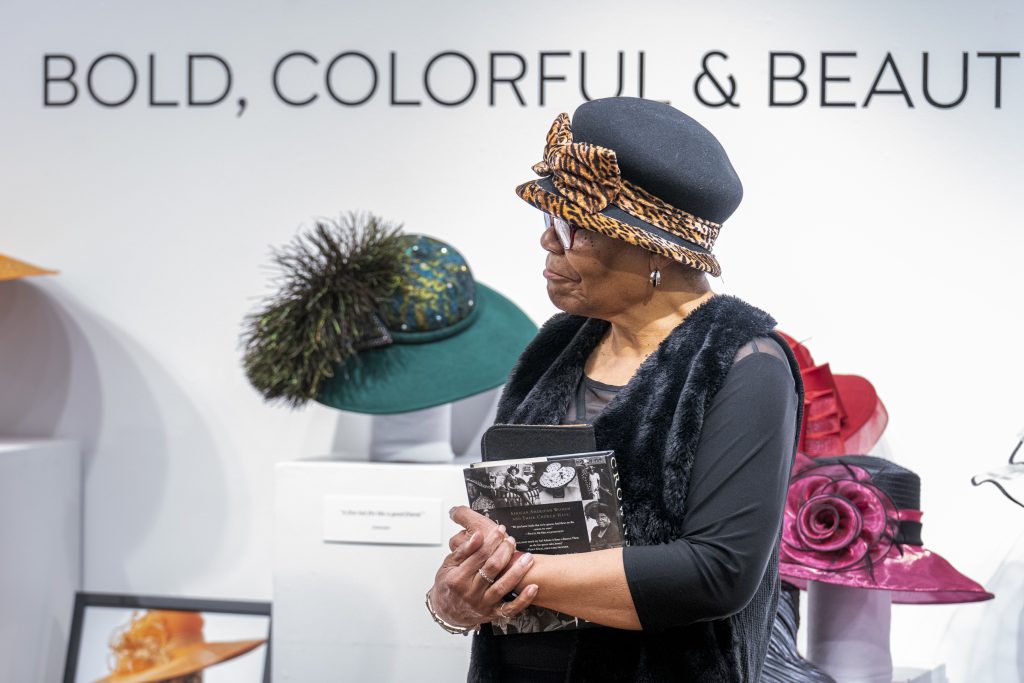 Shirley Richardson, one of Winnie's three children, told Salem Reporter that she thought the exhibit and the evening turned out "fabulous."
"I'm actually jealous because I can't wear a hat," she said, and laughed. Carr, overhearing, said that was untrue – and there is evidence on film in "Crowns" that Shirley Richardson can wear a hat well.
"I can't pull one of these off," she said, gesturing to the hats on display, "the way my mother could pull it off."
When the exhibit comes down at the end of the month, she'll see how they fit. In the meantime, she's excited the showing will share the significance of hats with the Salem community.
"It's overwhelming to know that she was able to touch all the lives that she's touched through hats, through community service – so it's really, really exciting to see the number of people that have poured out their love and their support."
She said she hopes people continue her legacy: a love of hats, and the support for education and equal rights for all in Salem.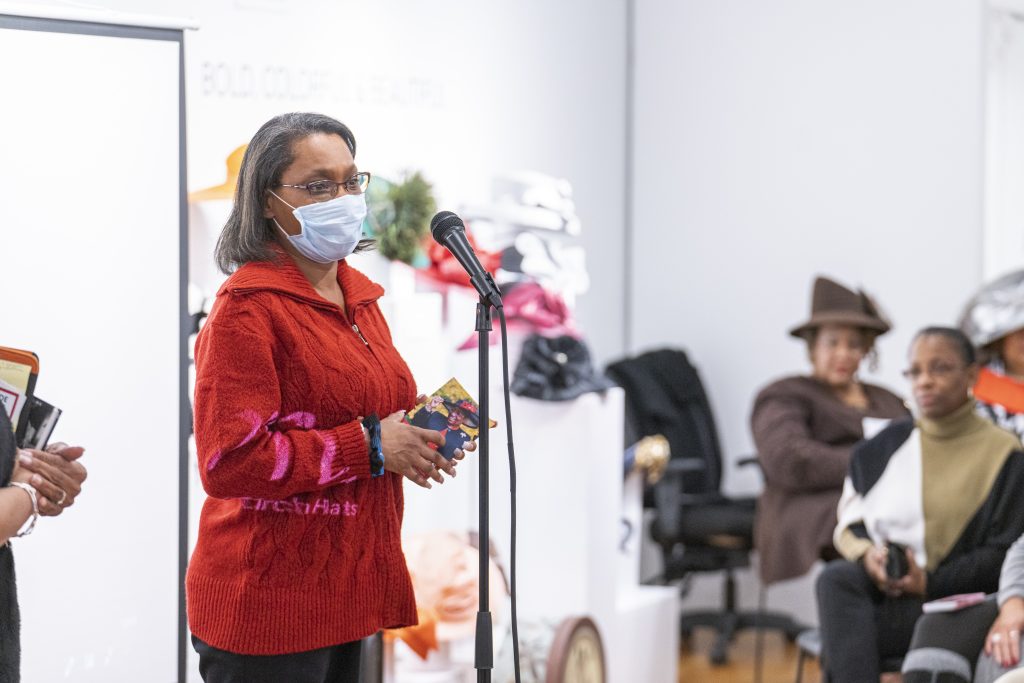 PHOTOS: Take a look at some of the hats on display at the Salem Art Association's "Hattitude" exhibit.
Contact reporter Abbey McDonald: [email protected] or 503-704-0355.
SUBSCRIBE TO GET SALEM NEWS – We report on your community with care and depth, fairness and accuracy. Get local news that matters to you. Subscribe today to get our daily newsletters and more. Click I want to subscribe!
Abbey McDonald joined the Salem Reporter in 2022. She previously worked as the business reporter at The Astorian, where she covered labor issues, health care and social services. A University of Oregon grad, she has also reported for the Malheur Enterprise, The News-Review and Willamette Week.