Windermere Willamette Valley Real Estate and John L. Scott Real Estate Salem West merged this week to form one large agency to serve Salem-area homeowners.
The two real estate agencies officially merged Nov. 2 under the Windermere Willamette name to now have 80 brokers. The local franchise agreement for John L. Scott Real Estate Salem West with John L. Scott, Inc. ended on Nov. 1.
Zach Fischer, the managing broker of what was formerly John L. Scott Real Estate Salem West, met Steve Redman and Hong Wolfe, owners of Windermere Willamette Valley, five years ago through a networking event.
"We got to know each other, and Windermere and John L. Scott are two of the last big privately owned companies, so it was a natural (fit)," Redman told Salem Reporter. "Neither one of us want to work for a publicly traded real estate company … They're both based out of Seattle, and are very comparable in size and strength and reputation of quality. He and I have a great relationship, and we decided to combine our forces."
Both of the companies had about 40 brokers before the merger, Redman said, so now there will be twice as many available, and greater visibility.
"I think it makes even more sense now with the environment that the real estate industry is in," Redman said. "People really think long and hard about the future and there's safety in numbers … Windermere is a very strong, stable company that's been around for over 50 years. And stability is where you want to be right now. Because when you're talking with clients, they want to know that the person in the company they're dealing with is going to be there tomorrow."
Windermere also has more modern technology and tools for managing the real estate market that it will bring to John L. Scott Real Estate Salem West's clients, he said. There are existing Windermere offices in Newport, Monmouth, Corvallis and Albany.
"I know Steve's impact, so working as partners is an incredible opportunity for my brokers and our clients," said Fischer in a statement. "Both Steve's and my offices excel at teamwork and having a bigger internal network will allow us to find a lot of opportunities that will benefit all parties."
Fischer will remain the managing principal broker of the new Windermere Salem office.
Windermere will buy a new office space, Redman said, which will remain in the West Salem area. The former John L. Scott Real Estate Salem West's office at 1124 Cornucopia St. NW will continue operating until their relocation to 675 Orchard Heights, which is expected to happen in December.
Clarification: This story has been updated to reflect the office merging is John L. Scott Real Estate West Salem, a former franchise of John L. Scott Inc. The larger company continues to operate its own office in Salem and is not part of any merger.
Contact reporter Jordyn Brown at [email protected]
JUST THE FACTS, FOR SALEM – We report on your community with care and depth, fairness and accuracy. Get local news that matters to you. Subscribe to Salem Reporter. Click I want to subscribe!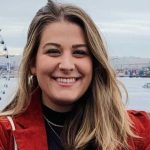 Jordyn Brown is an Oregon journalist who formerly worked for the Eugene Register-Guard.