Nearly 46 years ago, Nancy Lewis made a few batches of monster cookies for the bike ride she and her husband Larry started in Salem.
On August 28, the Monster Cookie Metric Century will return – and there will be cookies.
The Salem Bicycle Club offers the race which includes three different routes. The first is the original 62 mile stretch, or a metric century. A 31 mile route is official now but hasn't always been.
"People used to go to the first rest stop and then turn around and make a shorter ride for themselves if they couldn't do the full 62 miles," said bike club member Mary Schidgall. "Now, it's a route you can sign up for."
The final distance is a 6.2 mile ride geared towards young families and guided by a member of the Salem Bicycle Club and dubbed "the mini cookie." The shorter ride was added to the event last year.
The routes take riders through back roads from Salem and Keizer to Champoeg State Park and is a general flat course with a few short hills. The mini cookie starts at Keizer Rapid Park's big toy playground and goes to Wallace House Park and back.
The $45 registration fee goes towards stocking the rest stops with bagels, fruit, water and other things to keep the riders going. Aug. 22 is the last day to register online. After that, registration must happen on the day of the ride and the price rises to $55.
"And," Schindgall said, "they'll be smaller cookies along the way."
For more information, visit the Salem Bicycle Club's website.
Contact reporter Caitlyn May at [email protected].
JUST THE FACTS, FOR SALEM – We report on your community with care and depth, fairness and accuracy. Get local news that matters to you. Subscribe to Salem Reporter starting at $5 a month. Click I want to subscribe!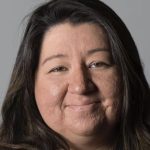 Caitlyn May served as a journalist for nearly a decade in Nevada and in Linn Lane counties in Oregon with a focus on rural stories and long-form journalism. A graduate of both Oregon State University and the University of Oregon, she currently serves as an elementary school teacher but returns to journalism now and then, remaining a dedicated supporter of the Fourth Estate.