Roo wiggled in Chelsey Marks' arms as the veterinary technician pulled her from her kennel.
Even before getting a dose of anesthesia, the spicy, eight-week old tuxedo-colored kitten was already a minor celebrity at Salem Friends of Felines.
She would be the 1000th cat spayed or neutered at the shelter since the rescue began their own weekly surgery operation last fall.
Every Wednesday at the Keizer clinic, a small army of women in colorful animal-themed scrubs try to make a dent in a problem animal rescuers and shelter workers say has ballooned out of control in the past two years: cat overpopulation.
In March 2020, Oregon veterinary clinics were among the businesses that were largely shut down under emergency pandemic orders, which prohibited any non-urgent or elective medical procedures to conserve scarce gloves, face masks and gowns for hospitals serving humans.
"Veterinary medicine stepped up for human medicine," Marks said. Clinics sent equipment and supplies to hospitals treating Covid patients early in the pandemic.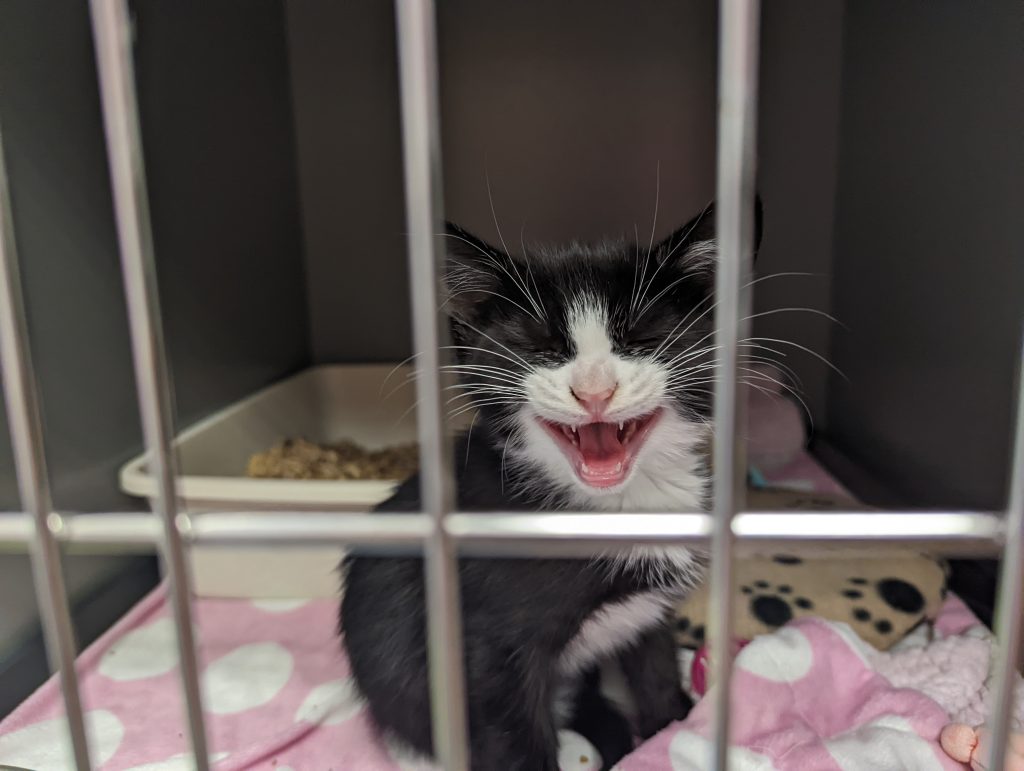 The shutdown had a significant consequence for longstanding efforts to control cat populations. Spay and neuter surgeries stopped overnight as many people sought out new pets to keep them company at home.
When surgeries resumed months later, shelters and rescues faced a huge backlog. Private veterinary clinics contended with staffing shortages, Covid regulations that made their work less efficient, and a competing host of other animal medical problems that had festered during the pandemic.
Those challenges limited their ability to perform spay and neuter surgeries, and existing surgery clinics like the one at Oregon Humane Society's Salem campus couldn't keep up with demand.
That meant many cats in 2020 who would otherwise have been sterilized kept reproducing, compounding the problem.
The result is "a firehose of kittens being born in our community," said Lora Meisner, president of Salem's Coalition Advocating for Animals, a small foster-based rescue.
Meisner said she gets a call or two per day about cats she doesn't have space to take in. Often, they're the grandchildren of the generation of cats that didn't get fixed in 2020.
A challenge for rescues
The number of cats is straining the resources of rescuers, who fear it will take years to catch up with the backlog. It's resulting in more cats being found outdoors or abandoned, and rescuers said even two years after surgeries resumed, they're having trouble getting appointments to sterilize cats.
"This is complete crisis," said Melinda Rossow, a Salem resident who for years has spent her weekends rescuing feral, abandoned and neglected cats. "I've been doing it for 13 years and I've never seen it this bad in a decade. I feel like we've lost complete control of sterilization in our community."
Data from the Oregon Humane Society, which merged with Salem's Willamette Humane Society in July, shows the scale of the pandemic's impact on operations.
In 2019, the Salem shelter spayed or neutered 5,594 cats, almost 2,000 of them shelter cats. In 2020, that number declined to just 3,283, and for 2021, 3,931.
Now, the Humane Society offers surgeries five days per week in Salem, with appointments for feral cats on Mondays, and owned cats Wednesdays and Thursdays. Overall, they sterilize about 100 cats per week.
Laura Klink, a Humane Society spokeswoman, said there's been some discussion of expanding to weekend hours — something local rescuers said is sorely needed to catch up — but staffing remains a barrier.
"Staffing has been a challenge at the shelter clinic and at clinics in the community which has delayed spay/neuter in some cases," she said in an email. The shelter is booked out 90 days in advance for those appointments.
For Meow Village, an all-volunteer, foster-based rescue headquartered in Aurora, finding surgeries in the greater Salem area has been a challenge.
Larger shelters like the Humane Society can perform those surgeries in-house, but smaller rescues typically rely on relationships with shelters or private veterinarians to get their cats fixed.
"It used to be you could call a vet and get an appointment within a few weeks," said Kathi Buchta, former president of the Meow Village board, and a longtime volunteer who lives in Salem. "It wasn't anything to get half a dozen appointments … Now, they're starting to book into October. That's a long ways away."
For rescuers like Rossow, who have full-time jobs in addition to their rescue work, getting scarce appointments means putting in more hours. If she's able to secure five surgeries on a Monday, she'll work overtime on the weekend setting and checking traps for feral cats to ensure she has cats in need to fill the slots.
"Those are like golden tickets," she said of the appointments.
Filling the gap
The Salem Friends of Felines clinic came as the smaller shelter was facing similar problems last year. Marks stepped into the executive director role in late May, and within months received notice that their usual vet, Salem's Evergreen Veterinary Clinic, would no longer be able to fix the same volume of cats for them.
Marks decided to stand up their own effort, relying on colleagues she'd worked with at the VCA Animal Hospital in Keizer.
"It was a big leap of faith, but the board has been very supportive," Marks said.
They hired Dr. Heather Sapp, a veterinarian, to perform surgeries one day a week and began operations in November 2021, spending about $12,000 on necessary equipment.
Sapp was eager to come on board.
"I missed it," she said of spay and neuter surgeries. "It's an aspect of vet med that has a big need."
It took four months to get the autoclave the shelter had ordered to sterilize equipment, so they relied on a local vet to sterilize equipment. Now, they're able to fix kittens for the shelter, as well as smaller rescues like Coalition Advocating for Animals, and some privately owned cats, through a once-a-week marathon. Owners pay $50 for a neuter or $70 for a spay.
The shelter manager, Carol Bradshaw, is a veterinary assistant, and she works with volunteer vet assistant Bonnie Thompson to prepare cats for their procedures — measuring out needed medications, giving anesthesia and lining up patients on a table.
Sapp's years of experience come in handy, making surgery efficient. Last week's clinic had 11 neuters and 16 spays on the roster.
Once a kitten is prepped, it takes Sapp just a few minutes to neuter it and tattoo a small line on its stomach to show it's been fixed. She's also comfortable performing the procedure on cats as young as eight weeks old, earlier than some private vets will do so.
"It makes us feel good that you're doing something to fill that need in the community," Sapp said. The clinic also treats cats for other issues, giving vaccines and nail trims as kittens are passed out. A recent clinic's roster included kittens who needed a tail amputation and broken bone repaired in addition to their spays.
On July 10, Friends of Felines held its first high-volume clinic, a one-day, 12-hour extravaganza where over 120 cats got fixed. Local rescuers say the event was a huge help, but more like it are needed to address the scale of the problem.
Meisner said cat owners also need to take responsibility for their pets, rather than adopting unfixed kittens off Craigslist and then forgetting to take them in. Her rescue, CAFA, is also trying to get local landlords on board with requiring pet cats be fixed, and approaching the local veterinary association about having private vets commit to doing just one free or low-cost spay and neuter surgery per month to help make a dent.
"I'm trying to get the community to help and step up to the plate. The problem is this is really a community issue," she said.
Rossow said many of the cats she works to secure help or surgeries for have owners, who often struggle with a lack of transportation or income, or may have animal hoarding issues. Making surgeries more accessible and stopping cat overpopulation ultimately helps them be able to better care for their animals.
"Behind every cat story is a human story. So it's not just about helping cats, it's about helping people," she said.
Contact reporter Rachel Alexander: [email protected] or 503-575-1241.
JUST THE FACTS, FOR SALEM – We report on your community with care and depth, fairness and accuracy. Get local news that matters to you. Subscribe to Salem Reporter starting at $5 a month. Click I want to subscribe!
Rachel Alexander is Salem Reporter's managing editor. She joined Salem Reporter when it was founded in 2018 and covers city news, education, nonprofits and a little bit of everything else. She's been a journalist in Oregon and Washington for a decade. Outside of work, she's a skater and board member with Salem's Cherry City Roller Derby and can often be found with her nose buried in a book.