More than 100 local artists, art lovers and community members have joined together to fund the restoration of an iconic Salem public artwork this week. 
Known informally as the Mattingly mural, "Theatrical Heartscape" was first painted on the east-facing back wall of the Elsinore Theatre in 1984, and has been a local landmark ever since. After fading from weather exposure over the years, it's now being repainted by Portland muralist Dan Cohen.
"This particular artwork is on an extremely prominent wall, visible to all who drive into the downtown core on Ferry Street, which is a main arterial," said Eileen Cotter Howell, one of the leaders of the restoration effort. "'Theatrical Heartscape' has become the de facto official greeter for this direction into Salem, welcoming people into the downtown area. As such, when it's looking good, it reflects well on Salem. When it was neglected and became an eyesore, it reflected poorly on Salem."
"Theatrical Heartscape" was first created by the late Jim Mattingly, a printmaker and professor of art at Western Oregon University. It was commissioned by the Mid-Valley Arts Council, a cultural organization that no longer exists. The Elsinore Theatre agreed to allow the painting on its east wall.
"The painting was paid for by community fundraising, but also in part from grants," said Sally Litchfield, development director of the Elsinore Theatre. The theatre owns the mural wall, original to its 1926 construction, but the heirs of Jim Mattingly retain the copyright to the image.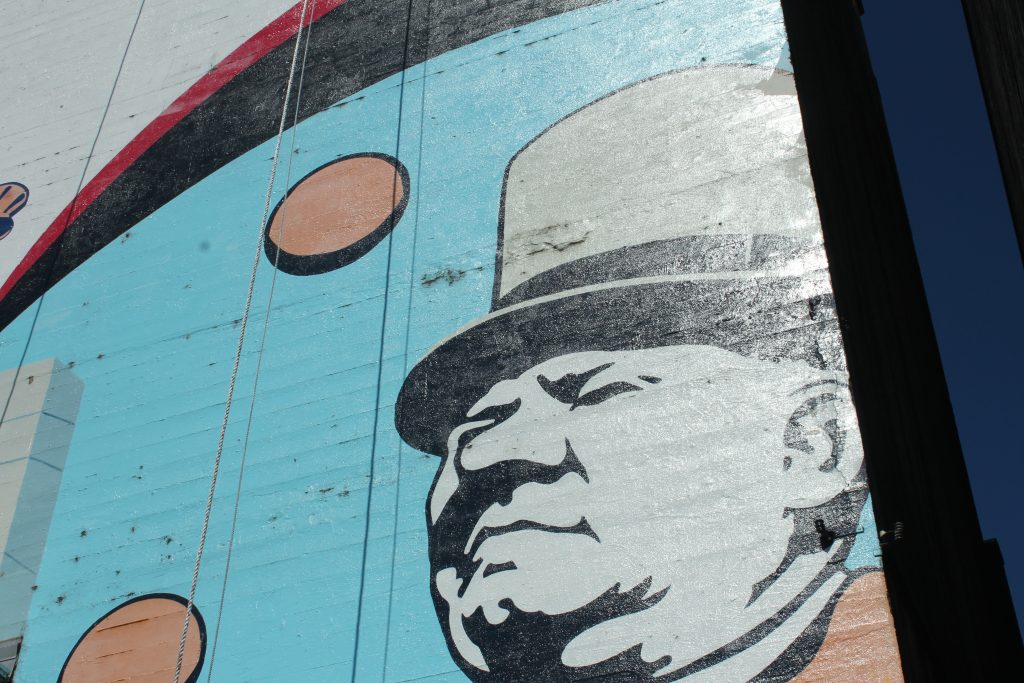 Back in 1984 Mattingly "had done a lot of research about early actors and actresses who came though Salem to perform," said Nancy Lindburg, one of the artists who led the restoration and repainting effort. "Theda Bara, W.C. Fields, Charlie Chaplin and Marlene Deitrich – (Jim) wanted to give the community a sense of the importance of theatre and the actors and actors who were so much part of Salem's history."
Nearly 30 years passed after that and the mural was eroded by time. "All artwork should be cared for and maintained for longevity and simply to keep it looking its best," said Eileen Cotter Howell, another leader in the restoration effort. "If you value something, you take care of it."
The mural is not part of the City of Salem's public art collection, so in 2013, when it began to show signs of weathering, it was community members who stepped forward to repaint it. They formed a group, Friends of Mattingly Mural, to raise money and facilitate the mural's care.
Members include Cotter Howell and Lindburg, both artists in their own right, Salem's Ellen Stevens and many others. Hundreds of Salem citizens donated to the project.
"We were eager to see this beloved landmark taken care of," Linburg said. After significant fundraising, the mural was restored and repainted Cohen, the Portland muralist, in 2013.
Since then, the group has monitored "Theatrical Heartscape," watching for sun damage and weathering. Beginning in 2018, it became clear that the wall again faced issues of fading and breakdown.
Funding for the second restoration comes mostly from fundraising efforts by the Friends team. At the beginning of the year, the mural Maintenance account contained over $8,000, including funds left over from the 2013 restoration and from a 2021 fundraiser with Roth's Fresh Markets 2021 to sell a Willamette Valley Vineyards Pinot Noir with a label depicting the mural.
Early this year, an anonymous donor offered to match donations up to $10,000 for the work. Cotter Howell said the Friends wanted to raise $37,000 to cover the cost of scaffold equipment, installation, wall repairs and pressure washing "which is far more specialized (and expensive) than a regular house cleaning," as well as the priming and painting..
A little over 120 households joined in the effort, with about half contributing under $50.
The goal was met – with some money left over. "The community came forward in such a generous manner," Lindburg said. She sees this as a win for everyone in the city.
"Public art adds depth and vitality to a community," Lindburg said. "It helps to give a community identity and it's as old as civilization. Think of Florence or Athens or New York City; works of art in a community are strength and power."
Cohen, a nationally known muralist, will be doing the actual painting again, work that the group estimates will last 10 – 20 years this time. He finds it rewarding to repaint the work of artists such as Jim Mattingly.
"I find it interesting," he said, "entering into the mind of another artist via their work. How they solved creative problems, why they took certain formal approaches, etc. I feel that it enriches my own work. Back in art school, we would often have field trips to museums where we had to copy old master works. This is similar, just on a large scale!"
Lindburg will be excited to see the result. In the case of public art, she said, "We are talking about creativity and imagination, which are so basic to life. Public art makes for excitement, it makes for depth and it speaks to the soul."
After preparing the mural last week, the repatinting will take place the week of August 8. Members of the public are welcome to watch.
Writer Helen Caswell can be reached at [email protected].
Story idea? Tip? Contact Salem Reporter by email: [email protected].
JUST THE FACTS, FOR SALEM – We report on your community with care and depth, fairness and accuracy. Get local news that matters to you. Subscribe to Salem Reporter starting at $5 a month. Click I want to subscribe!
Helen Caswell is a freelance writer in Salem and can be reached at [email protected].