A mural on the side of the building where Valley Roofing and Exteriors is located. (Saphara Harrell/Salem Reporter)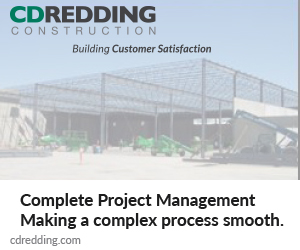 Salem has a new mural in its public art collection, ending the controversy surrounding a World War II mural in southeast Salem.
Last August, artist Mario Jr DeLeon painted a mural depicting the iconic image of six Marines raising the U.S. flag atop Mount Suribachi during the Battle of Iwo Jima in 1945. The mural is on the side of the building at Valley Roofing and Exteriors on 4910 Turner Rd.
But the business owner, Jon Taylor, hadn't sought required approval through the city's Public Art Commission and was sent a "correction notice" from the city of Salem in December.
The notice said Taylor needed to get approval from the commission, remove the artwork or face fines. That triggered a Change.org petition that gathered more than 40,000 signatures from people signaling their support for keeping the mural.
On Wednesday, Salem's Public Art Commission unanimously voted to add the mural into its collection. City code and the commission's guidelines allow existing paintings to be approved into the public art collection.
The commission's agenda said Taylor agreed to maintain the painting for seven years and grant an easement to the commission. Both are requirements for public murals under city code.
Dean Howes, a friend of Taylor's and co-owner of Vagabond Brewing, created the online petition.
In addition to the thousands of signatures, about 50 people emailed the Salem City Council to voice support for the painting and another 80 people called the city manager's office to say the same, the agenda said.
The city of Salem sent out a news release in January saying they were trying to work with Taylor and fines were a last resort.
Howes spoke at the Wednesday meeting and noted the overwhelming community support for the mural.
"If you don't have any questions for us, this kind of seems like a done deal," he told the commission members.
DeLeon was also at the meeting and said the mural was intended to serve as a tribute to veterans.
"It's been quite an emotional process for this mural, and I just hope that we can honor the ones who serve. That's the main goal," he said.
Chris D'Arcy, chair of the Salem Public Art Commission, described the mural as "very powerful visually."
Contact reporter Saphara Harrell at 503-549-6250, [email protected]
JUST THE FACTS, FOR SALEM – We report on your community with care and depth, fairness and accuracy. Get local news that matters to you. Subscribe to Salem Reporter starting at $5 a month. Click I want to subscribe!