Growing up in a tight-knit family in Dallas with five siblings, Elaine Loizer had the fundamental idea that "people just help each other" baked into her childhood.
After working her first job at the desk of a family clinic in Dallas, Loizer decided to study public health at Oregon State University.
"I didn't have a clue of what I wanted to do, but I knew I wanted to help people," she said.
After seven years in the public health field, she recently changed course and took over as executive director of the Mid-Willamette Valley Homeless Alliance in late June.
The alliance was started in December 2019 to provide community-wide planning, coordination, and collaboration of local and tribal governments, school districts, nonprofits, and stakeholders to meet the needs of homeless people in Marion and Polk counties.
The alliance is the organization designated in the Salem area to distribute millions of dollars in federal and state money annually for homeless services. They don't provide any direct services but rather make grants, encourage collaboration between homeless and housing services, gather data on the services to identify local needs and determine resources for people experiencing homelessness through monthly board, community, and sub-committee meetings.
This year they received $10.4 million from the state to distribute among the region's services on top of their roughly $2 million annual distribution budget. This money goes towards services for the nearly 1,700 homeless people in the region counted in 2023.
Lozier's role as executive director is to oversee meetings, support the acquisition and distribution of funds, facilitate conversations between service providers and come up with solutions to fill gaps in services. 
She hopes to use her background in public health to build better communication for the health-care systems and housing systems because "housing is such a critical piece of people's health care" said Loizer.
Most people experiencing homelessness have developed or have underlying physical or mental health issues and helping them requires these services to work well together. Lozier said this was made especially clear during the pandemic.
She said that her job is to help coordinate the services like a conductor in an orchestra helping all the different pieces come together.
"If I'm doing well in my role, it should just sound like beautiful music," said Loizer.
She said throughout childhood and adulthood she has had experiences with oppressive leaders who tried to coordinate in a way that was not compassionate and those really stuck with her.
"I have never aspired to be a manager or anything like that, but I have really aspired to be the type of person that people can talk to and feel comfortable with," said Lozier.
Her main goal is to keep the humanity of those living on the streets, or people who are housing insecure, at the forefront of the work.
One of the alliance's yearly responsibilities is to conduct the Point-In-Time Count, a volunteer effort that takes place over three days in January and works to count all the people sleeping on the streets or in shelters at the time.
During Lozier's second year helping with the count as a volunteer, she had an interaction with a 19-year-old man that she said will stick with her forever.
He told her about growing up in foster care and surviving with his sister. They had been separated for a few years and he talked about how his one wish was to be reunited with her.
Lozier said this opportunity gave her the chance to talk with someone she otherwise wouldn't have. At the end of the conversation, she said, "I was amazed with how much we had in common."
She said the humanity that came across in this contact helped her break down some of her own biases around homelessness and made her realize that this person was her neighbor.
During school, Lozier's initial goal was to become a nurse, but an influential internship after graduating in 2014 convinced her to pursue public health instead.
She worked in the infectious disease prevention unit at Oregon State Hospital, where she met a young patient who told her how finding the right medication he needed had changed his life.
"He really stood out to me because I could see hope, like he saw hope from himself," said Lozier.
Loizer said the most impactful thing she learned at this job was that "you are one tragedy away from being out on the streets or being in the hospital."
After finishing the internship, she worked for Northwest Senior and Disability Services, a Salem-based organization that delivers services to seniors with physical disabilities for three years. A lot of her clients were at risk of losing their housing and really needed adaptations for their housing as a result of their physical disability and circumstance.
She saw how the people who had a support system were the ones who thrived in spite of their circumstances.
"Having somebody to call when your grass needs to get mowed" is so important, said Loizer.
After this, she got a position as the community liaison for PacificSource, a health insurance company that was new to managing the Oregon Health Plan, the state's version of Medicaid. She had only been at the job a month when the pandemic hit.
In the early weeks of the pandemic, the thing that kept her up at night was the reality that, "we just didn't know what Covid was and we had people living in camps, and shelters in close proximity to each other."
Lozier and her boss didn't know much about housing and saw this as an opportunity to make those connections between health care and housing. Her team at PacificSource met weekly with the housing entities in Salem to try and problem-solve methods to prevent the spread of Covid.
They worked to get more people on the Oregon Health Plan, helped with medical outreach to camps, supported accessible testing and looked to public health authorities for guidance.
"I remember going to multiple stores just trying to find thermometers," said Lozier.
Initially, she said she was frustrated with the government and health organizations like the Centers for Disease Control and Prevention that didn't learn from history and past experiences to prepare for the pandemic.
"Quickly I got over that and was just like well, it's not here, so we've got to create it," said Lozier.
Her work led to her joining the alliance board in 2020 as the representative from PacificSource.
When the executive director position opened, Lozier said it wasn't on her radar until one of her former mentors told her, "You know what, you would be really good at that job."
Although she doesn't come from a housing or shelter background, she said "the thing I enjoy doing and am good at is talking to people with vastly different ideas and helping facilitate hard conversations."
Now a month into the job, Lozier has continued to listen to the experts and build up important relationships. She sees a lot of potential to build the alliance and maximize funds from the federal and state government and private donations.
"I feel a real sense of stewardship," said Lozier.
Along with keeping humanity at the forefront, Lozier hopes to encourage the community to have hard conversations and volunteer at an organization where their values align.
With this job, there are a lot of boxes that need to be checked by the shelters and services to maintain government funding. Lozier said her goal is to check those boxes in a meaningful way and involve diverse opinions in the decision-making process, especially those on the front lines of the work.
"Homelessness is an urgent issue, but it's taken us many years to get where we are and it's going to take many years to undo it," said Lozier.
Contact reporter Natalie Sharp: [email protected] or 503-522-6493.
SUPPORT OUR WORK – We depend on subscribers for resources to report on Salem with care and depth, fairness and accuracy. Subscribe today to get our daily newsletters and more. Click I want to subscribe!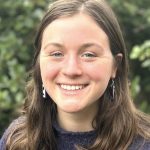 Natalie Sharp is an Oregon State University student working as a reporter for Salem Reporter in summer 2023. She is part of the Snowden internship program at the University of Oregon's School of Communication and Journalism.