It's Memorial Day weekend, and there are plenty of ways to honor those who served and make the most of the long weekend in Salem.
This weekend's schedule includes Memorial Day ceremonies, art and music lessons and several themed dance parties.
Here's a roundup of events this memorial day weekend, Friday, May 26, through Monday, May 29.
Honor local veterans
City View Cemetery will host its annual Memorial Day service on Monday, May 29, from 11 a.m. to noon. The service includes speakers, a wreath presentation, bagpipes and the 21-gun salute.
The cemetery is located at 390 Hoyt St. S.
The Oregon Department of Veterans' Affairs is hosting a service honoring fallen service members from 11 a.m. – 12:30 p.m. on Monday.
It will be at the Oregon WWII Memorial on the Salem Capitol Grounds, in Willson Park at the corner of Northeast Court Street and Northeast Cottage Street.
It will include a color guard ceremony, a performance of the national anthem, the laying of the wreath and "Taps," according to the department. ODVA Deputy Director Dr. Nakeia Council Daniels and veterans of the Iraq war are among those giving remarks.
Ian Michael, the department's LGBTQ+ Veterans Coordinator and a veteran, will host the event.
The event will be livestreamed on the ODVA's Facebook page.
Salem Public Library events
The Salem Public Library, located at 585 Liberty St. S.E., has several opportunities to learn new skills, from growing mushrooms to navigating TikTok.
The library is hosting a Spanish-language tech talk that will teach participants how to use common software and social media platforms, like Microsoft Office, Facebook and Tik Tok. The class is for the beginner level, and will include a half-hour to practice.
The tech talk will be between 10:30 a.m. and noon on Saturday, at the library's Collaboration Studio. Registration is online.
Jordan Dodge, president of the Willamette Valley Mushroom Society, will give a presentation on how to identify species of mushrooms and how to grow them at home.
The presentation will be on Saturday from 1 – 2 p.m. in Anderson Room A&B at the library, 585 Liberty St. S.E., and available over Zoom. Register online for the Zoom link.

Learn to make paper flowers from 2:30 – 3:30 p.m. on Saturday at the monthly drop in craft at the library's West Salem Branch, at 395 Glen Creek Rd. N.W.
Try a new skill
Learn how to play a Ukulele with a free class from Willamette Valley Music Company.
The class starts at 10 a.m. Saturday at 484 State St., and instruments are provided. The class will also feature a performance from the Salem Ukulele Band.
Parents and kids are invited to learn to paint with watercolors on Sunday at Salem's Riverfront Carousel.
The class, celebrating Mother's Day, is for children ages 6 and above, and parents, guardians and friends are welcome to join, too. Admission is $25, and the class will be from 1:30 p.m. – 2:30 p.m. at 101 Front St.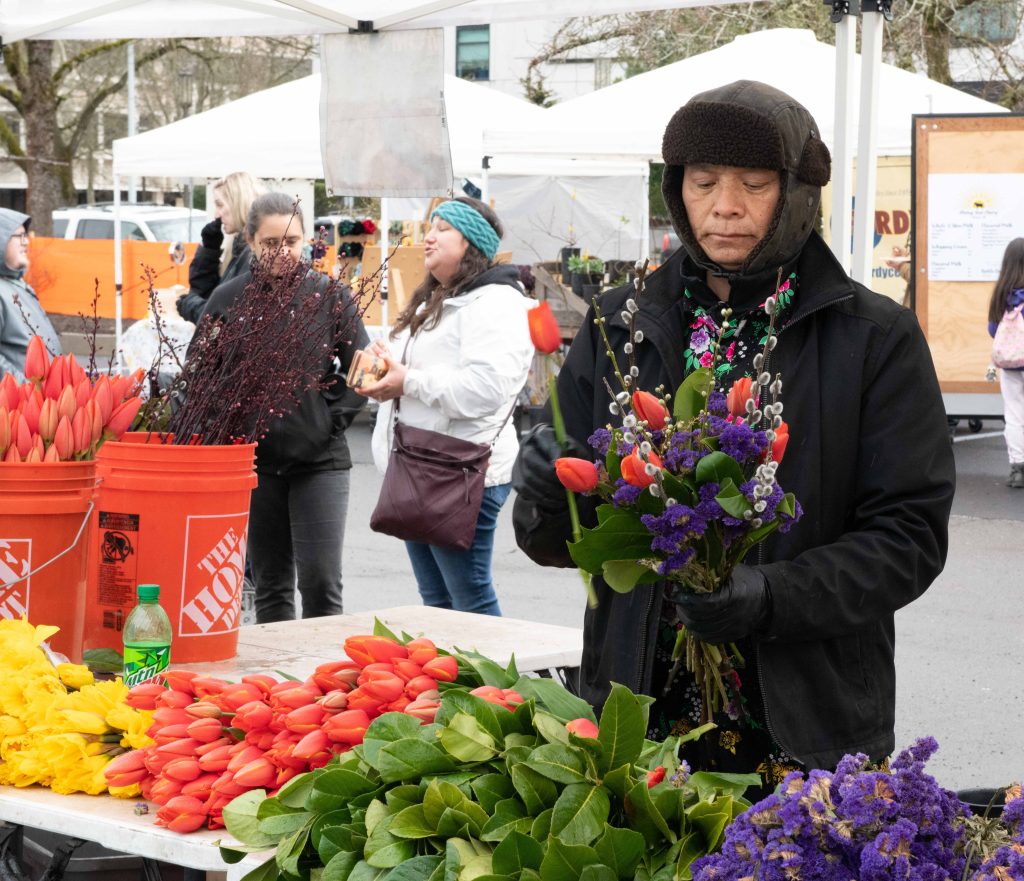 Eat, dance and celebrate
Celebrate Marshallese culture on Friday, in an opening ceremony event kickstarting a weekend honoring the 44th anniversary of the Constitution of the Republic of the Marshall Islands.
The ceremony, from 3–4 p.m. will include performances and speeches from several guests from the Marshall Islands, including Speaker of the Parliament Honorable Kenneth Kedi, Minister of Finance Branson Wase, Minister of Health and Human Services Joe Bejang and Senator Kalani Kaneko.
"We are excited to celebrate this important milestone in the history of the Republic of the Marshall Islands," said the event's organizer, Jesse Gasper in a press release. "This is an opportunity for us to reflect on the progress that has been made since the adoption of the Constitution, our independence as a sovereign nation, and to look forward to the future with hope and optimism."
The celebration will have Marshallese food vendors, and the weekend events include basketball, volleyball and softball competitions. Doors open at 9 a.m. on Friday, and the closing ceremony will be Monday at 7 p.m. For an event schedule, see the Oregon Marshallese Association's Facebook page.
The event is open to the public and will be at the Capital Fieldhouse, 3575 Fairview Industrial Dr. S.E.
On Friday, The Safe Haven at Chemeketa Community College is hosting a drag show to celebrate Pride Month, which starts in June.
Salem-based queen Caliente XL Productions and "Y'allternative drag king" Richard Rider are the featured performers.
The show is free and open to the public, and will be from 5 – 8 p.m. in building 6 of the Salem Campus, 4000 Lancaster Dr. N.E. Doors open at 4:45 p.m., with light refreshments and appetizers available. To reserve a spot, see the Eventbrite page.
The Salem Saturday Market continues this weekend near the Capitol mall, offering local produce and products between 9 a.m. – 2 p.m. at 856 Marion St. N.E.
Enjoy some acoustic folk music in Gaiety Hollow's gardens. Local music duo Constant Billy will be there from 10:30 a.m.-to noon, and admission is free. The address is 545 Mission St. S.E.
Dress up for a red carpet arrival at the Salem Orchestra's adult prom fundraiser, which will have a DJ and catering from Taproot Cage & Lounge.
The event is for people 21 and over, and will be Saturday from 7 p.m. to 10 p.m. at the Historic Grand Ballroom, 187 High St.
Tickets range from $50 to $75, and an emailed entrance photo is included. All proceeds go to the Salem Orchestra's music and music education programming. For more information or to buy tickets, see the orchestra's website.
Shooters Cafe & Saloon is hosting a karaoke competition Saturday at 8 p.m., with a $200 cash prize for first place. Judges will consider vocal range, song choice and showmanship. The bar is located at 4615 Silverton Rd. N.E.
Learn to dance salsa and bachata at Fork Forty Food Hall, with a lesson at 6:30 p.m., and a dance party at 7:30 p.m on Sunday.
The event is for people 18 and over, with a $5 cover charge. The food hall is located downtown, at 440 State St.
Contact reporter Abbey McDonald: [email protected] or 503-704-0355.
SUBSCRIBE TO GET SALEM NEWS – We report on your community with care and depth, fairness and accuracy. Get local news that matters to you. Subscribe today to get our daily newsletters and more. Click I want to subscribe!
Abbey McDonald joined the Salem Reporter in 2022. She previously worked as the business reporter at The Astorian, where she covered labor issues, health care and social services. A University of Oregon grad, she has also reported for the Malheur Enterprise, The News-Review and Willamette Week.