Wearing red and black ribbons, a line of cyclists set out Wednesday evening for a somber ride around central Salem.
The annual Ride of Silence, organized by the Salem Bicycle Club, commemorates cyclists killed and injured by motorists.
The national event has taken place for 20 years, with local cyclists observing it for 18. Ride organizer Tim Newman led a line of 21 bikes for the silent 7-mile ride, starting at the state Red Lot on Northeast Marion Street.
Black ribbons represent cyclists killed, while red represents those injured. Organizers said this year there's been one cyclist killed and three injured while riding in public roadways in the Salem area.
STORY TIP OR IDEA? Send an email to Salem Reporter's news team: [email protected].
JUST THE FACTS, FOR SALEM – We report on your community with care and depth, fairness and accuracy. Get local news that matters to you. Subscribe to Salem Reporter. Click I want to subscribe!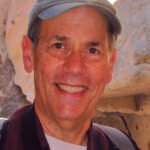 Eric Schuman of Salem is a retired physician associate whose interests include pet therapy and photography.