The number of people arrested each year by the Salem police has significantly dropped since 2020, according to an annual analysis of officers' use of force released on Thursday, April 13.
The Salem Police Department reported 6,352 arrests last year, a 14% drop-off from 7,372 in 2020. The agency made 6,444 arrests in 2021.
Police Chief Trevor Womack and his department's top officials each year review trends in officers' use of force "to identify necessary changes to directives, procedures, training, and supervisory or administrative practices," according to the 2022 Use of Force Report.
Physical force under the Salem police policy includes any use of a gun, Taser, pepper spray, K9 bite, strikes or other "active physical countermeasures." Force doesn't include passive contact, unresisted handcuffing or any force involving police vehicles.
The latest report comes after recently released data showed the city's violent crime rate last year was up 42% compared to 15 years ago.
The report provides only statistics and no details about any of the encounters in the report.
Police used force in one in ten arrests last year, the report showed.
The Portland Police Bureau reported a rate of force half that of Salem, with officers using force against about 5% of people taken into custody.
Overall, there were 697 use of force incidents reported last year. That's down from 835 in 2021, and 775 in 2020.
According to the report, instances of Salem officers using force against people younger than 16 doubled in 2022.
The department reported 31 such incidents last year. That's compared with 15 in 2021, and 16 the previous year. The report provided no explanation for the increase.
Meanwhile, the data shows police use of force against people of other ages has remained relatively consistent over the past three years.
Data showed the age group most likely to be subjected to use of force by Salem police is people 25-44, with 424 such incidents last year. The second most were among people ages 18-24, with 125 last year.

The department reviews all use of force incidents. According to the report, a supervisor conducts a more detailed "after-action review" if three or more Taser cycles are used during the same incident, if a police dog bites a person or if a person in custody is injured by police.
Senate Bill 111, passed in 2007, created a planning authority in every county to develop plan related to deadly physical force by police. When officers intentionally use physical force or an in-custody death involves Salem police employees, that requires three investigations – a criminal investigation by an outside police agency, a civil investigation by the city's legal department, and an investigation by the police department's Professional Standards and Training Section.
The department also reports all such incidents to the state Justice Department.
Salem police officers were involved in four shootings last year, which were investigated by the Oregon State Police. Officers shot and killed a person in three of those incidents, while the fourth person wasn't injured. The people police fatally shot were:
•Richard A. Meyers, 40 (February 2022)
•Tayler S. Osborne, 28 (April 2022)
•Robert Brown, 16 (July 2022)
Last year, police used force against some people multiple times. There were four people who police used force against in four separate instances.
The report also included data on police use of force against multiple people at the same time. Ten times last year, officers used force against three people during the same incident.
The 2022 data also showed a decline in police use of force in most categories of race.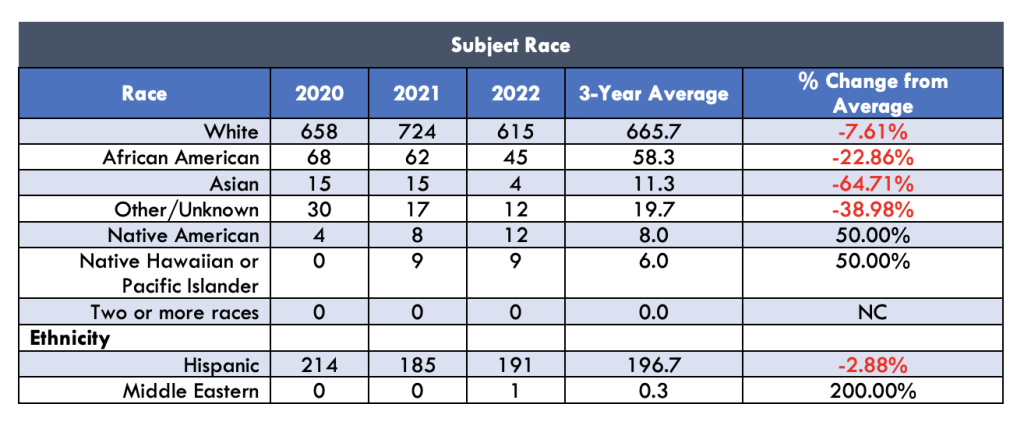 Citizens have filed eight complaints about use of force since 2020. The agency also reported there were four internal complaints about force.
The agency reported a single complaint was sustained in 2021. The report provided no details about the finding.
The department responded to 114,018 calls for service in 2022, about 2.5% above the three-year average.
Contact reporter Ardeshir Tabrizian: [email protected] or 503-929-3053.
SUBSCRIBE TO GET SALEM NEWS – We report on your community with care and depth, fairness and accuracy. Get local news that matters to you. Subscribe today to get our daily newsletters and more. Click I want to subscribe!
Ardeshir Tabrizian has covered criminal justice and housing for Salem Reporter since September 2021. As an Oregon native, his award-winning watchdog journalism has traversed the state. He has done reporting for The Oregonian, Eugene Weekly and Malheur Enterprise.