Professor Ann Nicgorski, who leads Willamette University's archaeology program, made the long drive to Brookings to examine a handful of ancient artifacts.
She was going to the coastal home of Fred Neumann, who as a hobby once collected artifacts while living in Egypt.

"I thought it was going to be a collection of a couple dozen things," Nicgorski recalled. "I walked into his house and he had it laid out on his dining room table. It was pretty overwhelming."
The dining room was ringed with boxes with more plates, bowls and other ancient housewares.
"We were there for eight hours," she said.
That trip resulted in Neumann donating more than 200 artifacts, now on public display in Salem. The exhibit at the Hallie Ford Museum of Art, 700 State St., continues through April 22. Admission is free for those under 17, educators and students, $5 for seniors and $8 for adults.
"They are amazing examples of everyday life of someone living in the ancient world."

–Emma Canchola, former Willlamette University student researcher
Nicgorski will share how the collection landed at Willamette and explain the history of the items in a lecture scheduled for 7:30 p.m. Thursday, Feb. 9. The free event will be in the Paulus Lecture Hall at Willamette's College of Law, 245 Winter St. N.E.
This is no collection of the possessions of kings and queens.
The display reveals a history of ancient Egypt, Cyrpus, Rome and Greece "which is often hidden from view by the more well-known narratives of famous people and elite ruling classes, major monuments and inventions," according to an exhibit description.
These are, Nicgorski explained, "ordinary artifacts from out of daily life."
That includes a rare bucket from Egypt.
"You can imagine people – women, servants, slaves – heading to the Nile River to fill these buckets with water and bringing them back to the house," she said.
Most of the artifacts relate to cooking and eating – cups, utensils and storage vessels.
"We have a ladle that looks exactly like a ladle does today but made out of clay from 4,000 years ago," Nicgorski said. "When you see something like that, you think, gosh there really is continuity to the human experience."
The exhibit also features three baby feeders, which each feature a spout on the side in the shape of a nipple. Testing on such feeders shows that ancient mothers used animal milk for infants much earlier in time than had once been known.
She said Neumann in the 1970s managed operations for Trans World Airlines in Egypt and lived across from a museum in Cairo.
"He became friends with the curator," Nicgorski said. "At that time, small artifacts could be purchased from vendors and antiquities dealers and could be legally exported out of the country. He just became really interested in artifacts that reflected ancient, everyday life."
When he returned to the U.S., he brought with him boxes of artifacts but stopped collecting.
"Apart from a few pieces in a case in his home, mostly he had them stored away in boxes," Nicgorski said.
In 2019, he sought a new home for the treasures, connecting with Willamette University the following year.
That's when Nicgorski made her coastal journey.
Normally when reviewing such items, Nicgorski pulls on white gloves to handle the items.
"No, you can't use those white gloves," Neumann told her. "You need to touch them with your own hands. Once they are in a museum, they will never be touched."
The sentiment struck Nicgorski.
"That really indicated what these things meant to him," she said. "Human touch is a human sense. It is a way that we can connect with other people – even with people that are long gone."
That trip resulted in Neumann's donation of 249 items.
Back at Willamette, Nicgorski recruited students to research each item.
Each artifact had to be unpacked, numbered, tagged and put in trays.
Then the research started to identify what was each object and the period of history it was from. That meant looking at publications and online information from other museums to date and identify the items.
"It can be very rewarding when you find the answer," she said.
Emma Canchola, who graduated in 2022, said she researched Egyptian frog oil lamps.
"I measured the length, width and height of each lamp as well as the diameter of both the wick and fill holes and weighed them," Canchola explained in an email. "I then did a visual assessment, looking at the condition of the lamps (seeing if they were intact, if there were any cracks, chips, signs of use or scorching) and then categorized the shape of the lamps."
Canchola said "the most interesting part of my research was learning about the mythology of frogs in ancient Egypt. Frogs lived in the marshlands along the Nile River and were associated with several creation gods and often used to symbolize rebirth, fertility and regeneration."
Senior Ursula Townsend helped identify the date and culture of items and then drafted object labels. Her work related to a type of ancient bucket was particularly rewarding.
"The most interesting thing I found was the situla decoration being mislabeled as a balance weight," she said.
One of Nicgorski's favorite items out of the Neumann collection is one of those lamps. These small items had holes for oil and a wick. She favors one shaped like a slipper with a floral pattern, dating to the dates to the Umayyad-Abbasid period and likely comes from Fustat, the first capitol of Egypt.
The lamp is "covered in rich green glaze," Nicgorski said. "It's got color, which a lot of ancient artifacts don't have."
Neumann, who now lives in Grants Pass, attended the opening of the exhibit.
"He seemed to very pleased," Nicgorski said. "He was really amazed at how professional it looked. He was just excited to see some of his things."
The students encourage people to tour the exhibit.
"They are amazing examples of everyday life of someone living in the ancient world," Canchola said. "These things would have been handled almost every day and give a glimpse into what life would have been like in the past."
Townsend said the use by average people makes the artifacts compelling.
"They are not the flashiest, but they stand as a reminder that people still kept living despite the political changes happening. The lamps are a particular example," Townsend said. "And the bronze cat is pretty cool."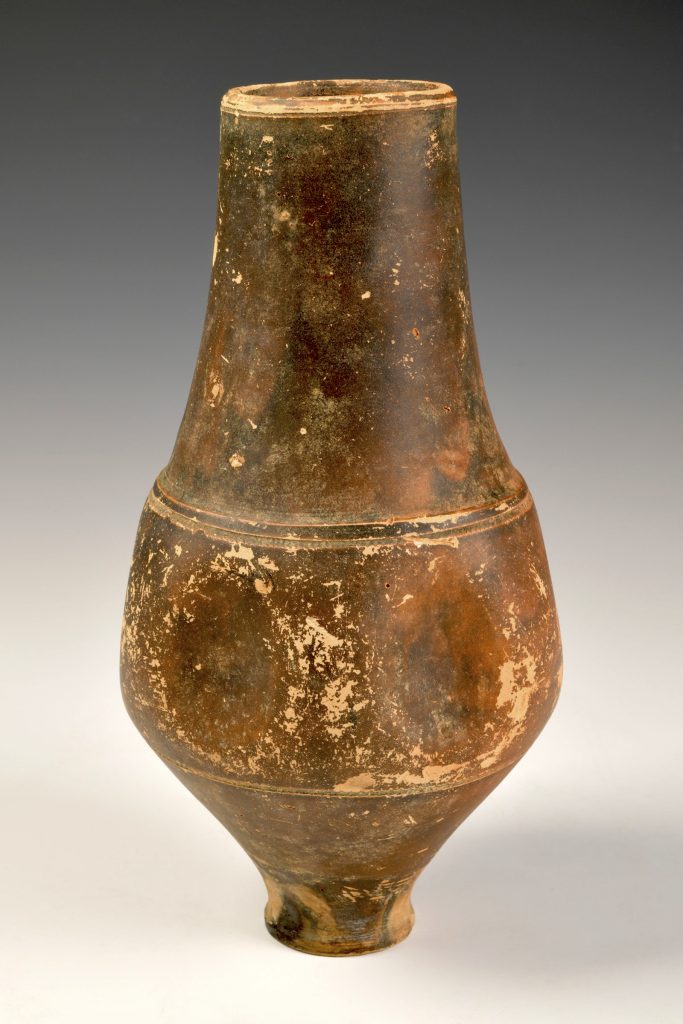 News tip? Contact Editor Les Zaitz: [email protected]
SUBSCRIBE TO GET SALEM NEWS – We report on your community with care and depth, fairness and accuracy. Get local news that matters to you. Subscribe today to get our daily newsletters and more. Click I want to subscribe!
Les Zaitz is editor and CEO of Salem Reporter. He co-founded the news organization in 2018. He has been a journalist in Oregon for nearly 50 years in both daily and community newspapers and digital news services. He is nationally recognized for his commitment to local journalism. He also is editor and publisher of the Malheur Enterprise in Vale, Oregon.