In a glass case at the Willamette Heritage Center sit jars of preserved kumquat, unopened for almost a century.
It's part of an exhibit that scoured newspaper archives, historical records and family storage to tell the story of Salem's Chinese-American community of the era – a population whose stories were ultimately erased by the city's white-centric historical record.
"Finding Salem's Chinatown(s)," an exhibit which runs through May 6, focuses on the people who lived in Salem at the turn of the 20th century while facing legal, economic and social persecution.
The exhibit is the result of a four-year effort led by Kylie Pine, curator and collections manager.
"This has been a topic that's been important to me for a very long time. But also has been one that's been difficult to find a way to do in a physical space," she said. "There's kind of a dearth of published source materials about early Chinese history in Salem, and a dearth of physical artifacts."
When Pine began researching Salem's Chinese communities of the late 19th and early 20th centuries, she found much of the focus was on the city's underground tunnels. She found that inaccurate and troubling, especially given there is no evidence that anyone lived there.
"We know individuals of Chinese heritage were 2 to 3% of Salem's population at one point in time. So that's a pretty significant community. We know that these individuals lived and worked above ground and we wanted to tell that story a little bit more," she said.
One of Pine's goals for the exhibit was to recreate the living and work spaces that were removed and built over in the last century.
Working with an advisory committee that included several Salemites of Chinese heritage, Pine worked to provide photos, written accounts and artifacts of life in the early 1900s.
The first part of the exhibit has a large photograph of a Chinese store, which they know was taken in Salem due to a poster on the wall that reads "Salem and Willamette Valley."
Unable to recover items from the photo itself, they turned to committee member and Salem physician Myron Lee's family storage.
From the 1890s to the 1930s, Lee's grandfathers on both sides of his family owned similar stores in Portland. Lee had previously worked with the Portland Chinatown Museum to put some items on a long-term loan, which he and Pine thought could work for Salem.
"It was great being able to have these displayed again, to be able to have people see what things were kind of like in a typical Chinese-American store at the time," he said.
Along with the jars of kumquat, silk slippers, medicine and tea with intact wax paper are featured.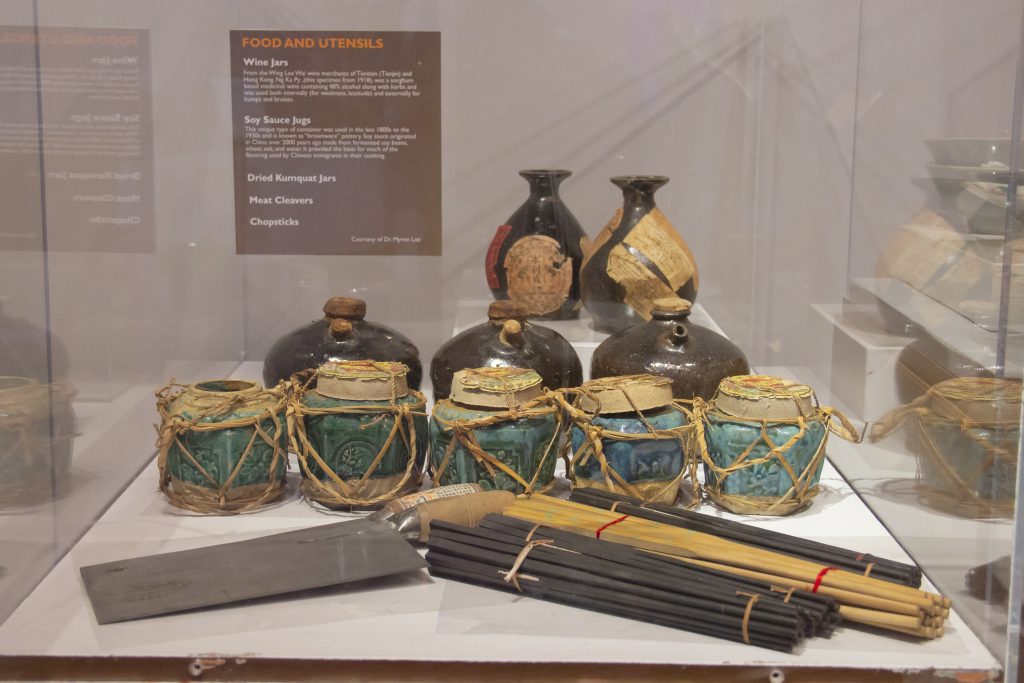 Lee's favorite items, he said, are the Mahjong sets which were a popular import from Guangdong, southern China in the 1920s. They're hand carved from bone and bamboo.
"The grandparents taught parents how to play, and our parents taught us how to play and we've taught our kids and our grandchildren how to play," he said. "We use those same sets now, because they're really enjoyable. They make a special resonant sound when you click them together and they have a really nice feeling to them."
Lee said having objects on display helps tell the stories of communities that have been erased.
"There were a lot of immigration laws at the time and a lot of institutional and overt racism that was going on at the time. And so, eventually, a lot of the population of towns and cities of Oregon just really diminished a lot," he said.
The exhibit explores the impacts of those laws, and Pine worked to find documents with the words of the Chinese-Americans living in Salem, including in court records, forms, columns and articles.
Panels explain discriminatory laws, including that people born in China could not own property in Oregon until 1943. This made the community reliant on landlords, who neglected properties that the city would then condemn.
"You see (it) in the movement of Chinatown, so we call it 'Chinatowns,' because there were actually three different concentrations of businesses in downtown Salem," Pine said.
Also on display are portraits from local photography studios, showing the time's fashion, which kept the subject's names and dates on file.
The exhibit pairs the photographs with archival research, such as a portrait of Dr. Lai Yick's family. They returned to China in 1923, but Yick would publish annual Christmas greetings and family updates in the Oregon Statesman for many years afterward.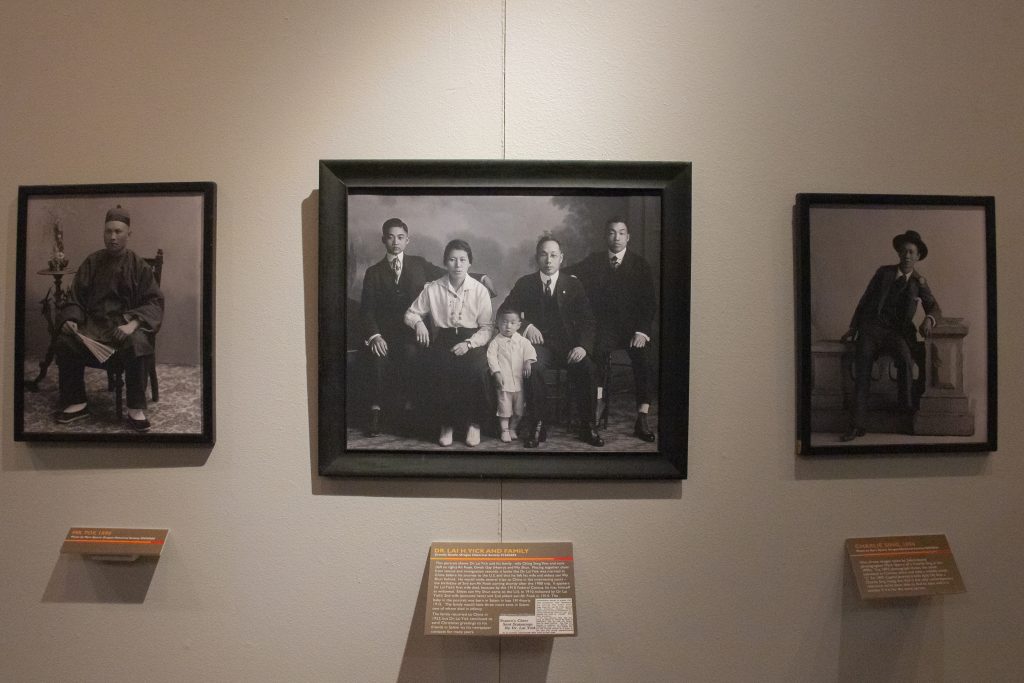 The concept for the exhibit began around 2018, during an archeology project at Salem's Pioneer Cemetery that unearthed a shrine used during the Qing Ming festival in the 1800s.
The festival has since been reinstated, and is now an annual event put on by the city each April.
Kimberli Fitzgerald, Salem's city's historic preservation officer who worked on the excavation, was a member of the advisory committee. She said she got emotional walking into the exhibit, which is located on the same floor the committee would meet.
"I can remember sitting around the table and we just didn't know anything. We wanted to know," she said. "Each of us, individually, couldn't have done this alone but together we were able to uncover some really interesting and powerful history."
"Finding Salem's Chinatown(s)" will be open at the Willamette Heritage Center at 1313 Mill St. S.E. until May 6.
Exhibit entrance is included in museum admission, which is $8 for adults, $7 for seniors, $5 for students, $4 for youth ages 6 to 17, and free for kids 5 and under.
Contact reporter Abbey McDonald: [email protected] or 503-704-0355.
JUST THE FACTS, FOR SALEM – We report on your community with care and depth, fairness and accuracy. Get local news that matters to you. Subscribe to Salem Reporter. Click I want to subscribe!
Abbey McDonald joined the Salem Reporter in 2022. She previously worked as the business reporter at The Astorian, where she covered labor issues, health care and social services. A University of Oregon grad, she has also reported for the Malheur Enterprise, The News-Review and Willamette Week.