The Salem Art Association and the Salem Multicultural Institute are accepting entries for an exhibition exploring winter light, part of a new direction as the art association seeks to move away from only recognizing Christmas.
In a joint announcement, the group explains the theme this way.
"In the dark and gloomy days of winter, light plays an important role in lifting the spirits and brightening lives around the world. To counteract the darkness of winter, many cultures hold festivals of light … We encourage artists from all cultures and communities to create something for this show so that we may come together and enjoy the many different ways our cultures celebrate Winter Light."
For years, the group's winter show was a Holiday Showcase. The Bush Barn Art Center was packed with Christmas trees, holiday ornaments, and gift-focused items.
"After the pandemic, we all became so much more aware that we need to reach out to diverse communities and not be just solely about Christmas," said Jennifer Gimzewski, co-director of exhibitions at the Bush Barn Art Center. "Not everyone celebrates Christmas."
Gimzewski hopes for entries exploring holidays like Kwanzaa or images celebrating other cultural interpretations of winter light. Diverse entries tend to bring diverse viewers to shows, and that's an underlying goal for the Bush Barn Art Center.
"We are really committed at the Bush Barn to reaching out to different communities in our city, and we're trying to get people to come into the gallery that maybe feel like they don't belong there," she said.
"This show is about trying to encourage people to feel that this is a place for them. The doors are open, and they are always welcome. We've been working really hard to make this an open and welcoming space for everyone, and this is really like an outreach event to try to get people to come," she said.
The final show will run between Nov. 11 and Dec. 24, with artwork split between the Bush Barn Art Center and the Multicultural Institute Gallery.
Gimzewski said about 20 submissions have come in so far, which is about average for a show of this size. But since the show will run across two galleries, more artwork is needed.
Anyone, of any skill level, is welcome to participate, Gimzewski said.
"How does one conquer the darkness of winter days? There's no right and no wrong," she said. "That's what's so wonderful about art. I think if an artist is working on something that's important to them, that it means something to them, that they feel a passion for it, that comes through in the work."
Submissions are due by 5 p.m. on Oct. 7. Artists should submit images of their work, but if the piece is selected for the show, they must be ready to deliver it in presentation form.
Artists working in all mediums are welcome to apply by sending submissions to [email protected]. There's no fee to enter the juried show.
Four individuals will sit on the judging committee, split evenly between the Salem Art Association and the Salem Multicultural Institute.
Judges will determine if the artwork meets the theme of the show.
Download an application guide on the Salem Art Association website.
STORY TIP OR IDEA? Send an email to Salem Reporter's news team: [email protected]
JUST THE FACTS, FOR SALEM – We report on your community with care and depth, fairness and accuracy. Get local news that matters to you. Subscribe to Salem Reporter. Click I want to subscribe!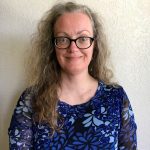 Jean Dion is a freelance writer and marketing professional. She's lived in Salem for about 10 years. When not writing, she dabbles in gardening, photography, and caring for her dogs, cats, and rabbits.