When Olga Cobb became a principal at Salem's Highland Elementary School, she wanted to get parents more involved in reading.
It was 2006, and Cobb — the school's first Latina principal — planned to bring Spanish-speaking parents to the school in the evenings to learn how they could support their kids' education and reading at home.
Cobb realized that to get more families involved, she would need to provide transportation for parents who couldn't drive, and feed them dinner. But she didn't have the money to do it.
That's when Annalivia Palazzo-Angulo got involved, successfully applying for a grant to pay the extra costs.
The longtime director of the Salem-Keizer Coalition for Equality has spent decades in Salem working behind the scenes to empower Latino parents so they can understand and participate in their children's education. She's also pushed local schools to better serve the needs of an increasingly diverse student body.
With Palazzo-Angulo's help, Cobb launched the program – and students improved their reading.
After founding the Coalition with her husband, Eduardo Angulo, in 1999, and leading it as executive director since 2013, Palazzo-Angulo retired in August.
Though she's not a household name in Salem, her influence and work is visible across the city. She's had a hand in the presence of many Spanish-speaking and bilingual parents on committees helping prioritize millions of dollars in school spending, policies in the Salem-Keizer School District limiting what information schools will share with immigration authorities, and a growing group of local parents who have learned about child development and civic engagement.
Those who have worked with her know Palazzo-Angulo as a thoughtful but determined advocate and storyteller, who often answers questions intermixing personal anecdotes with rapid-fire references to academic studies that support her point.
"Annalivia is a warrior," said Javier Quiroz, facilitator of the Coalition's Forming Strong Families program, and one of their earliest employees, in a speech at her Aug. 30 retirement celebration. "She will always be a warrior … who worries a lot about what is happening with the entire coalition and our Latino immigrant community and does something about it," Quiroz said.
Palazzo-Angulo spent over half of her own brief speech calling up the Coalition's employees to thank them for their work.
"I'm really proud of our team and that's the most important thing," she said.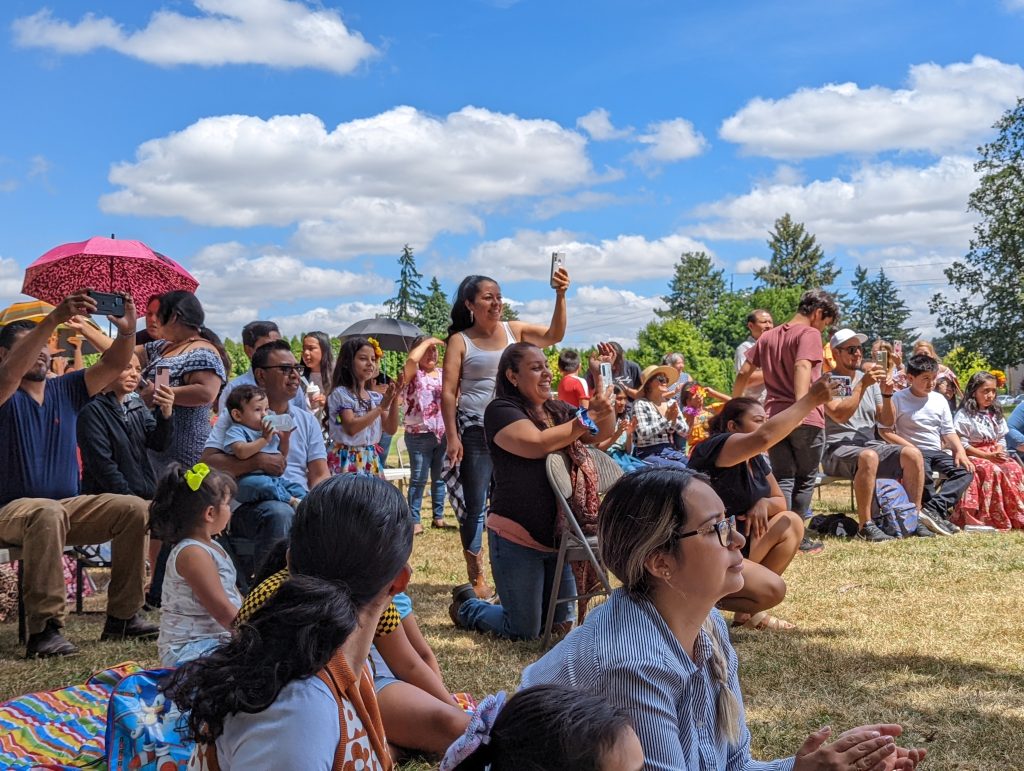 Cobb is one of dozens of Salem educators and parents who say Palazzo-Angulo played a key role in mentoring them and showing how to advocate for themselves and others. Many are now leaders.
"She helped me connect to other leaders in the Hispanic Latino community that maybe I didn't know before," Cobb said of her early years as a principal in Salem. Cobb is now the district's assistant superintendent, focusing on elementary education.
At the Coalition, Palazzo-Angulo fostered a network of parents who understand they can advocate for their families' needs at school board meetings or by serving on committees – even if they don't speak English and need interpreters.
"She empowered us, believed in us," said Lucia Sanchez, the Coalition's early learning facilitator.
A childhood apart
Palazzo-Angulo's early years in Salem shaped her desire to advocate for people often left out of government decisions.
She began attending Richmond Elementary School in 1963, when the student body was almost uniformly white.
Palazzo-Angulo, who's half Italian, stuck out with her black hair, and classmates often assumed she was Mexican.
"I always felt out of place," she said.
She had a strong pride in her heritage, appreciating her brown skin, but also wished at times she had blonde hair and looked like her classmates.
Palazzo-Angulo was the child of a struggling single mother who worked as a teacher.
She remembered watching her classmates throw away food at school that she would have happily eaten – Twinkies and bologna sandwiches.
"I was too embarrassed to pull anything out of the garbage can but I can just remember staring at it," she said.
Though she was intelligent and earned good grades, Palazzo-Angulo said she felt disconnected from school and other students. She dropped out of North Salem High School at 15.
"I didn't belong," she said.
But she wanted to continue her education. In 1999, as a 39-year-old single mother, she enrolled at Chemeketa Community College, then Willamette University, where she studied civil rights history, and the role of language in education. It was her first exposure to any kind of racial diversity.
"I was instantly drawn to anyone else who was marginalized, who was underserved," she said.
She completed a master's degree in teaching, focusing on English as a Second Language instruction for Latinos.
A growing coalition
By the late 1990s, Salem and Oregon had a growing number of Latino students, and local advocates, Palazzo-Angulo among them, were concerned about high rates of discipline and drop outs at school and low graduation rates.
With others, Palazzo-Angulo and her husband then formed the Coalition for Equality. Their goals included getting a better understanding of dropout rates, school performance and discipline broken out by race and ethnicity so they could document the extent of the problem.
They focused both on advocating for district policies to help Latino students and getting parents more involved in their kids' education to tackle academic gaps and steer kids away from being involved in gangs.
"It was all about saving the youth," Palazzo-Angulo said.
Soon after, the federal No Child Left Behind Act of 2001 was signed into law. While most people in education focused on the law's significant expansion of standardized testing across the U.S., the law also came with requirements for more parental involvement and sharing of data about school performance.
Palazzo-Angulo saw an opportunity.
"We took the parent engagement requirement and … we went with it and we harassed districts," she said.
Palazzo-Angulo briefly left the Coalition because of family responsibilities, but returned as its executive director in 2013.
At the time, the nonprofit had an annual budget of about $465,000 and eight full-time employees.
Sanchez said Palazzo-Angulo set about growing the Coalition to serve more parents, and focused heavily on staff development, providing child care for employees and flexibility when people had caregiving needs.
"It was a second home and they got to know each of us like a head of family," Sanchez said of Palazzo-Angulo and her husband, Eduardo.
Under Palazzo-Angulo's leadership, the Coalition added early education programs, helping parents understand how to support their children's development.
"If the parent is prepared, then they take what they know to the children," said Nancy Gamino, the early learning program coordinator.
The Coalition tracked an initial group of parents who attended their Educate & Inspire workshop in 2013-14, and found their students over the next four years had much lower rates of absenteeism from school than other low-income Latino students.
Parents advocating
Most of the Coalition's employees are Latino parents hired after they had participated in its programs. Sanchez said Palazzo-Angulo showed them they could be teachers and train others.
For Palazzo-Angulo, that team is her most significant accomplishment over the past decade.
"Every one of them is an immigrant. Every one of them has suffered trauma. Every one of them has been in the strawberry fields," Palazzo-Angulo said.
Those parents now have an impact on several aspects of school district operations, said Christy Perry, Salem-Keizer superintendent.
During school board meetings, where live Spanish translation is provided, Coalition parents often react in real time to improve accuracy and clarity of the information being communicated.
The Coalition also puts on a language and culture institute, summer training for Salem teachers that includes Spanish instruction and activities with Latino parents.
"Even though they're a very small organization, they're a mighty force," Perry said.
A district policy that school employees will not allow federal immigration officers to access student records or remove students from campus without a warrant exists because of the Coalition.
Perry said Palazzo-Angulo called her soon after the 2016 election to tell Perry the district needed a plan so employees knew what to do if an immigration officer showed up at schools. The two women communicate regularly, and Palazzo-Angulo isn't shy about letting Perry know if something isn't working well for the families she works with.
"She just keeps coming at it and that's part of her personality – I'm going to persist on something until I know you've heard me," Perry said.
Palazzo-Angulo will remain as a part-time grant writer for the Coalition as interim executive director Dunetchka Otero-Serrano takes over.
As she hugged her longtime employees during her retirement celebration, Palazzo-Angulo said her work to expand funding for the Coalition has been easy because of the dedication and hard work Coalition staff put in.
"I get the money because all I do is write about what you guys do," she said.
Contact reporter Rachel Alexander: [email protected] or 503-575-1241.
JUST THE FACTS, FOR SALEM – We report on your community with care and depth, fairness and accuracy. Get local news that matters to you. Subscribe to Salem Reporter. Click I want to subscribe!
Rachel Alexander is Salem Reporter's managing editor. She joined Salem Reporter when it was founded in 2018 and covers city news, education, nonprofits and a little bit of everything else. She's been a journalist in Oregon and Washington for a decade. Outside of work, she's a skater and board member with Salem's Cherry City Roller Derby and can often be found with her nose buried in a book.