Oregon OSHA has fined two contractors $144,000 for putting their workers at risk of injury or death on worksites in Salem and Woodburn.
The citations were issued to Iron Head Roofing LLC of Corvallis and JMJ Construction LLC of Canby. The citations don't allege any injuries occurred.
The contractors violated the state safety requirements to implement adequate fall protection systems – such as a personal fall restraint system or other measures – where workers are exposed to falling six feet or more, according to a press release from Oregon OSHA.
"Fall protection saves lives," said Renee Stapleton, acting administrator for Oregon OSHA in a statement. "It is an essential safety practice that employers must carry out when work is being done at heights. There is no excuse for neglecting it."
Falls are one of the leading causes of death in the construction agency, according to OSHA.
Javier Galindo, the safety manager of JMJ Construction, said Friday that the company has taken immediate action with their staff to ensure the issue does not happen again.
"We raised the red flag for employees and we're retraining," Galindo said.
Representatives of Iron Head Roofing didn't respond to a request for comment.
Both organizations had multiple violations of the same nature dating back years. For Iron Head Roofing, this was the fifth citation for the fall safety violation since May 2019. For JMJ Construction, this was the fourth time since February 2020 it had committed the same violation. The incidents occurred on different job sites.
According to OSHA, an inspection of Iron Head Roofing found four of six employees were working on the roof of a house in Salem with no fall protection. OSHA cited the contractor and fined it $78,000.
The inspection of JMJ Construction found two violations: one employee installing siding on a house with no fall protection, and another employee using a scaffold with no fall protection. The company was cited and fined $66,900.
Under Oregon OSHA rules, penalties multiply when employers commit repeat violations, according to the release. The citations also included a standard penalty reduction based on the small size of the two companies. Employers have 30 days after receiving a citation to file an appeal.
Galindo said Friday that they do plan to appeal the violation. The incident happened because the supervisor was not following the training and protocols the company sets out, he said.
"We gave them the opportunity to do the right thing, and we're doing a lot of new training so it doesn't happen again," Galindo said.
Contact reporter Jordyn Brown: [email protected].
JUST THE FACTS, FOR SALEM – We report on your community with care and depth, fairness and accuracy. Get local news that matters to you. Subscribe to Salem Reporter. Click I want to subscribe!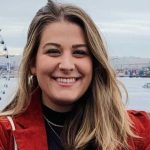 Jordyn Brown is an Oregon journalist who formerly worked for the Eugene Register-Guard.