The new amphitheater in Salem has been taking bookings for months but Kathleen Swarm finally gets to plan a grand opening. 
"I'm at the computer all day with spreadsheets and emails," she said Tuesday afternoon on the time she's devoted to the event. 
Swarm, the Gerry Frank | Salem Rotary Amphitheater manager, is in charge of corralling all the pieces needed to put on the first Capitol Jam–a free music festival to mark the opening of the new structure set for Aug. 27. 
"I think from the beginning we wanted a grand opening for the amphitheater," she said. "Building it over Covid was difficult though, to know if you could plan a grand opening that would be open to the public so it wasn't until we as a city could feel safe having a large public event that we could entertain the idea."
The festival is set to run all day from 11 a.m. to 10:30 p.m. and feature local musicians Ty Curtis, Erin Westfall, Rich McCloud and Grimiss which provides a mix of blues rock, glitch rock, alternative pop, hip-hop and folk music.
Portland band The Shivas and blues artist Lloyd Jones will headline the event. A schedule of performances isn't yet posted on the city event page.
There will also be a special performance from the young performers from the RiverCity RockStar Academy. 
While the event is technically a grand opening, it's not the first thing to have people gathering at the amphitheater.
"We have First Fridays, Movies in the Park, this isn't the first event," Swarm said. "The amphitheater has been rented out for private events every weekend so this is one of the first days we could get to put on a public event for the city."
The event is sponsor-driven and the city is looking for additional sponsors as well.
"We are very happy to accept any sponsorship," Swarm said. "Every dollar we receive allows us to go that much further and get a little more accomplished."
Swarm said people will notice a few small things happening on site two days before the festival to prepare but most of the things will be set up the day of beginning at 7 a.m.
That includes vendors–both food and apparel–and the city is looking for more of those as well.
"Applications are still being accepted," Swarm said.
Capitol Jam won't be the first event at the new amphitheater but it will still serve as a grand opening and the city, Swarm said, is hoping it becomes an annual event.
"We've kind of laid a solid foundation to be able to repeat this in the future if we get that opportunity," she said. "That's our intention, to create an event that we can repeat every year and grow it over time."
Contact reporter Caitlyn May at [email protected].
JUST THE FACTS, FOR SALEM – We report on your community with care and depth, fairness and accuracy. Get local news that matters to you. Subscribe to Salem Reporter starting at $5 a month. Click I want to subscribe!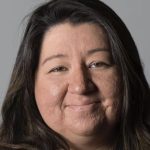 Caitlyn May served as a journalist for nearly a decade in Nevada and in Linn Lane counties in Oregon with a focus on rural stories and long-form journalism. A graduate of both Oregon State University and the University of Oregon, she currently serves as an elementary school teacher but returns to journalism now and then, remaining a dedicated supporter of the Fourth Estate.