Visitors will join teachers and students in Salem Keizer Public Schools in being barred from carrying concealed weapons after a split vote by the school board Tuesday night. 
The board approved a resolution prohibiting concealed guns on school property 4-3 with Danielle Bethell, Marty Heyen and Satya Chandragiri voting against citing reasons ranging from Second Amendment rights to a belief that the resolution wouldn't enact real change.
Board members Ashley Carson Cottingham, Maria Hinojos Pressey, Karina Guzmán Ortiz and Osvaldo Avila supported the ban.
Under state law, open carrying of guns in public buildings, including schools, is prohibited with exceptions for law enforcement. That law does not apply to those with concealed carry licenses who have concealed weapons, but a 2021 change to state law allowed districts to ban concealed carry.
Students and employees in Salem Keizer Public Schools are already prohibited from carrying concealed weapons.
The resolution added visitors – including guest speakers and organizations using campuses – parents and guardians to the list of those who cannot conceal carry. 
About a dozen public speakers addressed the board with support split nearly evenly with those opposed to the resolution repeatedly noting that concealed weapons could protect students.
"We would be making the schools easier targets," speaker Ben Walden said of passing the resolution. "I'm asking you not to prohibit law-abiding citizens from protecting our students."
Supporters of the resolution outlined possible dangers of concealed weapons becoming open-carry weapons, the inability to tell on sight whether someone was a law-abiding citizen and race relations within the district.
"As a mother of color … it scares me to know we have people on this school board who are already known to be targeting Black and brown kids," said Jessica Perez. "Yet they are also the same ones who want guns to be present. The people who don't have our children's best interest in mind are the ones who want firearms to be at school and I don't think that's a coincidence."
Student board representative Isaac McDonald, a senior at West Salem High School, also addressed the possibility of a concealed weapon being seen by students.
"I'm someone who has been around guns my whole life and feel comfortable around them in the appropriate setting," he said. "But we heard testimony from students who said they have traumatic experiences related to guns and so I can only imagine the unsafe feeling of seeing someone who could or could not be a law abiding person with a gun. That's a hypothetical, that's not out of reach."
Board chair Ashley Carson Cottingham had to call order twice during public comment, warning the audience that people who disrupted the meeting would be removed as each side shouted in response to the other.
Heyen asked how the policy would be enforced, suggesting that "white people" would be profiled after hearing public comment from students on Tuesday alleging that they face racist treatment from school staff and board members.
"I just think this particular policy is not going to do anything," said Chandragiri. "It's not going to help suicide, it's not going to help violence, it's not to move towards the safety we're all moving towards." 
Heyen also questioned how the resolution would impact Department of Public Safety Standards and Training license holders who are not police officers, including firefighters and armed security.
Paul Dakopolos, the district's lawyer, said those license holders would also be barred from concealed carrying on school grounds. Heyen introduced an amendment to allow non-police license holders to concealed carry. That amendment failed 4-3, with Heyen, Bethell and Chandragiri supporting it.
"As I've heard concealed carry license holders are 'some of the most law abiding citizens,' I will look to them to abide by the policy set by the board if passed and respect the ban to conceal carry in our schools," said board member Guzmán Ortiz. 
Superintendent Christy Perry was directed to implement a policy to put the new rules regarding conceal carry in place. 
Signs must be present on campus, alerting the public to the change and prohibition of concealed weapons even if the individual holds a concealed carry permit.
Contact reporter Caitlyn May at [email protected].
JUST THE FACTS, FOR SALEM – We report on your community with care and depth, fairness and accuracy. Get local news that matters to you. Subscribe to Salem Reporter starting at $5 a month. Click I want to subscribe!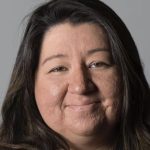 Caitlyn May served as a journalist for nearly a decade in Nevada and in Linn Lane counties in Oregon with a focus on rural stories and long-form journalism. A graduate of both Oregon State University and the University of Oregon, she currently serves as an elementary school teacher but returns to journalism now and then, remaining a dedicated supporter of the Fourth Estate.