Sixteen children lined a stage in Northgate Park, boys sporting straw hats and white button down shirts as girls danced in floral skirts and huipiles, embroidered blouses.
In two lines, the groups stepped back and forth in a staggered pattern, waving colorful bandanas mirroring the undulating movements of an iguana as dozens of parents cheered from the grass and filmed the performance.
The traditional dance, from the Mexican state of Guerrero, was part of a celebration Thursday at the end of a month-long Spanish-language summer camp that brought 30 families together for a mix of cultural education, parenting classes and academic help with math, reading and more.
"The goal is the families have fun this summer, and the kids learn at the same time," said Nancy Gamino, the early learning program coordinator for the Salem-Keizer Coalition for Equality, which puts on the camp.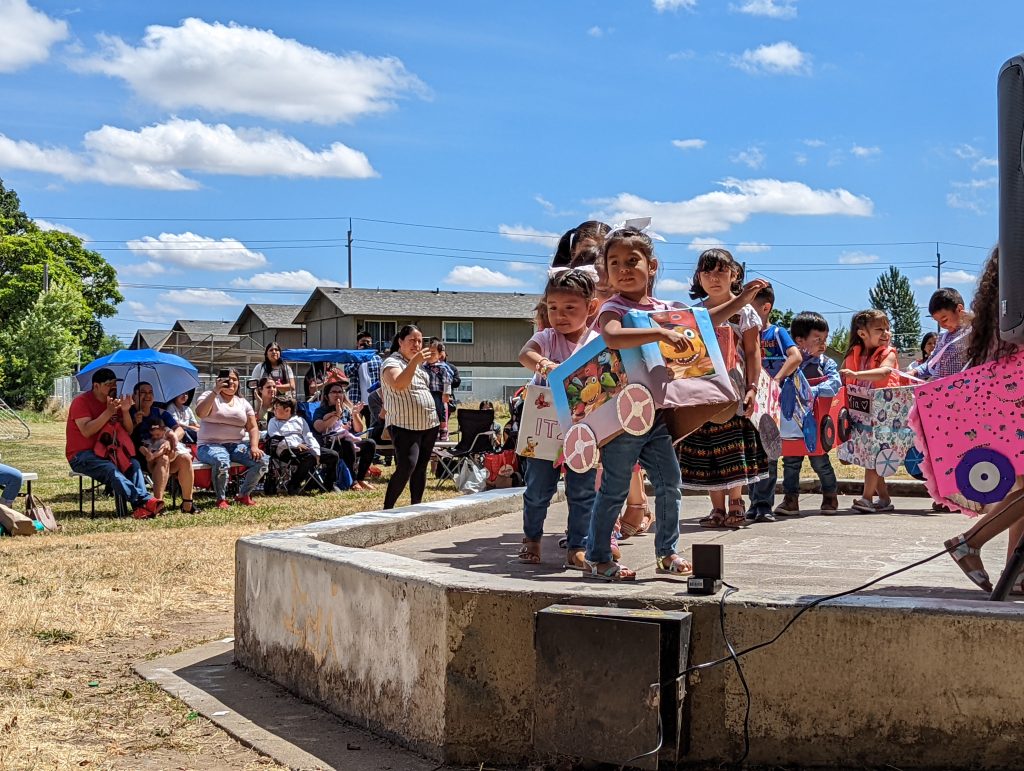 The coalition, a northeast Salem nonprofit, was founded over 20 years ago to help Latino parents engage with their children's education and push for changes in the Salem-Keizer School District.
They began the camp last year with a state grant, as Oregon dedicated millions of dollars toward summer learning programs. This year, a grant just under $300,000 is covering the cost of the program, which is free for families.
Like many summer camps, it combines fun activities — a field trip to Enchanted Forest, art and dance classes — with more educational content, including robotics classes. But it also offers something few other programs do — full days of activities for parents and children of all ages to do together.
That was a draw for Alma Peña, who has five children: an 18-month old son, and four daughters from six to 15. Her daughters have all participated in the summer program, with her son coming along for some activities too. She said with their age spread, it's hard to find something they can all do together.
"It's something for the whole family," Peña said.
She said through the coalition's classes, she's learned how to better help her children learn to read. When she's tried previously to help her youngest daughter learn the alphabet, she quizzed her in order – A, E, I, O, U. In classes, she learned she needed to mix up the letters so her daughter would recognize their shape and sound, rather than just repeating after her.
The family element was on display earlier in the week as participants visited Finca Anahuac, a small farm outside Turner run by the Woodburn-based Capaces Leadership Institute, which grows ancestral crops indigenous to the Americas and helps farmworking and Indigenous families learn about traditional agriculture and cuisine.
Families visited several stations focusing on different foods that can be made with maize, like pinole, roasted ground maize mixed with cacao, cinnamon, sugar and other spices and nuts.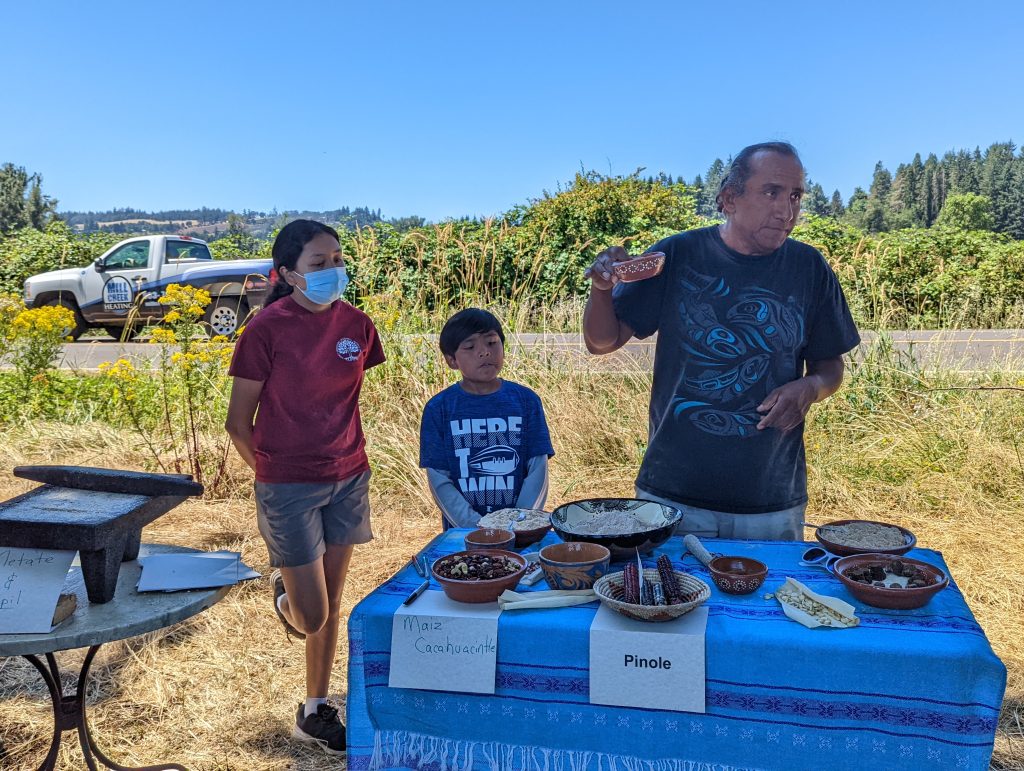 Javier Lara, the program manager, demonstrated the process of milling the corn and making the mixture.
"This is one of the best things you can eat for natural energy," he said, contrasting it with the fast energy of Red Bull that leads to a crash later.
Kids and parents looked on and sampled the powder, before asking about how to prepare it at home. Lara said the hope is to reintroduce those foods to more families and empower them to connect to their culture.
"We wanted the farm to resurrect their traditions," he said.
Gamino said organizers want the program to forge connections within families and across generations.
"We're learning, we're remembering our grandparents when they did these kinds of things," she said after watching the pinole demonstration. Families then lined up for a farm meal of green bean tamales made with red maize, pinto beans and atole, a traditional Mexican hot corn beverage.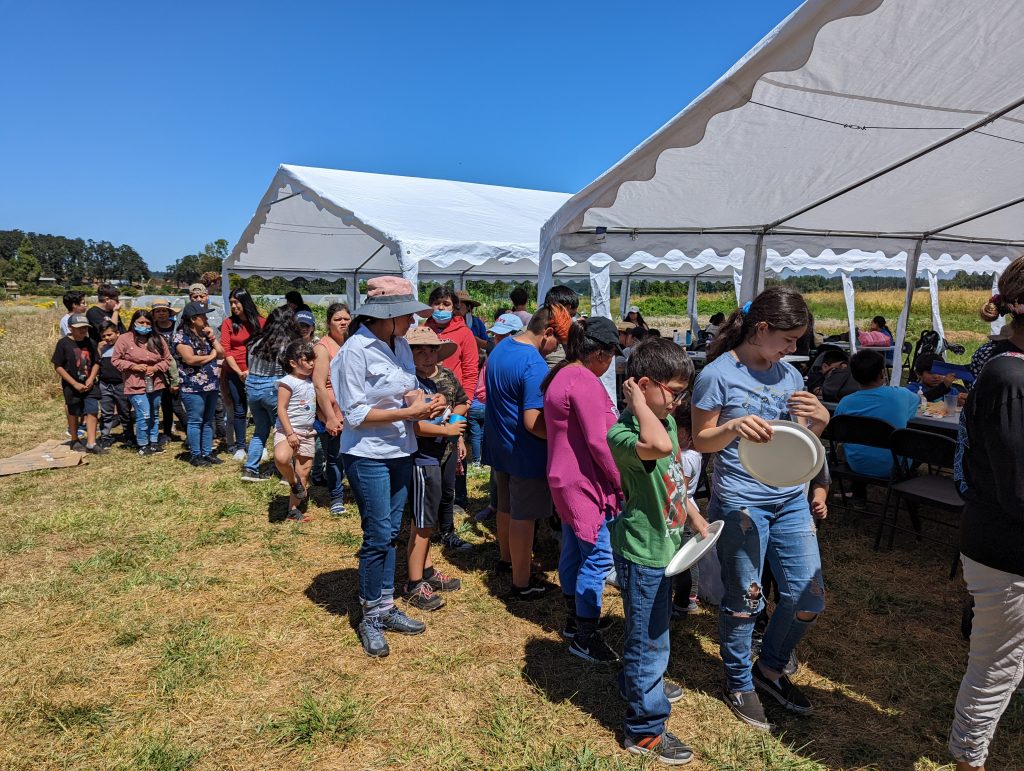 Kids ate off their own plates and cups, brought from home as an eco-friendly measure, sitting at long tables with their parents.
"Today, it's rare you see a family sit at the table together," said Lucia Sanchez, the coalition's early learning facilitator. The program is designed to encourage that quality family time.
For single parents who come to Salem not knowing many people, she said the summer program can be a bridge to swap parenting tips and share information so they have people they can ask for help.
"This builds community," she said.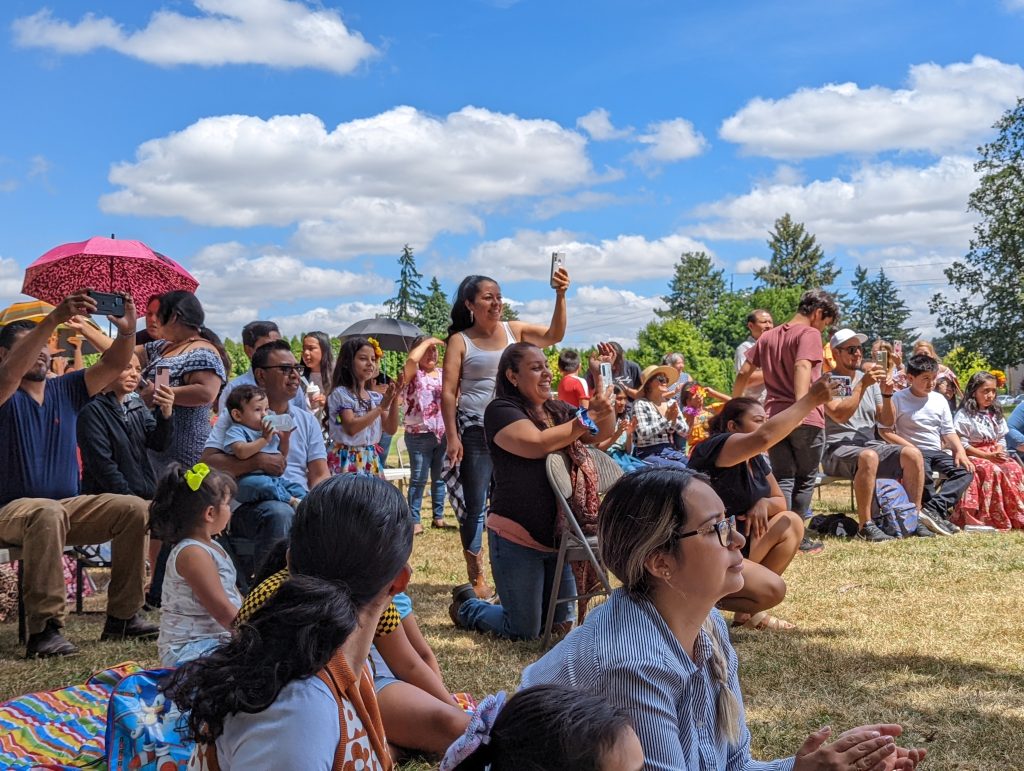 On Thursday, the proud group of students performed their dance routines for families in the park. One father left work for the day to attend the show, and nearly everyone in the audience had a phone out to record or cheered on the young performers.
During a break between performances, the seven- to nine-year-olds who had performed the iguana number swarmed their instructor behind a makeshift curtain in the park.
"Do we get to dance again?" they asked.
Contact reporter Rachel Alexander: [email protected] or 503-575-1241.
JUST THE FACTS, FOR SALEM – We report on your community with care and depth, fairness and accuracy. Get local news that matters to you. Subscribe to Salem Reporter starting at $5 a month. Click I want to subscribe!
Rachel Alexander is Salem Reporter's managing editor. She joined Salem Reporter when it was founded in 2018 and covers city news, education, nonprofits and a little bit of everything else. She's been a journalist in Oregon and Washington for a decade. Outside of work, she's a skater and board member with Salem's Cherry City Roller Derby and can often be found with her nose buried in a book.