Aron Michael Johnston started plein air painting in Lancaster, Pennsylvania, creating images of mountains.
"I like to hike and backpack," he said. "I would hike in my equipment and settle for a day or two and paint the mountains. It's easier to get away from everyone and get some nice vistas."

This Saturday, Johnston won't be up in the mountains but sitting in downtown Salem trying to catch the sunrise.
He will be one of 10 artists painting in Riverfront Park and Salem's historic downtown as part of Salem on the Edge fine art gallery's invitational for plein air artists. The artform asks artists to step outside and record the world around them.
"Plein air is difficult," Johnston said, "because you have to adjust to lighting changes and weather changes. You're not just sitting in a studio where things don't change."
Johnston is going to start the morning on Saturday at Riverfront Park at dawn in an attempt to catch the sunrise – a painting he'll have to complete quickly to race against the rapidly changing lighting. 
"Then I'll go over to the downtown area where I don't have to be as fast," he said.
Johnston – who co-manages the event in its second year – will be joined by nine other artists who will be painting outside. Exactly where won't be known until Saturday. 
"We've given them a map of the downtown core so they stay in that core, but artists are artists," said Melanie Weston, Salem on the Edge owner. "They won't necessarily do that so if people come to the gallery when we open at 11, I have artists' phone numbers and will be calling to see where they are."
But people, Weston said, can also start the day at Riverfront Park and 9 a.m. and find artists already painting–getting an early start to beat the heat forecasted for Saturday.
"Plein air artists are usually pretty friendly," Weston said. "When you're painting outside people will come up to you and ask questions so people will be able to do that on Saturday."
Artists will be in the park and downtown from 9 a.m. to 2:30 p.m. A reception will be held at the gallery, at 156 Liberty St. NE, from 5-7:30 p.m. where the finished artwork will be displayed and available for purchase as well as art from seven other artists. 
Contact reporter Caitlyn May at [email protected].
JUST THE FACTS, FOR SALEM – We report on your community with care and depth, fairness and accuracy. Get local news that matters to you. Subscribe to Salem Reporter starting at $5 a month. Click I want to subscribe!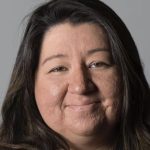 Caitlyn May served as a journalist for nearly a decade in Nevada and in Linn Lane counties in Oregon with a focus on rural stories and long-form journalism. A graduate of both Oregon State University and the University of Oregon, she currently serves as an elementary school teacher but returns to journalism now and then, remaining a dedicated supporter of the Fourth Estate.