Oregon's state parks got a musical birthday celebration Saturday as the Salem Philharmonia Orchestra performed at a special centennial event.
Temperatures Saturday peaked at 103 degrees in Salem, but that didn't stop a crowd from gathering on the Capitol Mall in the late morning to listen to a selection of John Philip Sousa, Pyotr Ilyich Tchaikovsky and Star Wars melodies.
STORY TIP OR IDEA? Send an email to Salem Reporter's news team: [email protected].
JUST THE FACTS, FOR SALEM – We report on your community with care and depth, fairness and accuracy. Get local news that matters to you. Subscribe to Salem Reporter starting at $5 a month. Click I want to subscribe!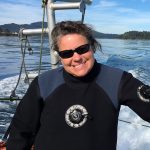 Laura Tesler has lived in Salem, Oregon for 20 years and is originally from Flint, MI. Laura has been an underwater photographer for 15 years, and is an avid scuba diver. Topside, she has been taking photographs since age 12, and currently works on assignment for the Salem Reporter, and full time purchasing land for fish and wildlife habitat in the Willamette Valley. Laura attended Oregon State University, and has traveled extensively all over the world and the United States.