Cindel Mikesell, left, with her cat Natty, are living in a microshelter at the home of Lisa Arana and Brenda Chandler, right, in south Salem (Rachel Alexander/Salem Reporter)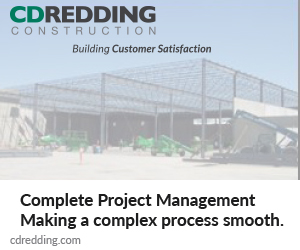 Brenda Chandler and Lisa Arana are used to opening their home to strangers.
The south Salem couple has made a habit of hosting people in need of a place to stay over the years – a Nicaraguan asylum seeker, and others temporarily down on their luck.
So when they prepared their tax return early this year and saw they'd be getting a refund, the pair decided they wanted to buy a microshelter for their yard to give someone who's been homeless a place to live.
"We just noticed that there was a sharp increase in homelessness especially as the onset of Covid came and you know, every time you drive by the encampments it just breaks your heart," Arana, 53, said.
The pair turned to their neighbor across the street, Russ Monk, the owner of High Impact Technologies. His company designed and has been manufacturing the small shelters in use at Village of Hope, the Church at the Park-run micro shelter village on Northeast Portland Road, and has an order for more from the city of Salem.
Monk said Chandler and Arana are the first homeowners to site a microshelter on their property in Salem.
"Our dream is that this is the first of many," he said. "If this works, you know, 'not in my backyard' is the biggest drawback of any homeless program. And this is literally in my backyard."
Chandler and Arana spoke with their neighbors and set up an online fundraising campaign, with friends and neighbors covering about $2,800 of the cost toward a $5,900 shelter.
"That was really nice because … it kind of was a message of community support, like yes, we want to support you in this whether it's $20 or $100," said Chandler, 43.
Three companies donated time to transport the 72-square-foot shelter to their property, Monk said. The couple added a heater and air conditioner and other renovations to make the shelter more comfortable.
Then, they set about finding a guest to live there – and met Cindel Mikesell.
Connecting with shelter
Mikesell, 49, is from Bend and moved to Salem in 2002 to attend college.
She's devoted to Natty, her 20-year-old black cat with white paws who's skittish around dogs but loves to be held.
Mikesell was living with a housemate in 2020, but struggled to pay rent after the pandemic cut her income and her housemate got married and moved out. After some temporary couch surfing, she learned about Safe Sleep, Salem's low-barrier homeless shelter for women, and began living there in the spring of 2021.
Mikesell had a temporary job at Santiam Hospital last year and recently found a new full-time job at the ARCHES Project, working with formerly homeless people as a site assistant.
She's been working and saving money, but said she hasn't been able to find an apartment.
"I finally found something I loved and they want me to have three times my rent and I came in at two and a half times so I lost that opportunity," she said.
Cindel Mikesell, 49, holds her cat, Natty, as she enters her microshelter home on Friday, April 15, 2022 (Rachel Alexander/Salem Reporter)
Arana had volunteered at Safe Sleep prior to the pandemic and thought the microshelter would make a good home for someone without housing who didn't need intensive social services.
"These neighbors are already living in our community. They're just living in cars, and they're freezing, or a tent, and then they're serving your coffee. There are people who are in our communities who do not need wraparound services. Their true problem is their wage is not compatible with the rents," Arana said.
She knew they weren't in a position to offer shelter to someone with addiction or mental health challenges, but figured that by taking in someone else, they could free up a shelter bed where such services are available.
The couple reached out to Lynelle Wilcox, the shelter's director, to see if anyone staying there might be a good fit. Wilcox introduced them to Mikesell and the three hit it off.
"They were kind and fun. They have a great sense of humor," Mikesell said.
Soon after meeting, Arana recalled joking about a crack that needed spackling on the property.
"I'm like, 'No crack in the room!'" Arana said, referring to Mikesell's shelter. "And she laughed, and I'm like, 'Ok, these are my people.'"
Mikesell moved in in early April.
Sharing a home
Chandler and Arana made a "guest agreement" with Mikesell, specifying that she pays no rent and can use the bathroom and kitchen inside their home.
The couple's intention is to provide the shelter to her for at least a year so she can save for her own place, though they're open to a longer arrangement.
The three have a shared love of gardening, and Arana and Chandler have asparagus beds, greens, a rabbit house and a solarium for stray cats on the property.
"We're total health nut gardening nerds," Arana said.
They set aside space in the garden for Mikesell to grow her own vegetables.
"I want to do more of that and they've got that going on, which is just awesome," Mikesell said.
Brenda Chandler, left, and her wife Lisa Arana, center, in their garden with guest Cindel Mikesell on Friday, April 15, 2022 (Rachel Alexander/Salem Reporter)
Mikesell was still moving in when she spoke with Salem Reporter, but had the shelter set up with a single bed, a desk for her computer and space for Natty's food and litter box.
She said she was excited to have more freedom than at Safe Sleep, where shelter residents must store their items and can only bring a small basket of goods to bed with them.
For Mikesell, who loves to read, that proved challenging at times.
"I like to do research. So if I've got three books out because I'm that kind of tactile person, I had to pick one," she said.
When she was moving into the microshelter, Mikesell joked to Wilcox, the SafeSleep director: "I can have four books out at a time!"
She's also enjoying having access to a kitchen.
"I can cook the spaghetti I've been missing for a year," Mikesell said.
Chandler and Arana said they hope to inspire other Salem homeowners to add microshelters to their property and play a role in helping Salemites get off the streets.
Less than a week after moving in, Mikesell, Arana and Chandler were at ease talking and joking in their yard as they surveyed their vegetables beds.
"I feel like this is family," Mikesell said.
"Yeah. We're all clicking very easily," Arana replied.
Contact reporter Rachel Alexander: [email protected] or 503-575-1241.
JUST THE FACTS, FOR SALEM – We report on your community with care and depth, fairness and accuracy. Get local news that matters to you. Subscribe to Salem Reporter starting at $5 a month. Click I want to subscribe!