An undercover Salem police officer texted two dozen photos of a fatal crash to the U.S. Drug Enforcement Administration minutes after one of its agents collided with a cyclist while on duty, according to newly released records.
Police officials refuse to discuss the role of the undercover officer or why he was immediately sending evidence in a collision investigation to the driver's federal employer. Salem Police Chief Trevor Womack declined an interview.
Disclosing evidence to outsiders is unusual in a police investigation.
Records obtained by Salem Reporter through a public records request shed new light on the March 28 collision that killed Marganne Allen, a beloved state official and local cyclist.
Authorities say the matter remains under investigation. Salem police officials insisted they hadn't yet established a crime, but city officials refused to release certain records because of what City Manager Keith Stahley termed in an email an "ongoing criminal investigation."
Authorities have not explained why the investigation into a crash involving a pickup truck and the cyclist is still underway five weeks later.
They have resisted revealing details about the investigation, but records show a strikingly deferential attitude toward the DEA. Three days after the accident, a Salem officer messaged a DEA counterpart to ask how the driver was doing, only to be told by a DEA official the agent was "angry" his name had been released.
He was identified by name but not occupation in the first press release about the accident issued by the Salem Police Department – a day after the collision.
On Tuesday, March 28, Allen left her state job and was riding her bicycle south on High Street near Bush's Pasture Park, on her afternoon trip home.
High Street is a common route for cyclists traveling from downtown into areas of south Salem.
Based on a Salem police news release, Allen, 53, was riding downhill when a pickup truck driven by Samuel Landis, 37, an on-duty U.S. DEA agent, crossed her path.
The DEA agent would have encountered a stop sign in his path along Leslie Street. The stop sign would mean Allen had the legal right-of-way at that intersection.
Pavement markings later showed that the agent pulled through the intersection and parked next to a curb at the southeast corner of the intersection of Southeast High and Leslie Streets.
Dispatch logs show that medics, fire crews and police were called to the scene at 3:44 p.m. They arrived in about three and a half minutes, with police arriving a minute later.
"No Salem Police employees were present at the time of the crash," Salem police said in a news release.
Records indicate that an undercover drug investigator arrived soon after. The investigator was a Salem police officer assigned to the DEA's Salem task force.
The undercover officer took 24 photos of the scene and texted them to his DEA supervisor. It couldn't be established if he sent them before providing them to his own agency. The officer provided no explanation or commentary in the text transmission used to send the photos.
The photos were sent at 4:08 p.m. – 21 minutes after emergency crews arrived on the scene.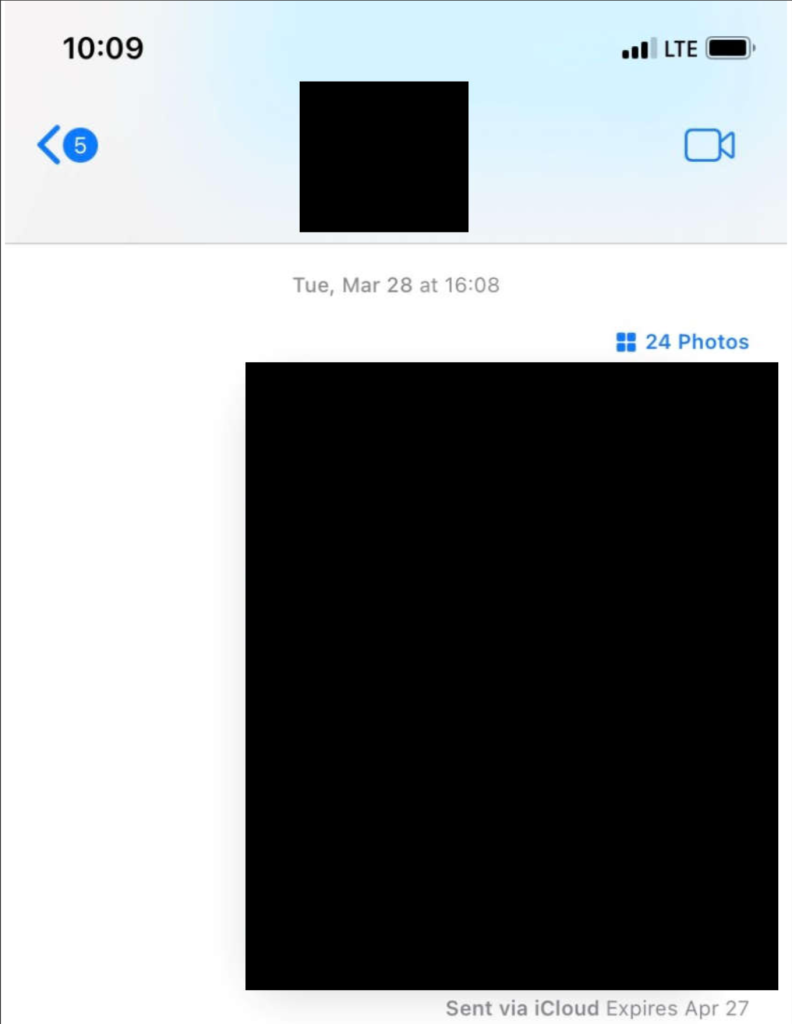 Allen suffered critical injuries and was taken to Salem Hospital, where she later died.
Authorities have provided no explanation for why the undercover officer was there or how he learned of the accident.
"It's not unusual for an officer to immediately document a scene by capturing images. Photographing a crash scene is common," according to an email from Angela Hedrick, Salem police public information officer.
But Salem police initially detailed its traffic team, not the drug task force, to investigate the collision.
A day after the collision, the Salem agency issued its first press release, identifying the victim and naming the driver.
The DEA didn't respond later that day to emails from Salem Reporter seeking to confirm the driver was one of its agents.
The close ties between the Salem police and the DEA are captured in a text exchange on March 31, three days after the crash, in which a Salem police employee asks about the driver: "How is Samuel doing?"
The DEA official, whose name is redacted along with the sender, replies, "I think as well as can be expected. He was pretty angry though about his name and age in the press release."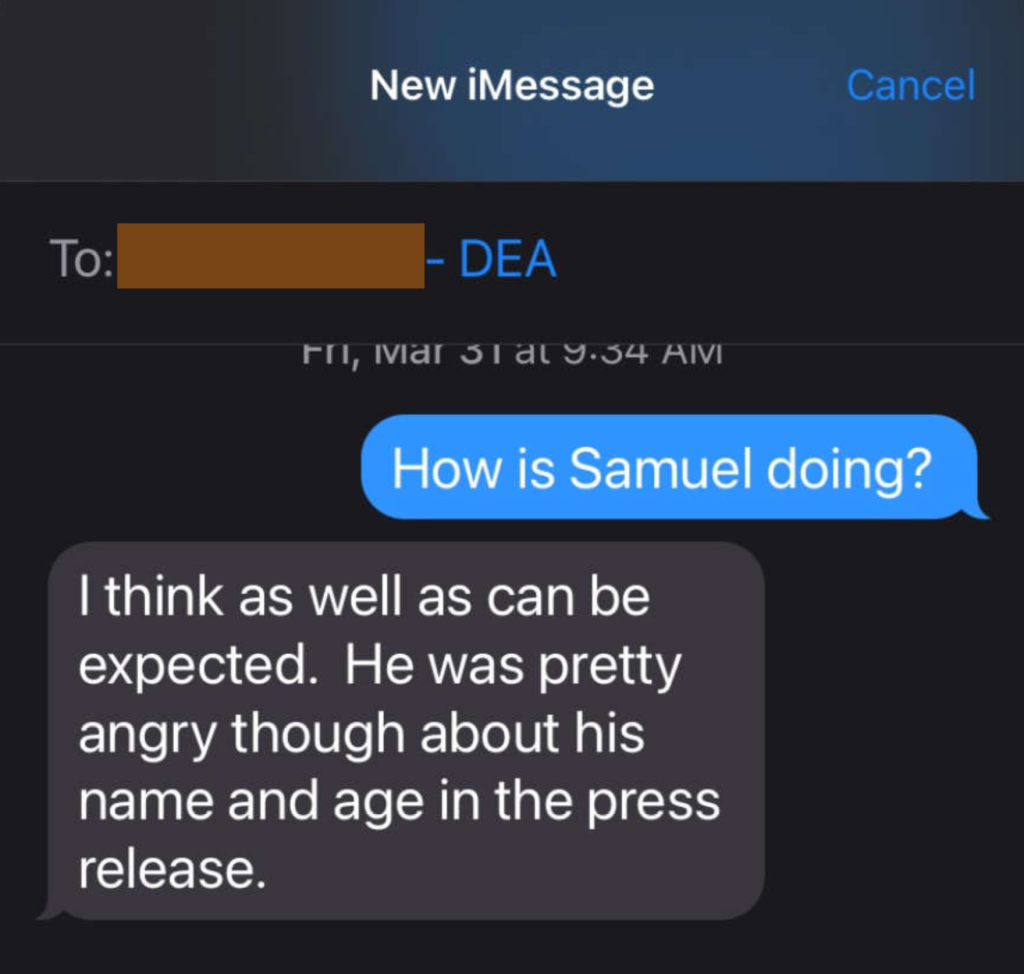 Later that day, Salem authorities issued a second news release, this time sharing that the driver was a DEA agent.
Landis has been a DEA agent since 2016 after working six years as a border patrol agent, according to a court affidavit. The DEA did not respond to a question about his current status at the agency.
Salem police said in their second press release that they were handing the case off to the Keizer Police Department.
That was because the city of Salem was continuing a long-standing participation in a federal drug task force based in Salem. Under the most recent contract executed last October, Salem can recover overtime and expenses for three officers it assigns to the task force. The contract makes clear that the Salem police assigned to the task force report to the DEA – not the Salem Police Department.
The records obtained by Salem Reporter show that the three-paragraph press release went through several drafts, including suggestions from Marion County District Attorney Paige Clarkson. Salem police initially proposed saying Keizer police had been "asked for assistance" with the investigation. In the final version, Keizer police were identified as leading the investigation.
READ IT: Press release drafts
Hedrick said that the photos captured by the undercover Salem officer "were entered into evidence and made available to the investigating agency, the Keizer Police Department. Because the incident remains an active investigation, we cannot comment further."
But the Keizer police were unaware that a Salem officer had sent crash scene photos to the DEA, according to Lt. Chris Nelson.
"You bringing that to our attention is the first time we've heard that," he told Salem Reporter on Wednesday, May 3.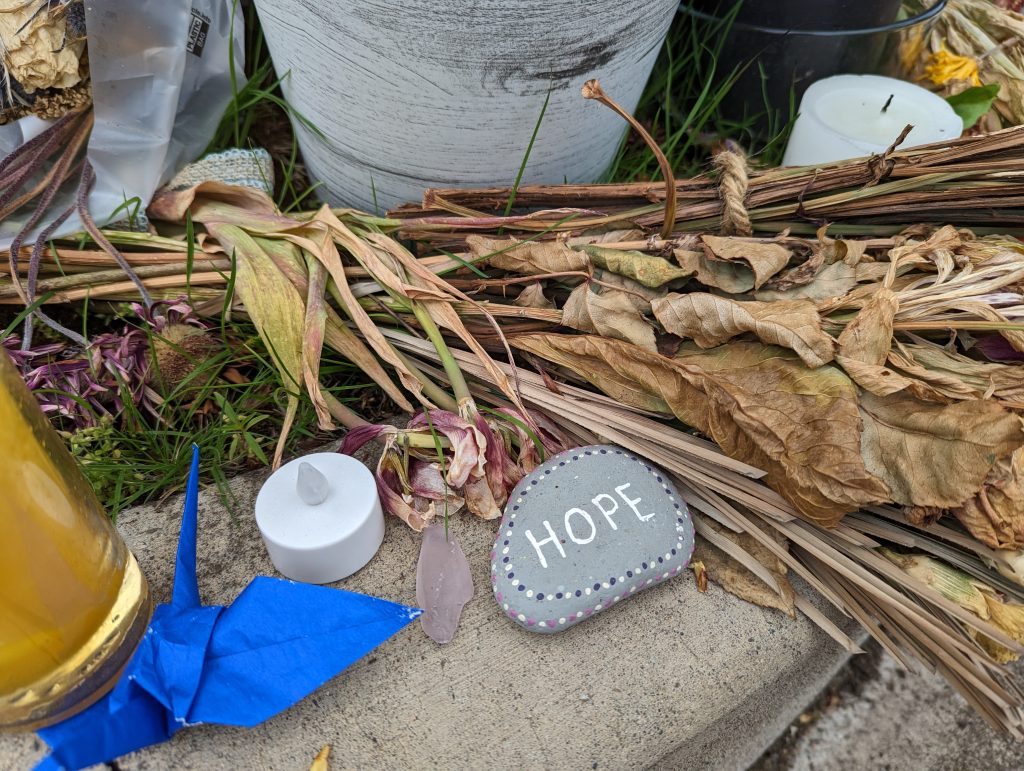 City officials have not released any record explaining who wanted the second statement released or whether the DEA was consulted. The DEA did not respond to questions about the agency's involvement in the crash investigation or issuing of public statements after asking Salem Reporter for more time to respond.
The agencies have been less clear about the type of investigation underway. Hedrick said in an email on Thursday, May 4, that police were conducting a "fatal crash investigation," not a criminal investigation.
But Salem officials wouldn't release to Salem Reporter certain key records – including the 24 photos sent to the DEA – because the law allowed them to withhold records in "criminal investigations."
Salem officials also withheld the name of the undercover officer, citing a state law that protects their identities. But they also attempted to withhold the name of the DEA agent-in-charge based in Seattle who is responsible for the Northwest division. The agent signed the October contract.
The city initially claimed that disclosing the name would put the agent at risk of death, only to later review the claim at Salem Reporter's request and release the document without the redaction.
Court records as of Wednesday, May 3, show no record that the DEA agent has been cited or charged in connection with Allen's death.
Salem Reporter asked traffic investigation experts at the Oregon State Police under what circumstances photos would be shared with a suspect before an arrest.
"I'm not aware of circumstances where this would occur prior to an arrest," said Capt. Kyle Kennedy.
State police Sgt. William Bush said he "cannot think of a scenario" where investigators of a fatal incident would provide evidence photos to a suspect or anyone else involved in a criminal investigation.
Photos of an accident scene are considered evidence, according to Marion County District Attorney Paige Clarkson. She said there are many reasons photo evidence might be shared during an investigation, including with witnesses, victims, suspects, their lawyers or other investigators.
Clarkson wouldn't comment on the circumstances of the Allen case, saying she was waiting for reports from the Keizer Police Department.
That agency wouldn't address the timeline for finishing its work, but the five weeks that have passed since the fatality stand in contrast to the comparatively rapid finish of a recent major police investigation.
The Salem police recently investigated a fatal freeway shooting involving the Oregon State Police, a dozen witnesses and a large crime scene. The agency concluded that investigation in nine days.
And the record isn't clear how Salem settled on turning over the cycling case to Keizer. Skip Miller, a Salem deputy police chief, referred in a text message to an "official request for assistance" to Keizer. But the city released no other documents showing such a request.
Meantime, a memorial to Allen remains cared for at the intersection, with fresh purple flowers recently sprouting from a pot tucked amid candles and colorful artificial blooms.
A painted rock set on the curb reads "hope," and a note from Allen's family is displayed on a wooden post, thanking those who stayed with the cyclist until an ambulance arrived.
"Marganne was a kind and loving person that would have done the same for you. So you see, we are cut from the same cloth," the note reads. "To us, this will always be a sacred place and you will always be our heroes."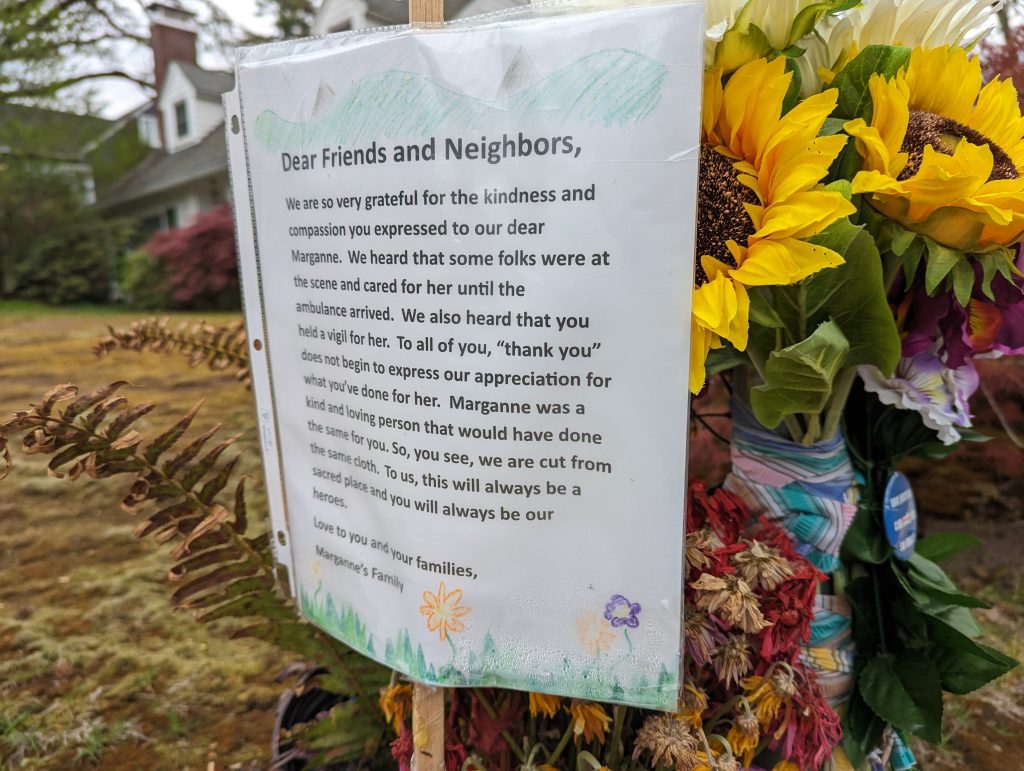 Managing Editor Rachel Alexander and reporter Abbey McDonald contributed to this report.
RELATED COVERAGE:
Keizer police won't say if DEA agent was cited for crash that killed cyclist
Police identify bicyclist killed in central Salem accident Tuesday
Contact reporter Ardeshir Tabrizian: [email protected] or 503-929-3053.
SUBSCRIBE TO GET SALEM NEWS – We report on your community with care and depth, fairness and accuracy. Get local news that matters to you. Subscribe today to get our daily newsletters and more. Click I want to subscribe!
Ardeshir Tabrizian has covered criminal justice and housing for Salem Reporter since September 2021. As an Oregon native, his award-winning watchdog journalism has traversed the state. He has done reporting for The Oregonian, Eugene Weekly and Malheur Enterprise.