A transgender state employee has filed a lawsuit against the Oregon Department of Human Services, alleging he faced discrimination, a hostile work environment and diminished career advancement opportunities when he began to transition.
Alex Pelusi filed the complaint, with his former name Alessandra Pelusi listed as the plaintiff, against the Oregon Department of Human Services last week in Marion County Circuit Court. Much of the complaint's allegations center around Pelusi's interactions with his boss, Ashley Carson Cottingham, former director of the agency's Aging and People with Disabilities Program.
Pelusi was hired to be an executive support specialist in December 2016 – a role he said in the suit he was overqualified for – and Carson Cottingham promised to help him start his career with the state, according to the lawsuit.
When Carson Cottingham interviewed Pelusi, he appeared feminine and his transition process became visibly apparent shortly after he started work at the agency, according to the lawsuit. When visible changes emerged, the lawsuit said, "(Carson) Cottingham's once friendly behavior took a turn."
Now, Carson Cottingham is the deputy director of the Oregon Long-term Care Ombudsman's office, a different state agency, and also chair of the Salem-Keizer School Board, the second-largest school district in Oregon. She is not listed as a defendant in the lawsuit but the complaint's allegations include her and other former supervisors.
The Department of Human Services and Carson Cottingham declined to comment on the lawsuit, though a spokesperson confirmed Pelusi is still employed there. Pelusi's attorney also didn't respond to a request for comment.
"Specifically, (Carson) Cottingham displayed hostility and demoted plaintiff when he began the confirmation process and raised complaints regarding inequitable and unequal treatment," the lawsuit says. "It became increasingly apparent that (Carson) Cottingham and other executive staff expected (the) plaintiff to identify as female and exhibit stereotypical feminine qualities."
As Pelusi adopted the name Alex and started to use male pronouns, at one point Carson Cottingham said: "I don't even know what to call you anymore," the lawsuit alleges.
Eventually, Carson Cottingham gave Pelusi a choice: Take a demotion or be fired for "personal reasons," according to the lawsuit.
Pelusi alleges he was denied opportunities for promotions and projects to advance his career and requested to have his job classification bumped up when he took on more work.
After Pelusi reported the problems to human resources, he began to experience panic attacks and took time off for those as well as a gender confirmation surgery.
By early summer 2020, Carson Cottingham was no longer at the agency, and Pelusi met with Mike McCormick, the program's interim director, who promised to help him get on track, according to the lawsuit. For months, the lawsuit alleges, McCormick told him to "stay tuned" when he inquired.
The lawsuit seeks $650,000 in back pay to make up for the salary cut, loss of job opportunities after his demotion and damages for gender identity discrimination and whistleblower retaliation for reporting violations of the law.
The lawsuit also seeks a court order reinstating him to his former job.
The agency hasn't yet responded in court.
Oregon Capital Chronicle is part of States Newsroom, a network of news bureaus supported by grants and a coalition of donors as a 501c(3) public charity. Oregon Capital Chronicle maintains editorial independence. Contact Editor Lynne Terry for questions: [email protected]. Follow Oregon Capital Chronicle on Facebook and Twitter.
STORY TIP OR IDEA? Send an email to Salem Reporter's news team: [email protected].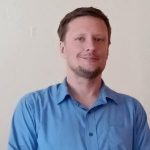 Ben Botkin - Oregon Capital Chronicle
Ben Botkin covers justice, health and social services issues for the Oregon Capital Chronicle. He has been a reporter since 2003, when he drove from his Midwest locale to Idaho for his first journalism job. He has written extensively about politics and state agencies in Idaho, Nevada and Oregon. Most recently, he covered health care and the Oregon Legislature for The Lund Report. Botkin has won multiple journalism awards for his investigative and enterprise reporting, including on education, state budgets and criminal justice.