Jennifer Borrero has been ahead of the curve for years.
She graduated from South Salem High School early at 16, with big goals for gaining her degree at University of Oregon, and the master's degree that soon followed.
Now, at 27, she is seeing another major goal for her life come to fruition. Borrero is representing Salem on an international stage at the United Nations General Assembly in New York this weekend, speaking on the importance of equitable access to education across the world.
Borrero is one of five global youth ambassadors selected by the global children's charity Theirworld, which she works with, to address the U.N. Working with the U.N. has been a lifelong dream of hers, and as the first-generation daughter of Mexican-Colombian immigrants, she said it means even more.
"I feel like it's such a responsibility, but a beautiful responsibility," Borrero said. "I definitely see it in the way that I'm not just representing myself, but I feel like I'm representing the U.S. I'm representing Mexico. I'm representing Columbia, representing Salem. I feel like I'm representing all of these different places that I'm attached to. So I want to make sure that I'm doing the best to be a good representation of everything that I see myself standing for."
Borrero was born in Alaska but grew up mainly in south Salem, attending Bush Elementary School, Leslie Middle School and South. She skipped a grade in high school, graduating in 2012. She then earned her Bachelor's degree from UO in 2016, followed by a masters degree in healthcare administration from Georgia State University in 2018.
From there, she got involved in advocacy and policy work, joining the board of the Georgia Hispanic Chamber of Commerce, leading programs for the Atlanta Public School District, and public speaking. Now, living in Los Angeles, Borrero is working with Theirworld, a global children's charity committed to ending the global education crisis and ensuring all children have access to quality education. The organization has a set of goals toward ensuring all nations can lead as equitable societies, with advocacy and policy to support access to education being the main focus.
As a global youth ambassador, Borrero works to amplify this message, and work with policymakers and government leaders to make change. This weekend, she will seek to do the same at the U.N.'s Transforming Education Summit.
"I am stringing together my different experiences and expertise that I've gained with the different programs that I've led, and my own personal experiences to really craft a message that I think will be impactful for policymakers – that will be relatable and that will really be powerful. We really are going there with the essence to demand change. We want to leave the summit with something actionable from these policymakers."
Everything is tied to education, Borrero said, and she is particularly interested in highlighting how access to education affects peoples' access to housing and other social needs.
Borrero said she saw this from her own time in education here, in Georgia, and the few years she went to school in Mexico as well.
"Growing up and experiencing different school systems, I've always noticed and had an appreciation for what education can do for people as far as the opportunities and doors that can open and not to take it for granted," she said.
Her personal experiences, and growing up with a Mexican-Colombian background is something of great importance that she has carried with her.
"It's something that I'm very, very connected to, and especially in these different communities, working with other people, whether they're first-generation Americans or immigrants," she said. "I think it's so important to have representation and a voice for other people to see the different paths that one can take when it comes to your career and doing positive things in the world."
For those who have worked with Borrero in the past, it's no surprise she's rising to international influence.
Eric Boggs is the director of the Business Honors Program in the University of Oregon's Lundquist College of Business, but when he taught Borrero, he was the director of an alternative break program at UO, which is a form of "immersive, experiential learning" that happens on breaks between terms.
For this break, Boggs said he took a group of students, including Borrero, to Nicaragua to support local work happening there and learn from nonprofits and community health workers.
"So we had this awesome opportunity not just to kind of drop in as Northern Americans trying to build a house even though we didn't know how to build houses, but rather to learn service so students are exposed to that kind of service learning aspect to learn a lot from these community health workers," he said.
Borrero said this was a particularly impactful trip in her life that led to her wanting to refocus on policy work. 
"It's super interesting and fun to see her now thriving and shining. In undergrad, she didn't quite have the same person – she was just as talented, just as smart, just as much potential, but quiet," Boggs said. "We tend to think of leaders as the loudest voice in the room or somebody in a position of power and on that trip JB was neither of those personas but still had a great impact on her classmates and in our discussions."
He said seeing her succeed now is the reason he does the work he does, and works to create transformative experiences for students.
"I think she's an inspiration to her peers and young people, educators, and to me as well," Boggs said. "Many, many folks are exposed to these types of issues and experiences and I'm always impressed when folks like JB have the resolve to make this type of social work part of their life's work."
This weekend, Borrero hopes to highlight the ways that education systems can better prepare students for the tangible skills they need in life and the workforce, the importance of having education be accessible, and how it intersects so clearly with issues such as homelessness, child labor, and climate change.
"I am just so excited. I am so humbled, more than anything," she said. "Doing any sort of work or an internship with the UN has always been something that I dreamed about. I envisioned it much later down the line for myself, so to have this opportunity at 27 to be able to have my voice literally be heard by some of these most prominent government leaders, it really is humbling, and I don't take the opportunity for granted in any sense."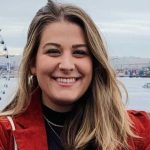 Jordyn Brown is an Oregon journalist who formerly worked for the Eugene Register-Guard.