Kseniia Hnatovska ate Oregon cherries as her 2-year-old daughter Ahnieta played, laughing and running through the kitchen.
Toys for Ahnieta line the yard, and the family likes to take their daughter to neighboring Englewood Park.
The 33-year-old is settling into her northeast Salem home, where she, her husband Serhii, 47, and her mother Larysa Martyniuk, 57, have lived for six months after fleeing the war in Ukraine.
The calm of their daily family life now was hard won, following an arduous journey to Salem that spanned weeks and covered thousands of miles by car, bus and plane.
"When we lose something, only then we understand how much we had before," Hnatovska said.
The family is from just outside Kharkiv, Ukraine's second-largest city of 1.4 million people in the county's northeast, near the Russian border. They fled after the war broke out, ending up in Salem.
Now, they intend to stay and build a life and community here.
"We want to work, to have a nice calm life," Hnatovska said.
The war begins
As tensions with Russia mounted, Hnatovska found it was difficult to believe armed conflict would come to their home in the 21st century.
Their hometown is close enough to the Russian border that many people, including Hnatovska, speak Russian as a first language, and Ukranian second.
She worked in information technology and was on maternity leave raising their daughter. Her husband worked as a video editor, while her mother was an accountant. They enjoyed taking Ahnieta to swim classes and the local shopping center.
"Before the war, we had a pretty family and nice life," she said.
But on Feb. 24, her husband woke her: "The war has started."
Friends began calling, reporting Russian troops had bombed the Saltyvka District in the city's east.
The family immediately went to stock up on food, facing a wait of two hours to get into a store with many shelves already bare. Their car was low on gas, and Serhii was turned away from a station while trying to refill.
Turning on the news, Hnatovska saw Russian President Vladmir Putin saying this was a "special operation" targeting only military installations, and civilians had no reason to fear for their lives.
"Innocent people were dying and they were attacked and bombed, and we understood we couldn't trust this information anymore," she said.
The family moved to the cellar at their home just outside the city, gathering documents, food, money, water and diapers for Ahnieta. They taped windows on their home so the shattering glass wouldn't litter their house if they were bombed. They kept lights off.
The cellar was small, designed to store food, and the family spent hours in the cramped, poorly ventilated space, dressed in layers against the February cold.
"When you are in the cellar you have some feeling of safety," Hnatovska said. "You think that if you go outside, you can be killed."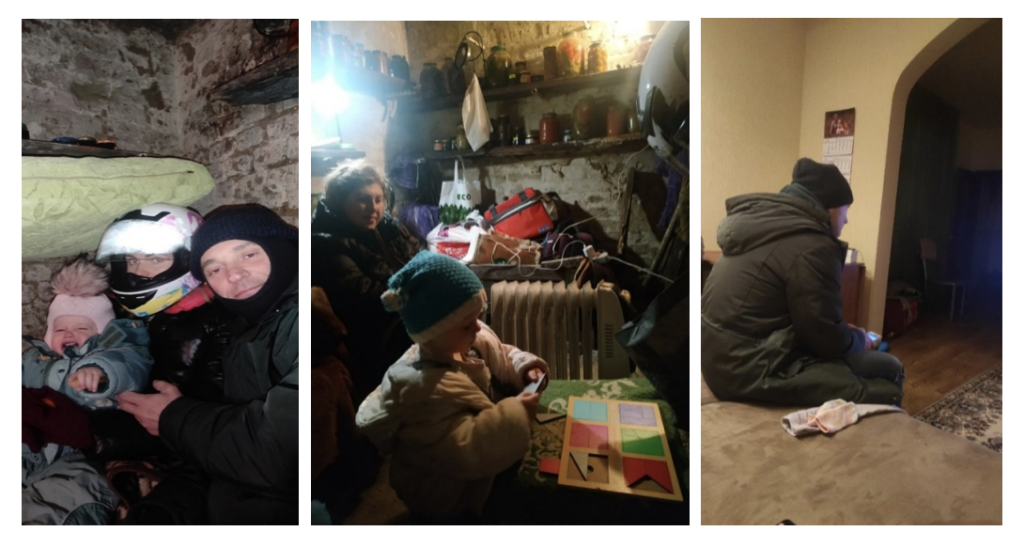 As they waited, reports trickled in about the advancing war. A classmate's father died in a shelling while out buying groceries. Air raid sirens sounded, and Hnatovska tried not to cry to avoid scaring her daughter, then 19 months old.
Hnatovska said Ahnieta became quiet and withdrawn.
"Before the war, she was so energetic," Hnatovska said.
Fleeing home
After about a week, Hnatovska knew their family couldn't stay. She didn't want her daughter growing up in the shadow of a war, and the life they had living underground listening for air raid sirens felt like no life at all.
"You can't live in this fear," she said. "You're just like a wild animal."
They packed the car with only essentials – identifying documents, food, water, some clothes and diapers and supplies for Ahnieta.
When the city's curfew lifted at 6 a.m., the family drove to a nearby gas station and got in line for fuel, saying goodbye to the home they'd lived in for two decades. They were sixth in line, and had about 70 cars behind them when the station finally opened.
Then, they got on the road toward Dnipro, a city about 130 miles southwest where Kseniia's mother had a friend they could stay with.
"If you go outside, you can be killed."

Kseniia Hnatovska, recalling her family hiding in their cellar as Russian bombing began
When they arrived there, Hnatovska saw families out shopping and playing. After just one week of war, seeing such normal life felt surreal.
The friend's apartment was on the ninth story of an apartment building, providing no cover in case of bombings, and the family spent a sleepless night there, she said. In the morning, they left for Uman, heading west about 260 miles.
The drive of 17 hours brought the family to a makeshift shelter for people fleeing the war, with about 50 mattresses on the floor.
"People were so connected – they tried to help each other," Hnatovska said.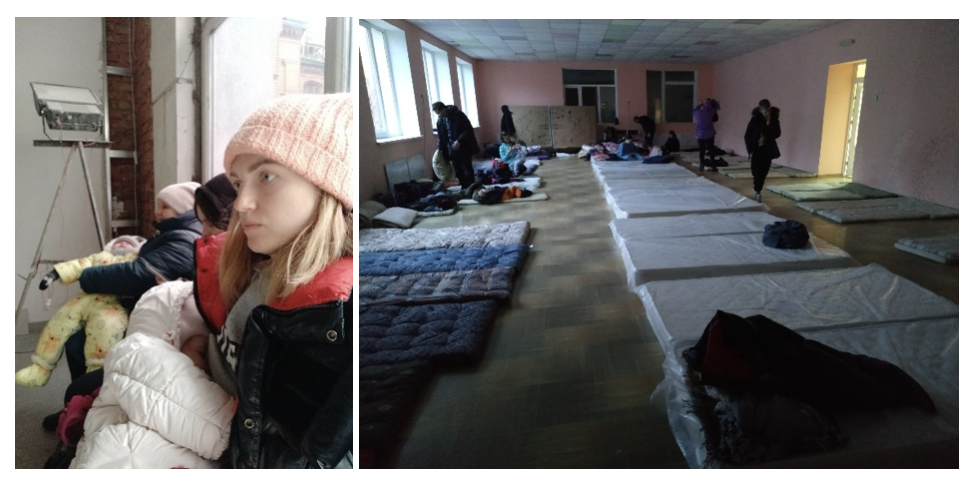 After two more days on the road, the family reached Lviv, a city near the Polish border. There, they boarded a bus and traveled 22 hours to the Polish city of Rzeszow, where many Ukrainian refugees were destined.
From the start, Hnatovska said staying in Poland didn't feel like a permanent solution. Her family of four lived with her aunt, uncle and a woman her aunt was caretaking. The space was small, and with so many Ukrainian refugees fleeing to Poland, options for work were scarce.
Her husband had a cousin in Salem, and the family had suggested since the war broke out that they travel to the U.S., but the idea seemed so implausible.
"It was for us like people say, 'Come to the moon,'" she said.
Coming to Salem
But in Salem, their relatives were already working to secure help.
The cousin, Arsen Gulua, teaches music at Willamette University, and his wife Aysa is a renowned classical pianist. Aysa had been giving piano lessons to the son of Rabbi Eli Herb, who leads Temple Beth Sholom in Salem.
"They were really distressed because they had family members in Kharkiv as it was being heavily bombed and much of their family was fleeing to Poland," Herb said. "The distress in the family really tore at my heart, so I basically said: 'What do they need?'"
The synagogue paid $7,000 toward the family's travel expenses, using a discretionary temple fund and contributions from members.
Hnatovska learned Ukranians could get into the U.S. at the Mexican border, so they took four flights over two days to reach Tijuana, just south of San Diego.
From the Tijuana airport, they took a taxi to the U.S. port of entry. Hnatovska spoke no Spanish and, as the only English speaker in the family, did her best to communicate with the driver in her third language.
"We were just praying," she said.
They waited seven hours but were allowed in with their Ukrainian passports under a one-year humanitarian permit. From there, they met their relatives and traveled to Salem, where they arrived in March.
Since their arrival, the family has been welcomed by many in Salem.
The Temple Beth Sholom congregation has continued to support them, with one member who had plans to move abroad donating her home for the family to live in.
Ukraine had a large Jewish population for centuries, but pogroms and Nazi occupation led to much of the population fleeing in the 19th and 20th centuries.
Many of those who left came to the U.S., and Herb said the synagogue is full of people descended from Ukrainian Jewish refugees and immigrants, which has strengthened their desire to help.
"There's a real personal connection for a lot of members to Ukraine and the people there," he said.
Herb said the synagogue has continued to pay for expenses related to the home so the family and homeowner don't have to, and have raised about $5,000 to cover other essentials. They've also connected the family with immigration attorneys to gain more permanent legal status.
"There's a saying in our tradition that if you save one person's life you save the whole world. So that's there, that means a lot to members, but many of us are also still struggling with the feeling of helplessness," Herb said.
Another friend has set up a GoFundMe seeking to raise money long-term for the family to buy a home. A special benefit concert at the Englewood Forest Festival in August also helped raise money.
Hnatovska said the adults recently received work permits and are now hoping to find jobs in their occupations.
Returning to Ukraine would be too difficult, she said. Even if the war ends, mines and other dangers will remain, and jobs will be difficult to find. Russian soldiers have burned many fields and forests.
"Bodies are buried absolutely anywhere – in city parks, in trenches along roads, in children's playgrounds. How is it ever going to be possible for a child to play there?" she wrote in a summary of the family's story.
And there's the trauma of returning to the home where her foremost memories are now crouching in a cellar as bombs dropped nearby. Now, the family monitors the war from the U.S. and checks on family still in Ukraine.
Hnatovska's sunny demeanor is overshadowed when she speaks about the Russian invasion and the way soldiers have targeted hospitals, senior centers and other civilian outposts, and the lies Putin told about the war.
"They are so cruel," she said.
In Salem, Hnatovska has been improving her English, while Serhii and Larysa are learning. Around their home, pink Post-it notes have common English phrases and nouns on them to practice. The family's neighbors have provided the best English instruction, Hnatovska said, stopping when they're out on walks to chat.
"We have very friendly neighborhood, lots of people try to help us," she said.
Serhii said he's been watching instructional YouTube videos to help him learn as well and hopes to pick up videography or video editing work. Hnatovska's work was mostly in geographic information systems, but she said she'd be happy doing more administrative tasks.
The family takes Ahnieta to the nearby park frequently. Donations from the Salem community included many toys for the girl, and Hnatovska said her spirits have begun to lift.
"All the time she's surrounded by a lot of bright things, her interest in things so she has no time to be sad," she said with a laugh.
Here, in Salem, she said Ahnieta picks up on her parents' mood and sees that they feel safer. She's no longer withdrawn, hiding in a cellar. Instead, she again loves to run and play.
Contact reporter Rachel Alexander: [email protected] or 503-575-1241.
JUST THE FACTS, FOR SALEM – We report on your community with care and depth, fairness and accuracy. Get local news that matters to you. Subscribe to Salem Reporter starting at $5 a month. Click I want to subscribe!
Rachel Alexander is Salem Reporter's managing editor. She joined Salem Reporter when it was founded in 2018 and covers city news, education, nonprofits and a little bit of everything else. She's been a journalist in Oregon and Washington for a decade. Outside of work, she's a skater and board member with Salem's Cherry City Roller Derby and can often be found with her nose buried in a book.