Katy Ogdahl Naff, owner of Gatsby Boutique in downtown Salem, has a suggestion for shoppers this holiday season. Pick one person on your gift list, and commit to buying those gifts locally.
It's an idea plenty of small business owners in Salem's downtown core might agree with.
Store closures, including Nordstrom and Salem Summit Company, are changing the downtown retail landscape. And consumers, worried about inflation and higher costs, opt for convenience over experience. When all these challenges combine, running a small shop gets harder. Some business owners are struggling.
"I've been in business since 2019, and this has definitely been my worst year aside from 2020," Ogdahl Naff said. "In 2021, people came back in. 'Support local' was a good catch phrase, and people were really trying. Shoppers came back in a trickle, and not every month was great, but through 2022, which I would say was my best year, people were still getting out, enjoying small businesses and appreciating their time in the community."
Roanna Gingrich, owner of CreativiTEE + rofe designs in downtown Salem is also facing a challenging year. "This quarter is starting out slower than anyone anticipated," she said.
"I think we had a lot of shop local support during the pandemic, and now, people say, 'You made it through the pandemic. That's great. Have a good day.' But now is the time when things are harder. Now is the time when there's no longer other layers of support," Gingrich said.
Pandemic protections, such as grants and loans, are no longer available to small businesses. Inflation touches their businesses, too. As the price of raw materials goes up, so do their expenses. Sensitive shoppers may not be willing to accept a shift in the cost of their favorite things—especially when they can buy them online for less.
Jim Vu, president of the Salem Main Street Association, said online shopping has a deep impact on the local economy.
"Convenience has overridden everything. There's a perception that it's inconvenient to go shopping when I can just pick up my phone, find it, and Amazon will send it to me in the next 24 hours," Vu said.
He's also heard complaints about shoppers heading to retail shops to touch, try on, and experience items they later buy online for a lower cost.
"What they're doing is not valuing the experience of trying something on. When you don't value it, that experience will go away," Vu said.
Vu points to research conducted by Civic Economics. "When you spend $100 at a local store, $68 of it goes back into the local economy. When you spend at a big box store, $43 goes back to the local economy. The difference is 58%, what we call the local difference."
The Salem Main Street Association is partnering with the Salem Chamber of Commerce to launch messaging about this research. They hope to entice people to keep their dollars in local shops, rather than with online retailers or big-box stores.
Ogdahl Naff hopes people will shift their habits before black Friday.
"The holidays really are important to us," she said. "We're not saying 'Come and blow your entire paycheck.' Just try to add in one or two small business sales. Otherwise, we won't make it."
"If people don't shop downtown, it's going to disappear. It won't be filled with small businesses. The businesses that are downtown are often owner-operated. We don't even fit into the definition of small business. We're tiny businesses that survive because people come down and support the uniqueness we deliver," Gingrich said.
Visit Gatsby Boutique at 379 State St. for vintage-style clothing and sip wine while you shop. Head to CreativiTEE + rofe designs on 110 Commercial St. NE to make your own tee-shirt or shop for gifts from local artists.
STORY TIP OR IDEA? Send an email to Salem Reporter's news team: [email protected].
SUPPORT OUR WORK – We depend on subscribers for resources to report on Salem with care and depth, fairness and accuracy. Subscribe today to get our daily newsletters and more. Click I want to subscribe!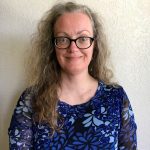 Jean Dion is a freelance writer and marketing professional. She's lived in Salem for about 10 years. When not writing, she dabbles in gardening, photography, and caring for her dogs, cats, and rabbits.