Amid a sharp increase in gun violence, the city released a report analyzing the 18 fatal shootings and 68 nonfatal shootings within city limits between Jan. 1, 2018, and June 30, 2023.
The report will be presented publicly in an unusual joint session of the Salem City Council, Marion County Board of Commissioners and Salem-Keizer School District leaders on Monday, Nov. 20.

READ IT: Salem, Oregon Gun Violence Problem Analysis
The report, prepared by outside consultants hired by the city of Salem, does not include police shootings, self-inflicted gunshots or cases of self-defense. Here are the key findings:
Shootings in Salem have doubled in the last five years. With homicides and nonfatal injuries combined, there were 10 shootings in 2018 and 20 in 2022.
The report estimates that fewer than 200 people associated with groups and gangs, around .01% of the city's population of over 175,000, are behind most of the city's gun violence.
Salem's homicide rate over the last decade, 3.4 deaths per 100,000 people, is often higher than the statewide average or for comparable cities like Eugene. In 2022, the rate in Portland was 15.6 per 100,000 people, according to the Oregonian.
Gun violence disproportionately involves young Hispanic men. Around 22% of Salem's residents are Hispanic, but make up about 51% of victims and suspects in gun crimes. About 9 out of 10 victims and suspects were male, and 61% were between the ages of 18-34.
Black people are also disproportionately impacted by gun violence in Salem. Despite being 1.4% of the population, they make up nearly 13% of victims and 5.4% of suspects.
More kids and teens are getting involved in gangs and dangerous situations. Nearly one in 10 shooting victims and 18% of suspects were under 18. More teens got arrested for aggravated assaults and weapons laws violations in that time, too. The report points to the Covid pandemic reducing services for high-risk youth, civil unrest and the Salem Police Department's disbanding of its gang enforcement team in 2019 as contributing.


More unsheltered people were victims of gun violence in the last three years than in years prior. They made up less than 3% of victims from 2018 to 2020 but nearly 20% of victims between 2021 and 2023. There was no significant increase in the share of homeless people considered suspects in gun crimes.
Most victims and suspects had previous contact with the prison system. About half had been incarcerated before and had been convicted of a felony. About one fourth were on active probation. Of those, most had been arrested around seven times by the time they were involved in a shooting.
Most shootings, 24%, happened over personal disputes, like money or relationships, between acquaintances. The majority of those involved group or gang members. Around 17% were defined as directly gang or group related, and 9% were between strangers, such as a bar fight.
Without being able to confirm every case, the report estimates that at least half and up to 85% of shootings involve gang members.
Two major gangs in Salem, the Sureños and Norteños, are behind the majority of shootings. These gangs are involved in narcotics and weapons trafficking, and also thefts, carjackings and "marijuana crimes."
Most shootings are concentrated in a 5-square-mile area in northeast Salem.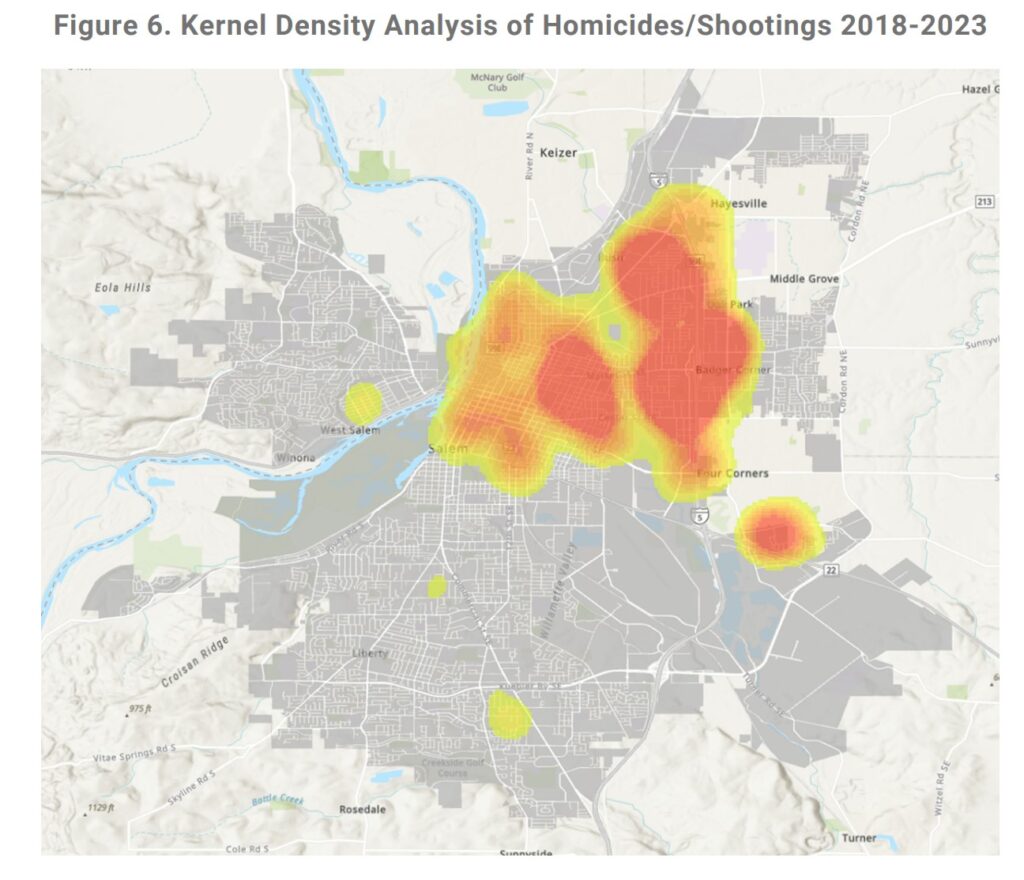 Contact reporter Abbey McDonald: [email protected] or 503-704-0355.
SUPPORT OUR WORK – We depend on subscribers for resources to report on Salem with care and depth, fairness and accuracy. Subscribe today to get our daily newsletters and more. Click I want to subscribe!
Abbey McDonald joined the Salem Reporter in 2022. She previously worked as the business reporter at The Astorian, where she covered labor issues, health care and social services. A University of Oregon grad, she has also reported for the Malheur Enterprise, The News-Review and Willamette Week.