Scattered across Salem's streets, there are thousands of portals to other worlds.
That's the premise behind a whimsical new project from Salem math teacher and artist Sophia Wood.
Using city geographic data, she mapped out Salem's network of 10,083 storm drain manhole covers and assigned each a destination, code name and "risk level" advising prospective adventurers what they might encounter below.
"It just provides a creative prompt to a walk," she said. "Would you go in? What would we encounter?"
Near her home, a manhole on South Cunningham Lane she walks by with her three teenagers leads to "Sacred Path." It's a risky trip, though — her map advises "This is probably your last adventure."
Wood said she wanted to "take something that seems maybe boring and make it into something else."
The project is called "Porthales," a combination of "porthole" and "portal" and is accessible via Woods' website and an interactive map. She hopes the map might inspire Salem's poets, artists, writers and explorers by giving them prompts to work with as they're out and about.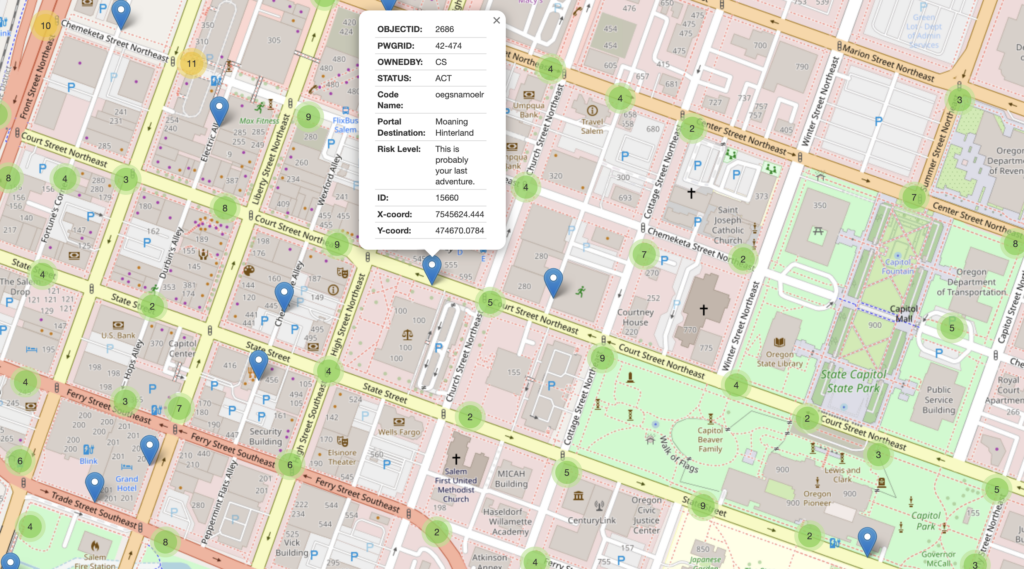 Woods said the project fits in with her larger philosophy of "seeking the depth in what others may consider mundane … and being creative and just joyful with a lot of things."
"There's no reason when you're trying to learn something that you can't do it through art and creative exploration," she said.
Porthales was a one-day project on Saturday, Nov. 4, as Wood was looking for a way to brush up her skills with Python, a programming language. She looked at the city of Salem's data website and saw the file of manhole data.
"How can we make this fun?" she thought.
Woods has previously taught classes in creative coding and likes finding ways to make math interactive and artistic. She decided to reimagine the city's infrastructure network as a series of portals to other worlds.
She used a list of 200 adjectives and 200 place names and combined them, using the first 10,083 to give each hole a unique destination. A manhole just south of the Salem Public Library at the intersection of Southeast Leslie and Liberty streets leads to "Delirious Park," while another at the entrance to Wallace Marine Park leads to "Withered Kingdom."
Each hole has a code name, a unique anagram of "Salem, Oregon," and a risk level on a six point scale that's randomly assigned. The safest are listed as "You should be fine," while others advise bringing a friend, a group, a weapon or a healer before venturing inside.
The prompts lend themselves to role-playing games, as well as people seeking out adventure or exploration in Salem. Wood wrote several haikus inspired by the holes near her home.
"I might take this path
this sacred walk, in my mind
eventually," she wrote.
"It's like a short little day dream about what possibilities would be down that porthale," she said.
Contact reporter Rachel Alexander: [email protected] or 503-575-1241.
SUPPORT OUR WORK – We depend on subscribers for resources to report on Salem with care and depth, fairness and accuracy. Subscribe today to get our daily newsletters and more. Click I want to subscribe!
Rachel Alexander is Salem Reporter's managing editor. She joined Salem Reporter when it was founded in 2018 and covers city news, education, nonprofits and a little bit of everything else. She's been a journalist in Oregon and Washington for a decade. Outside of work, she's a skater and board member with Salem's Cherry City Roller Derby and can often be found with her nose buried in a book.