Hundreds of people filled the McKay High School commons Saturday, Nov. 4, for a colorful tribute to Dia de Los Muertos.
The event, organized by Salem dance group Casa de Cultura Tlanese, featured dozens of performers from across the Mid-Willamette Valley, highlighting the diversity of dance styles and cultural traditions across Mexico.
A community ofrenda decorated with marigolds was filled with offerings for the dead and mementos to pay tribute.
STORY TIP OR IDEA? Send an email to Salem Reporter's news team: [email protected].
SUPPORT OUR WORK – We depend on subscribers for resources to report on Salem with care and depth, fairness and accuracy. Subscribe today to get our daily newsletters and more. Click I want to subscribe!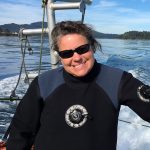 Laura Tesler has lived in Salem, Oregon for 20 years and is originally from Flint, MI. Laura has been an underwater photographer for 15 years, and is an avid scuba diver. Topside, she has been taking photographs since age 12, and currently works on assignment for the Salem Reporter, and full time purchasing land for fish and wildlife habitat in the Willamette Valley. Laura attended Oregon State University, and has traveled extensively all over the world and the United States.