Moses Jones shows up at his Salem gym with a golf bag full of swords.
They're key as the 49-year-old teaches the basics of medieval combat to a group of four students, walking through footwork and the three rules of swordfighting: Don't get hit.
Don't get hit.
Hit the other person (while not getting hit).
While Jones has his geek bona fides — he grew up playing Dungeons and Dragons and reading Lord of the Rings — medieval sword combat is as much a physical discipline as it is art or nerdy hobby.
"There is a lot of wrestling in medieval swordfighting," he said.
So much, in fact, that Jones' students don't have swords in hand until almost halfway through his two-hour lesson.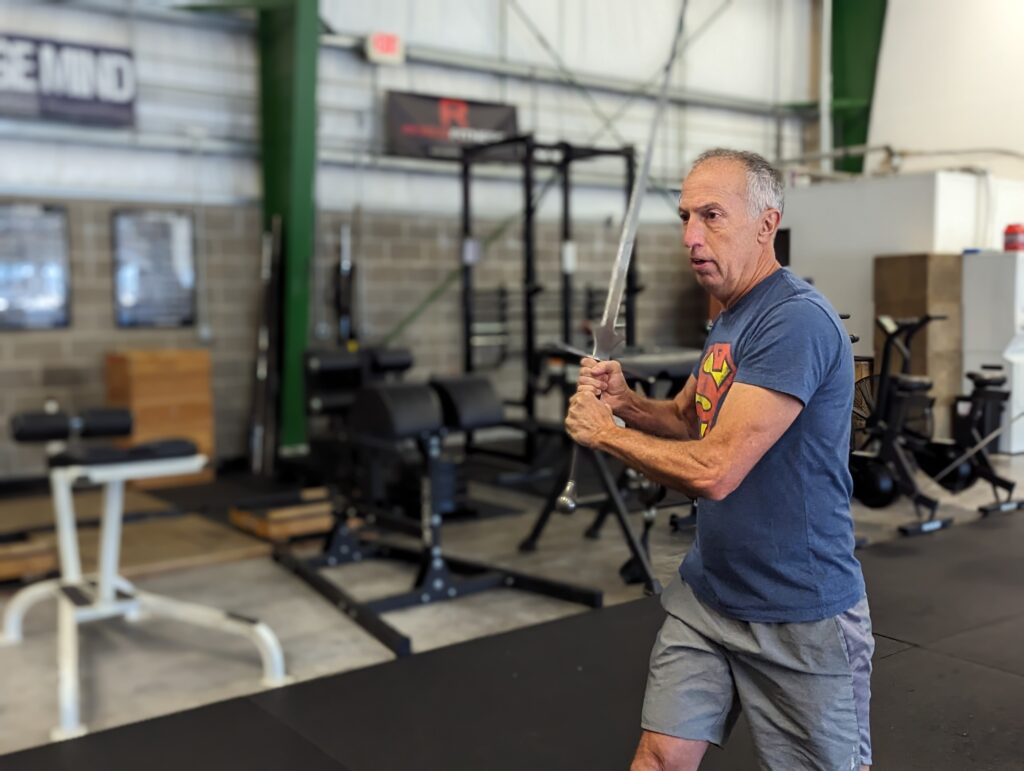 Jones has long been interested in combat and began teaching private lessons earlier this year, and currently has about six students.
Starting in January, he's opening up group classes in sword combat at Iron Phoenix Athletics, a small gym focused on functional fitness training.
Jones first began martial arts years ago and then studied fencing, but found himself frustrated because the combat ended just when things got interesting.
"I'd get so close and it's like – I want to punch you! Why can't I punch you?" he said.
His wife is Italian, and about a decade ago, the family traveled to Italy for a year to work on the kids' language. While there, he found an Italian longsword instructor and fell in love with the hobby. On returning to Oregon, Jones found a coach in Portland and became part of a group training through the Historical European Martial Arts Alliance.
The alliance's curriculum is built off the teachings of Johannes Liechtenauer, a somewhat mysterious German fencing master who lived in the 14th or 15th century, and is credited with composing a cryptic poem detailing how to use a variety of weapons. The poem and his traditions were later written into manuscripts after his death, and sword combat enthusiasts now spend time pouring over the centuries-old German texts.
Jones, who had a dog-eared copy of an illuminated manuscript at his recent class, said it's often easiest to decipher the text through understanding of other martial arts. The old German text may be hard to comprehend, but illustrations showing movements in combat often translate across disciplines, whether you're fighting with a longsword or practicing judo or taekwondo.
"Through a little bit of exploration we can come to a pretty good place of figuring out how it works," Jones said.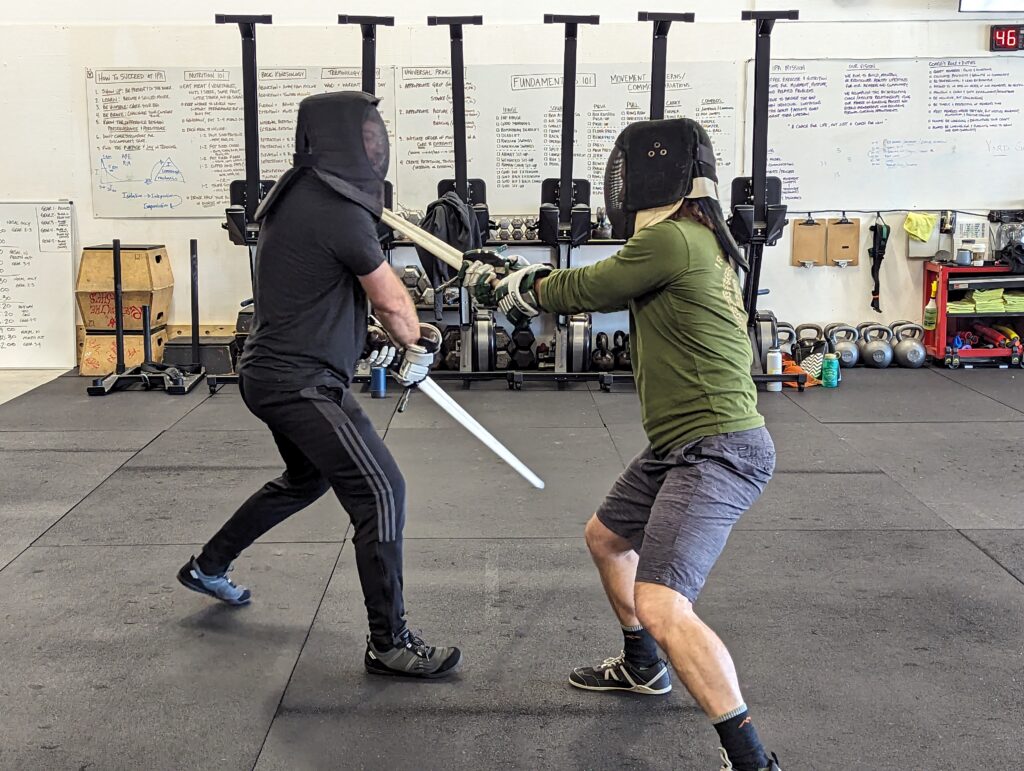 It's that universality that's attracted Aron Cavette to learning sword combat. Cavette owns Iron Phoenix Athletics and began studying privately with Jones a few months ago.
"I wasn't thinking about it from the physical capacity, but as soon as you start doing it – you've got to be fit," he said, speaking as a group class warmed up with some hand-to-hand pushing and shoving.
Cavette said he's interested in a variety of combatics.
"You can see the connections. You can see universal principles," he said. "If you have skills in one, it's easier to acquire skills in another."
Cavette, Jones' wife Rossella Mariotti-Jones and another couple participated in a demonstration class in late October, sparring on foot before Jones introduced the longswords. He showed several grips and ways to hold a blade without getting cut before donning a mask and protective gear and inviting students to practice fending off his attack, then hitting him over the head with a sword.
"This thing can become a hammer," he said.
Jones plans to open at least one group class in January with eight people, and possibly two if there's enough interest. He'll offer a 12 week class, meeting twice weekly, for $750. The cost includes equipment. Those who are interested in signing up or learning more can email him at [email protected].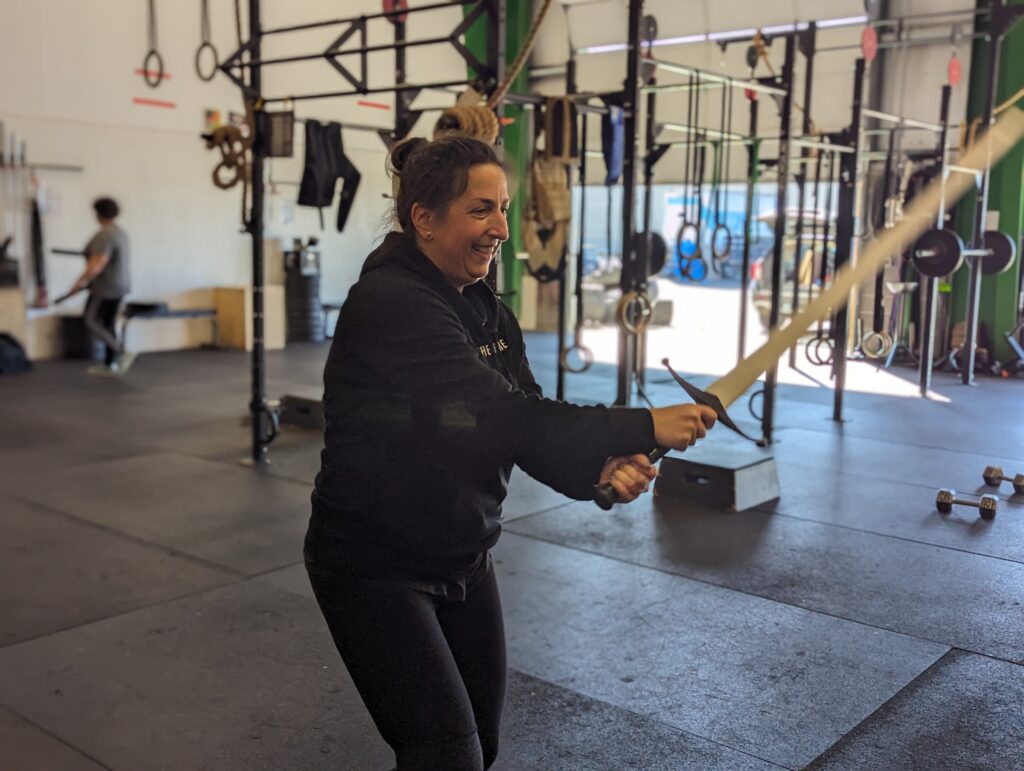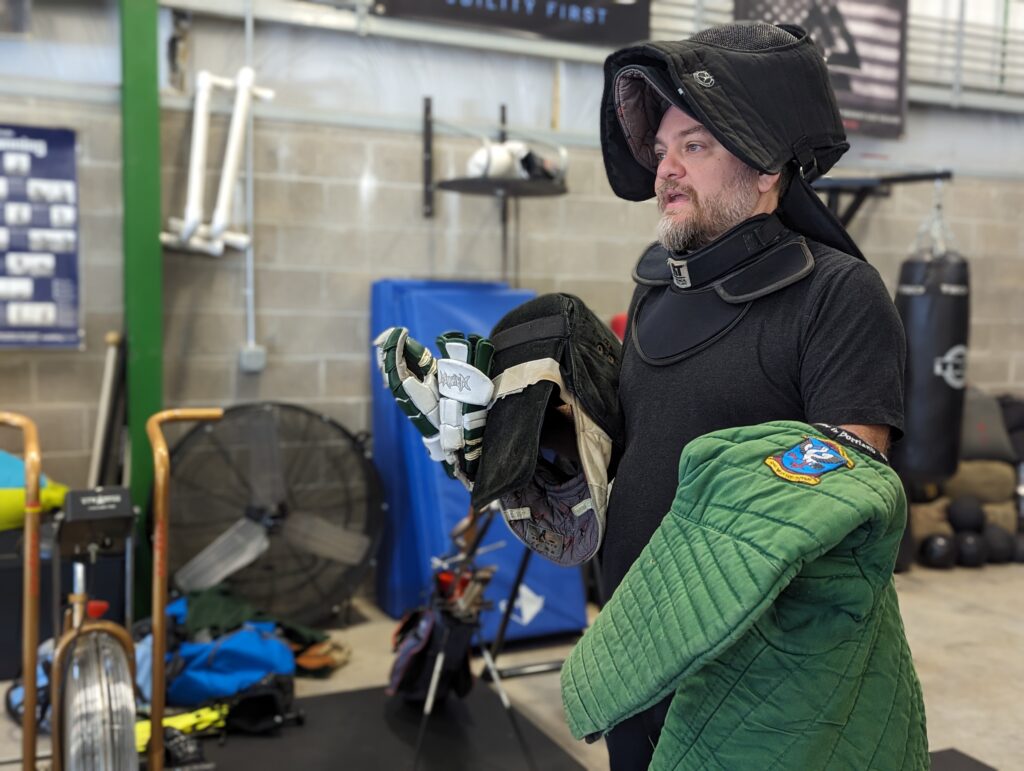 Contact reporter Rachel Alexander: [email protected] or 503-575-1241.
SUPPORT OUR WORK – We depend on subscribers for resources to report on Salem with care and depth, fairness and accuracy. Subscribe today to get our daily newsletters and more. Click I want to subscribe!
Rachel Alexander is Salem Reporter's managing editor. She joined Salem Reporter when it was founded in 2018 and covers city news, education, nonprofits and a little bit of everything else. She's been a journalist in Oregon and Washington for a decade. Outside of work, she's a skater and board member with Salem's Cherry City Roller Derby and can often be found with her nose buried in a book.