Ron Eachus, a steward of civic life in Salem and former utility regulator known for his "bulldog-like tenacity," died from a heart condition on Saturday, Oct. 14, while hiking in Bhutan.
He was 76.
Eachus worked for over 20 years as an Oregon's public utility commissioner, earning a reputation as a fierce consumer advocate while helping steer Oregon toward a focus on energy conservation to meet electricity needs. He became an international expert in utility regulation who helped many former Soviet countries transition to privately-owned utilities.
Friends and colleagues described a life filled with public policy and adventure, from his days organizing protests against the Vietnam War as University of Oregon's student body president to more recent work leading Salem City Club.
"He always did work in the public interest," said John Savage, the former director of the Oregon Department of Energy, who worked closely with Eachus and ultimately became a good friend. "He had fervent convictions, that was Ron. And he acted on them."
Whether the issue was closing Oregon's only nuclear power plant or safety improvements on a neighborhood street, Eachus approached it with the same focus. His office filing system was stacks of papers, surrounded by a massive collection of stuffed animals that contrasted with his image as a no-nonsense regulator.
"Ron Eachus's verbal torrents have included as many as 26 ideas and 14 questions in a single statement, during which he did not appear to take any breaths of air," read a 2001 resolution from the National Association of Regulatory Utility Commissioners commending Eachus for his years of work.
Eachus was born in Nyssa in eastern Oregon and started grade school in Molalla, living there until he enrolled at the University of Oregon.
It was a tumultuous period for the U.S. as protests against the Vietnam War intensified. Eachus joined the fray, editing the Daily Emerald, the university's student newspaper, and serving as student body president from 1970-71.
That year, he traveled to Hanoi in North Vietnam as part of a delegation of 16 student leaders to discuss a possible peace treaty between Vietnamese and American students.
"He was vilified during that period for going to see the enemy, but I was proud of him because we had to do something," said Terry Bean, a close friend and classmate of Eachus.
The trip earned Eachus local fame, and he regularly spoke at protests, joining Oregon State University students in a 1971 demonstration at Camp Adair, a former military training facility students wanted to convert to affordable housing.
After college, Eachus worked briefly for U.S. Rep. Jim Weaver, a Eugene Democrat, but hated being in Washington D.C. He returned to his home state and was elected to the Oregon House, serving from 1985 until 1987.
Eachus resigned midway through his term after being appointed a state public utility commissioner. He held the job until 2001 and moved to Salem soon after his appointment.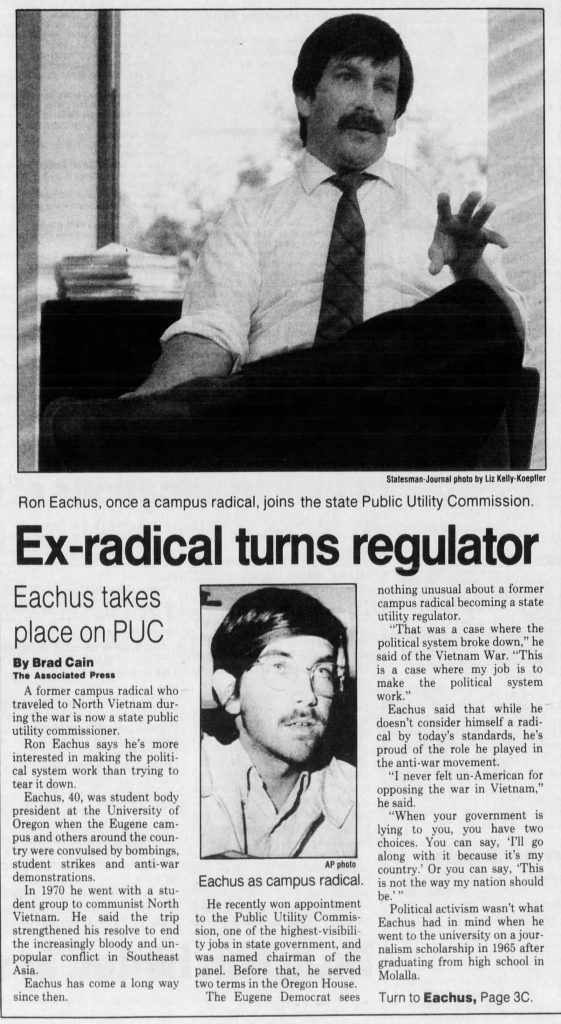 The commission had recently shifted from being a single regulator to a three-person group, and Eachus took the reins during a challenging time as regulators contended with service issues from landline phone providers. He was dogged in challenging US West executives about the company's performance problems and denied the company a $28 million rate increase, instead requiring them to cut rates and improve service to customers, said Michael Grant, the commission's executive director, who's worked there since 1988.
It was a shift in practice from prior regulators who had been more friendly to utilities.
"Ron was not bound by prior practice and would go after utilities and would push our commission staff to really dig in and come up with options … that might better serve the customers," Grant said.
In a 1999 Associated Press article, Eachus called US West's plan to give executives a 35% bonus "absurd, abhorrent and insulting to ratepayers."
Ron Eachus has torched opponents and delighted
supporters with press quips and quotes of note, but did not say,
contrary to rumors, that Qwest's regulatory strategy amounts to
"Drop dead. Have a donut."

National Association of Regulatory Utility Commissioners 2001 resolution honoring Ron Eachus
Eachus also pushed electric utilities to plan for power needs not only by building new power plants, but by looking at strategies to reduce demand, like energy efficient building codes and giving customers rebates for using power during off-peak times.
Such measures are now standard across the U.S., but Oregon was an early adopter of many best practices to conserve energy, thanks to Eachus' work.
"That was a huge jump," Savage said.
Eachus' extensive international travels to discuss utility regulation were recognized by the national regulator commission.
"In the course of setting NARUC's all-time record for international junkets, Ron Eachus always stopped in Amsterdam no matter where he was coming from or going, thereby proving that he is actually the world's greatest living expert on Rembrandt, tulip bulbs and certain other of society's refinements," the resolution read.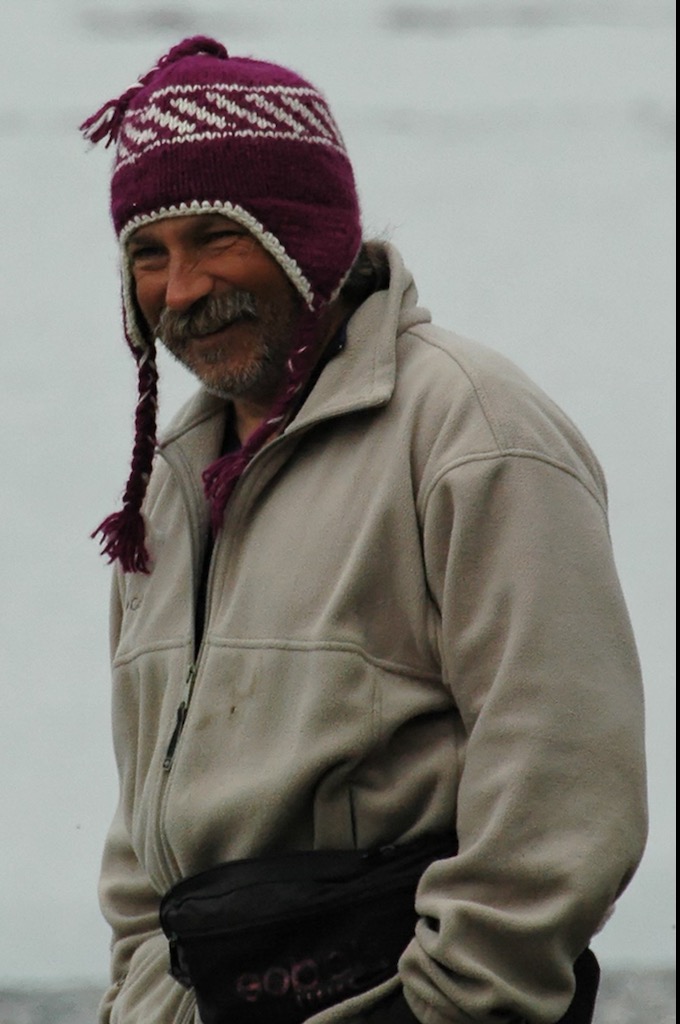 Eachus wrote a column for the Statesman Journal on politics and also wrote for Salem Weekly.
Bill Dixon, a neighbor on Salem Heights Avenue, met Eachus in 2018 while taking a petition in support of traffic safety measures around the neighborhood. Eachus was out on his porch sipping coffee and told Dixon he'd help take the petition around, saying they needed to hear from as many people as they could.
The pair worked together on other neighborhood issues over the years. Dixon said no matter how small the problem, Eachus was eager to engage others.
"For Ron, the best way to build a strong community was to lift up every voice and I really think that was part of his core," Dixon said.
In July, the Salem City Council approved a Salem Heights street refinement plan, the culmination of much of the work Dixon, Eachus and other neighbors did together. Before leaving recently for Bhutan, Dixon said Eachus sent a final message trying to get neighbors together to talk about next steps.
"He brought that same precision of thinking, that same analytical skill to the Salem Heights issue that he brought to things like nuclear (power)," Dixon said.
About five years ago, he joined Salem City Club, a nonpartisan civic group that presents public programs on issues of concern. He was in the middle of his third term as president.
"Ron was on top of everything, much more than any president I know in recent memory," said Russ Beaton, who will serve out Eachus' term as interim president.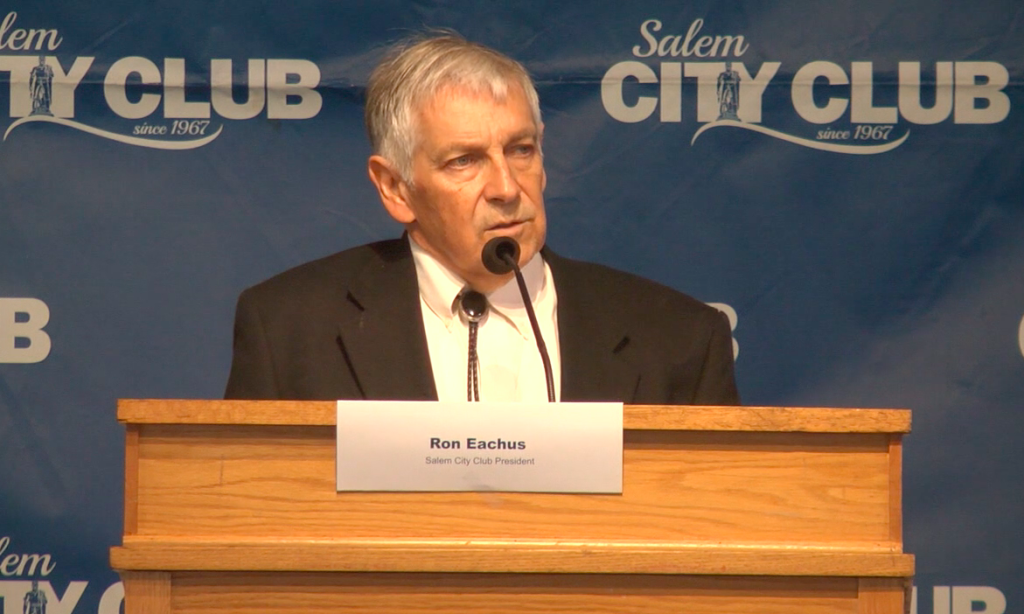 Friends said despite his tough questioning of utility executives, he had a goofy, playful demeanor in private. Savage recalled a story from a mutual friend who was talking to Eachus as he watched Savage's puppy.
"She turned and there was Ron on the floor with my dog, wrestling," he said.
Eachus was an avid whitewater rafter who traveled the Rogue River many times and made trips to Alaska and the Colorado River.
Andie Andeen, a close friend, assumed he got into the sport while living on a rural stretch of the McKenzie River outside of Eugene as a student.
She asked him once for his thoughts on living outside the city, expecting him to say something profound about rural life.
"His comment was simply, 'It was hard to organize protests,'" she said.
His activism had lasting consequences for Eugene streets. Eachus was part of a group of students who under the cover of night "liberated some construction materials from the law school that was being built," Andeen said.
The group built walls on either end of 13th Street, closing the street to traffic. It remains a pedestrian-only street to this day.
"He's dead now so nobody can go after him," Andeen said.
Eachus had no spouse or children but was surrounded by friends in Salem. Andeen and Savage are organizing a public memorial.
Eachus loved Bhutan and was interested in Buddhism, spending time with monks on his most recent trip.
"The fact that he died where he did and was able to be part of a ceremony with the monk body is poetic," Andeen said.
Salem City Club will honor Eachus during its Friday program. The event, featuring speakers on Oregon's efforts to electrify the transportation industry, will be held from 11:30 a.m. to 1 p.m. at the Willamette Heritage Center Dye House, 1313 Mill St. S.E. It's free to club members and $10 for non-members.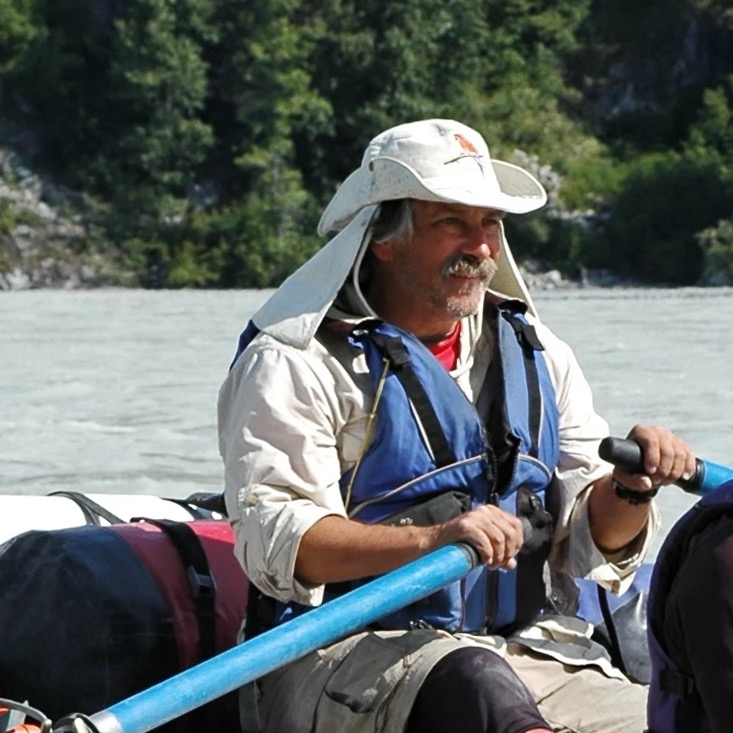 Contact reporter Rachel Alexander: [email protected] or 503-575-1241.
SUPPORT OUR WORK – We depend on subscribers for resources to report on Salem with care and depth, fairness and accuracy. Subscribe today to get our daily newsletters and more. Click I want to subscribe!
Rachel Alexander is Salem Reporter's managing editor. She joined Salem Reporter when it was founded in 2018 and covers city news, education, nonprofits and a little bit of everything else. She's been a journalist in Oregon and Washington for a decade. Outside of work, she's a skater and board member with Salem's Cherry City Roller Derby and can often be found with her nose buried in a book.