This story was updated at 3:20 p.m. Thursday, Aug. 31 following a police announcement of an arrest on arson charges.
In silence, firefighters rested in the pews of St. Joseph Catholic Church Thursday morning, watching smoke drift from a pile of charred debris that had fallen onto the altar.

Rain and light poured in from the ragged hole in the roof above, and though the archway with gold inscription above was split in two, the center crucifix, candles and frescos appeared largely untouched. The scene was doubled, reflected by over an inch of standing water in the aisle.
The fire began in a dumpster on church property around 2:30 a.m. Thursday, Aug. 31 and spread to the building's roof. It quickly grew to a five-alarm blaze requiring about 20 vehicles and 40 firefighters to get under control. Nobody was injured.
Police said Thursday afternoon they had arrested a suspect, 48-year-old Billy James Sweeten, on first-degree arson charges. Sweeten is lodged at the Marion County Jail, police said.
Downtown streets surrounding the church were closed for most of Thursday morning.
The blaze damaged one of Salem's most storied churches. Parishioners began attending services in a rented building on the same block in downtown Salem starting in 1853, six years before Oregon gained statehood.
The church has a diverse congregation of thousands of people, offering services in English, Spanish and Vietnamese.

The parish operates St. Joseph Catholic School, teaching kindergarten through eighth grade, which has not announced whether classes will meet as planned next week. Douglas Markwell, church spokesman, said leaders are waiting to learn the full extent of the damage to the buildings and utilities.
Some parishioners gathered outside the church Thursday morning after learning of the damage.
Diane Coates was married at St. Joseph 34 years ago. Her children were baptized there, and her in-laws, who are in their late 80s, were married there too. It burned on the day of her in-laws' anniversary.

Tears lined her eyes as she watched emergency crews continue to work on the scene around 8:15 a.m., rain soaking the black debris that trailed out of every entrance. Coates works in the Oregon State Capitol and walked over to see the damage for herself, joining a handful of people gathered. Coates doesn't attend regularly, but she said the church has a historic nature that is unique in Salem.
When asked what this church means to her, she said "everything."
The first wooden St. Joseph church building was dedicated in 1864, with space for 300 people. A new church on the same block opened in 1889 and stood until the current 1953 building was dedicated.
Father Jeffrey Meeuwsen, pastor, has been with St. Joseph for two months. As he stood behind the caution tape watching firefighters clean up Thursday morning, he drank a McDonald's coffee from the fire crew that had gone cold. Pastor Greg Bolt at the neighboring Salem First Presbyterian Church approached. Bolt was in workout clothes, on his way to the YMCA.

"Anything you need… sanctuary space, I know it's not consecrated, we have space that you can use," Bolt said. "We're good at casseroles."

Meeuwsen said he didn't know the extent of the damage Thursday morning.

"I know there's damage pretty much everywhere," he said. "We can't use the church building, but we're still a people church so we're going to keep going."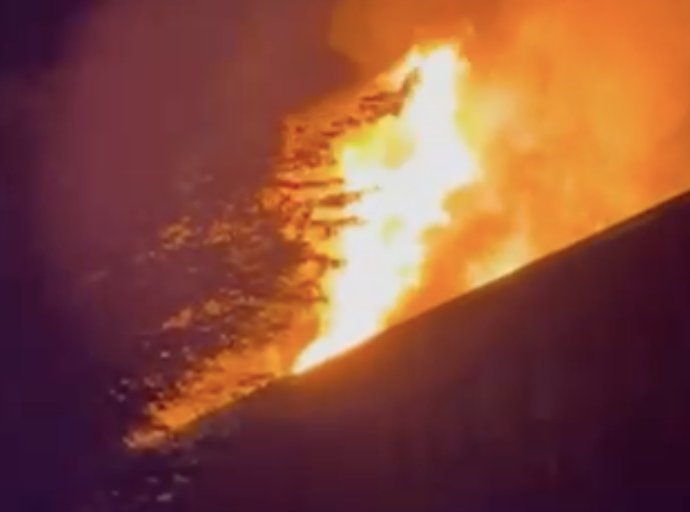 The fire was reported at 2:31 a.m. It was quickly upgraded to a two-alarm fire by 2:39 a.m., then again immediately to three alarms, said Deputy Fire Chief Scott Leavell. Each additional alarm means more people and resources are needed to fight the fire.
Brian Carrara, deputy chief of administrative services, arrived around 3 a.m. and saw large flames shooting out of the roof. By then, he said firefighters withdrew from the building because timber can be unpredictable, and they were concerned about the basement collapsing in the blaze.
They instead attacked the fire from the roof using ladder trucks.
"That actually really put the fire out," he said.
The fire was upgraded twice more, to four alarms at 3:04 a.m., then to five 15 minutes later, Leavell said.
It took around 90 minutes to get the fire under control, Carrara said. He didn't know offhand when Salem last had a five-alarm fire.
"It does not happen very often. It is a rare thing," he said.
Firefighters remained on scene for hours afterward, clearing the scene just before noon. Salem police said at 11:37 a.m. that roads had reopened.
The Archdiocese of Portland has established a fire relief fund for St. Joseph. Donations can be made online here.
At noon, over a 100 members of the congregation met in the church parking lot for mass as the rain continued and puddles grew at their feet. Several canopies overlapped each other to cover them, with the clergy at the center.
Those who couldn't fit underneath surrounded the setup with an array of umbrellas. Some heads were covered by rain hoods or prayer veils.

Meeuwsen spoke first, leading the group in a round of applause for the firefighters and police who responded to the fire. He said that the church's focus is to make it safe to go inside by pumping water out of the basement, checking the gas and trying to get the power back on.

"In the meantime, just keep praying for us," he said, and thanked the work of staff who wanted to get mass on time.
Archbishop Alexander Sample drove down from Portland to speak at the mass, agreeing to come as soon as Meeuwsen asked him. He said it felt like part of his family's house was burning.
"I'm deeply saddened by what has happened to your house, to the house of God that you call home. This church, this beautiful monument of worship to the Lord," Sample said. "Just know that I feel deeply for your loss."
His voice broke when he told the group he was proud of them. He said what made him more emotional than the loss was to see them gathered to worship without a roof, despite the rain.
"Even though the church is burned, the holy sacrifice of the mass still goes on. Our faith still goes on, and a tragedy like this will not stop us from living and witnessing to the gospel of Jesus Christ," he said, and the crowd broke into cheers and applause.
St. Joseph plans to continue to hold mass despite the fire, either in the parking lot or in the church's gym. Sample said he plans to return for the Sunday mass at 11:30 a.m.
Mass carried on, with the clergy leading prayers for those in need throughout the community. Some parishioners wept, others smiled, but most were solemn. As they began to receive communion, their voices joined together for a rendition of "Amazing Grace."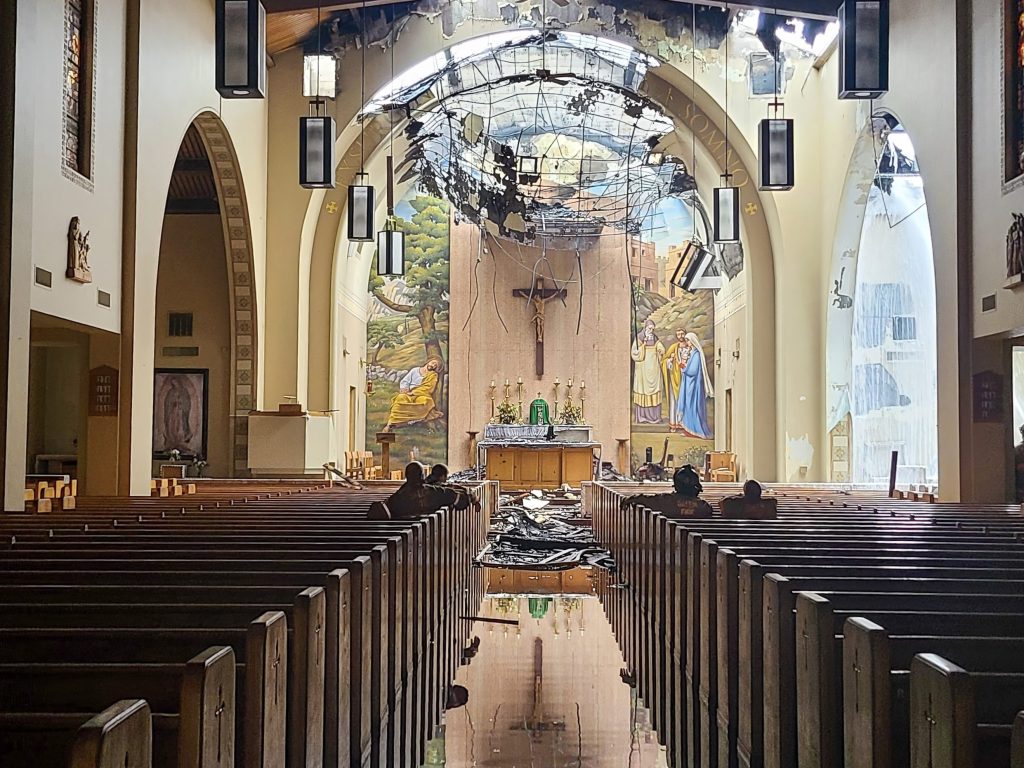 This story was updated after the Salem Fire Department clarified that the fire was upgraded to two alarms at 2:39 a.m., then immediately to three alarms.
Contact reporter Abbey McDonald: [email protected] or 503-704-0355. Contact reporter Ardeshir Tabrizian: [email protected] or 503-929-3053.
SUPPORT OUR WORK – We depend on subscribers for resources to report on Salem with care and depth, fairness and accuracy. Subscribe today to get our daily newsletters and more. Click I want to subscribe!