NOTE: Salem Reporter is providing this coverage free as a community service. This is the work of Managing Editor Rachel Alexander and reporters Ardeshir Tabrizian, Abbey McDonald and Natalie Sharp. Send information to Editor Les Zaitz – [email protected].
UPDATE, 10:30 P.M: EVACUATIONS DOWNGRADED
Emergency managers have downgraded evacuation levels for the Liberty Fire, with the area closest to the fire now under a Level 2 evacuation, meaning residents should be set to leave at a moment's notice.
Areas north and south of the fire were downgraded to a Level 1 evacuation, meaning residents should be ready for potential evacuation.
City and county authorities originally put about 600 people closest to the fire under a Level 3 evacuation order Wednesday afternoon. An updated county map of evacuation levels is here.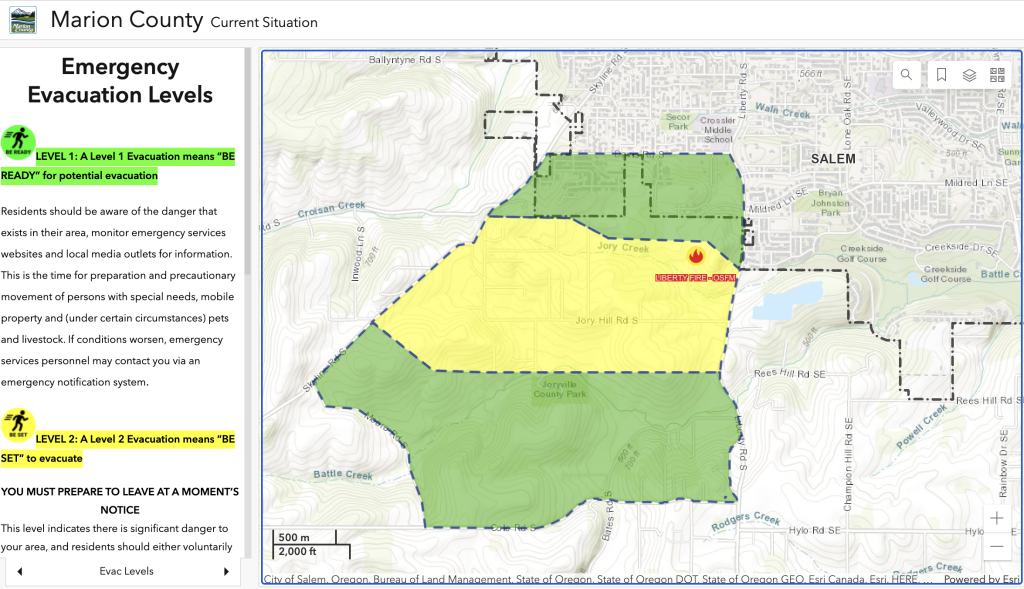 UPDATE, 9 P.M.: Fire crews will continue to monitor the Liberty Fire overnight.
"Winds are expected to decrease during the evening and an increase in humidity will help firefighting conditions," the city of Salem said in a Facebook post.
More than 100 firefighters responded to the blaze, which required over 30 firefighting apparatus and four aircraft dropping flame retardant. City officials said no injuries have been reported and a damage assessment will be completed Thursday morning.
Evacuation orders and roadblocks are still in place.
UPDATE: 7:20 P.M.: City officials say the evacuation zones remain in place.
UPDATE: 7 P.M.:
In a briefing for reporting shortly before 7 p.m., officials could provide no estimate on when the Liberty Fire might be contained.
Joe Hutchinson, Salem emergency manager, said the fire triggered a Level 3 "go now" evacuation order after it grew to about 100 acres around 3:15 p.m.
He said no injuries had been reported from the Liberty Fire, while at least two outbuildings had been damaged. He said he did not know how many structures were threatened and said he could not provide additional information on the outbuildings.
Evacuees were directed to go to Judson Middle School, 4512 Jones Rd. S.E., if they had nowhere else to go. A church across the street has been set up as a designated location for those needing to leave livestock.
Crossler Middle School was serving as the primary command location for crews responding to the fire.
About 70 fire rigs from seven agencies had so far responded to the blaze. That included crews from the Salem Fire Department, Marion County Fire District No. 1, and fire departments from Stayton, Mount Angel and Turner.
Hutchinson said the cause of the fire hasn't been established.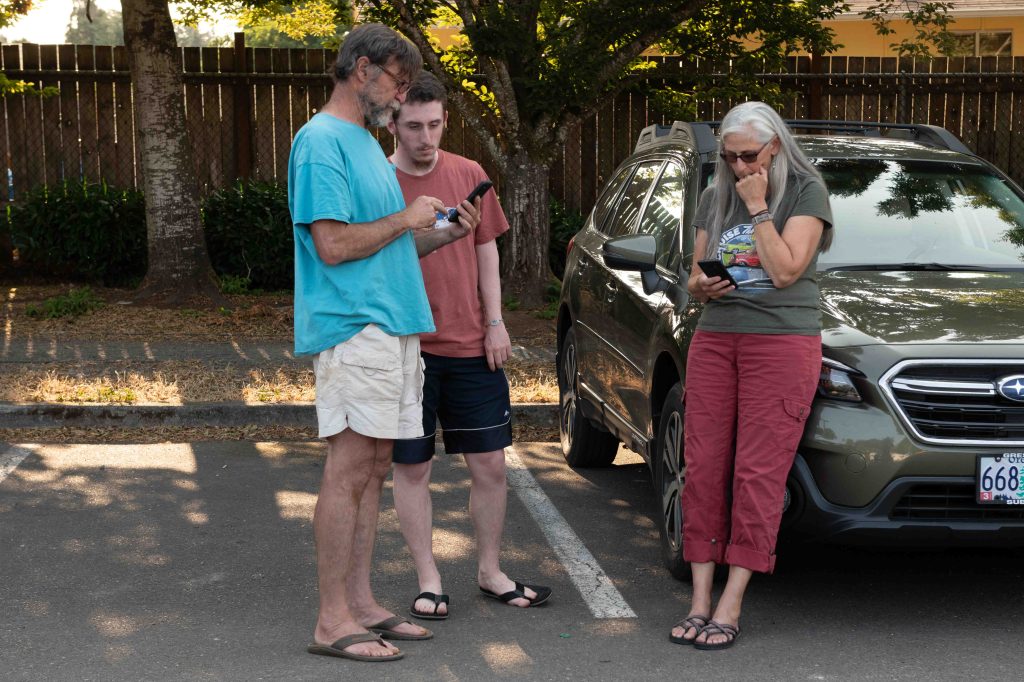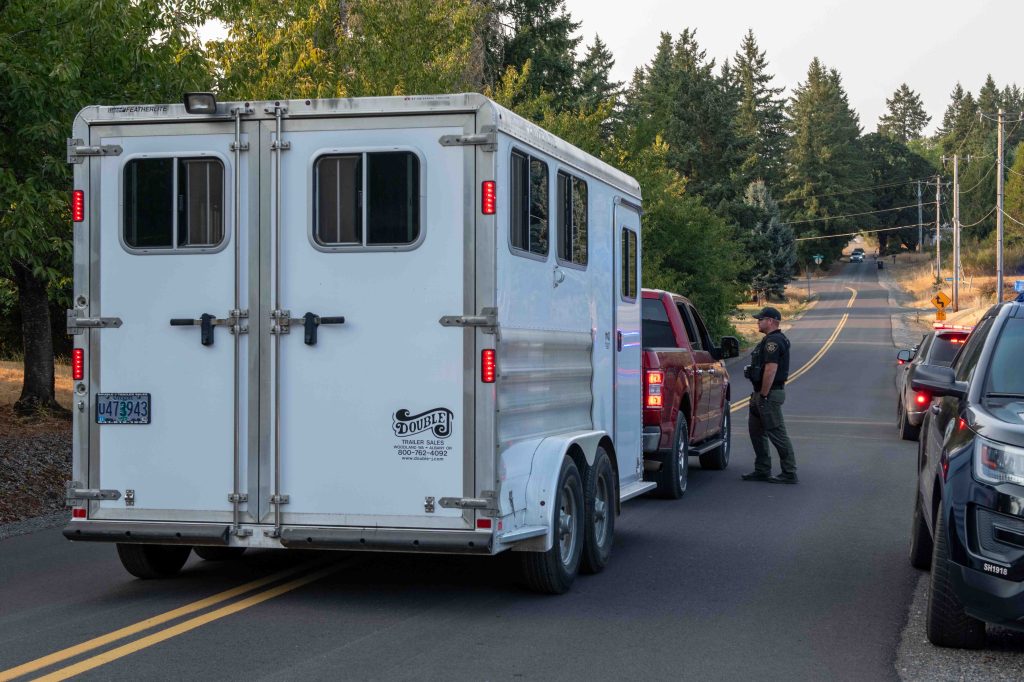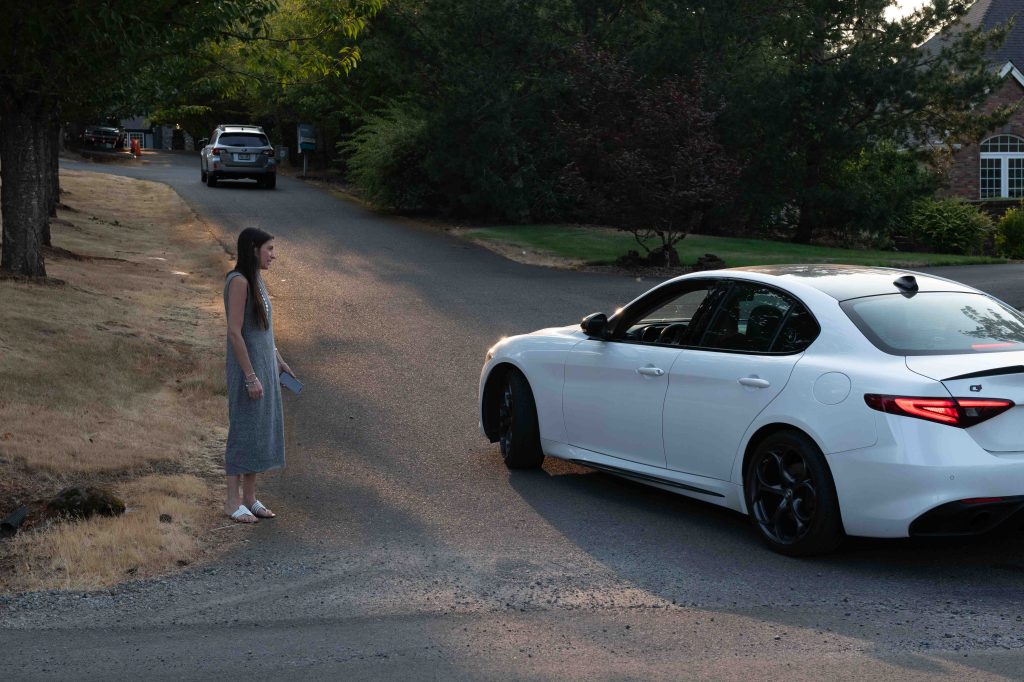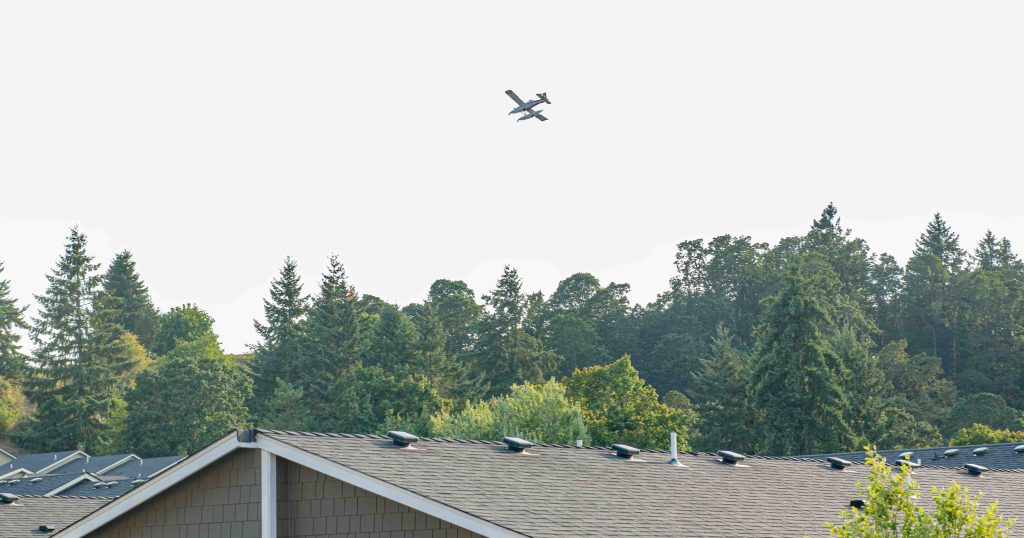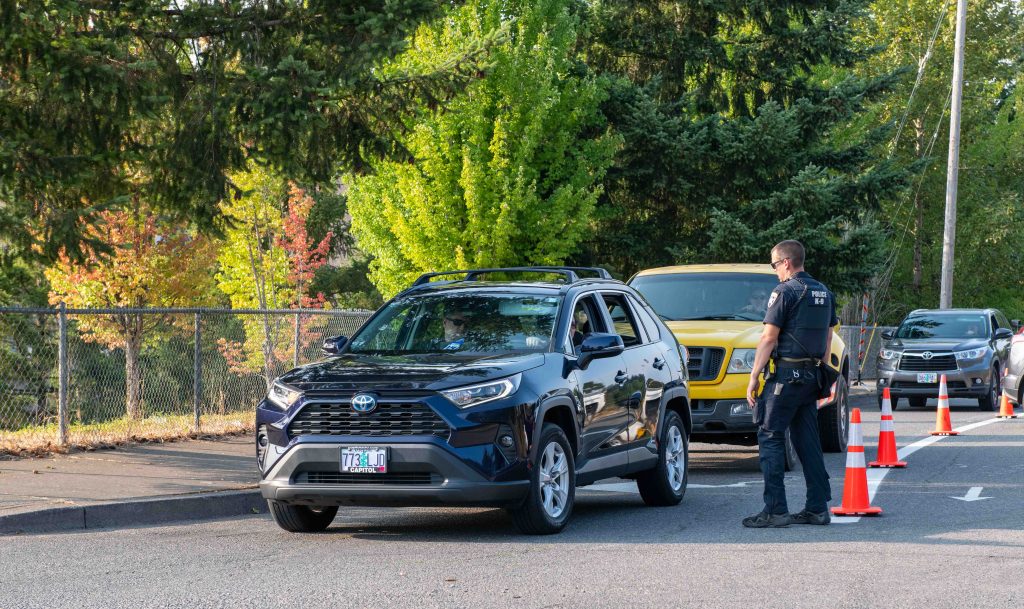 UPDATE 6:45 P.M.:
At Judson Middle School around 6:30 p.m., the Red Cross set up water and snacks, but is still awaiting the order to start setting up shelter beds if the situation escalates.
"Can you bring some stuffed animals? In case any kids show up?" Brandon Liles, disaster action team coordinator said into his phone.
Only a few residents had shown up by 6:30 p.m., including those closest to the fire such as Joyce Stringer, who kept checking her wifi-connected security camera for assurance that her house was still standing.
Henry Bodkin, Red Cross case work supervisor, has been at such scenes before, setting up aid during the Vitae Springs Fire in south Salem in September 2022 which called for precautionary evacuations.
"There's been so many fires at this point, I don't care about the names of them. I just care about helping people," Bodkin said.
UPDATE 6:30 P.M.
Tyler Kranz, lead meteorologist with the National Weather Service in Portland said that the worst fire conditions are "occurring right now as we speak."
There are sustained winds from the north with gusts ranging from 10 to 18 miles per hour and relative humidity around 30 percent, tracking from the Salem Municipal Airport.
Kranz said that although conditions aren't quite high enough for a red flag warning he is not surprised that the fire is spreading and said people should be extra cautious when it comes to burning anything.
Looking into the evening he said that winds are projected to decrease to around five miles an hour at midnight and around 85 percent relative humidity, which tends to make fires smolder.
"I am sure the firefighters will be happy about this," said Kranz.
Temperatures on Thursday are projected to increase with a high of 92. Kranz says this indirectly affects fire conditions because higher temperatures mean lower relative humidity, but winds are expected to decrease and by Thursday evening should be calm.
LIVESTOCK EVACUATION: All of the horses have been moved from Jory Hill Stables and anyone with trucks and trailers that could move livestock are asked to stage at Jusdon Middle School at 4512 Jones Rd. S.E.
UPDATE 6 P.M.:
Air tankers have joined the effort to corral what is being called the Liberty Fire. The Oregon State Fire Marshal that is has "mobilized multiple aerial firefighting resources, including two single engine air tankers (SEATs), one type one helicopter, and an air attack resource." The agency said in its announcement the fire had covered 10 acres.
A handful of residents gathered at Crossler Middle School to await deverlopments
Andy Frank and Cindy Gooch, who live above Joryville Park south of Jory Hill Road, said they could see the smoke billow from their backyard porch as early as around 3:30 p.m.
"But we weren't concerned, because I thought it was just a field burn," Frank said.
They knew it was different when the sirens started, and kept coming. By 4 p.m., they were under evacuation and deputies were knocking on doors throughout the neighborhood.
"Swarming every single house," he said.
Jory Hill Stables on 2908 Nehalem St S. Salem was in the level 2 evacuation zone, and around 30 horses were being evacuated.
Adam Johnson, a local business owner whoi volunteered to help, said that he got a call to come help move the horse and drove over.
"That's just what we do," said Johnson.
The goal is to get as many horses in trucks and trailers in as few trips as possible. He said they have already been able to move serval horses to a new location and "everyone is pitching in to help."
UPDATE 5:30 P.M.:
Marion County Emergency Management is directing evacuees to Judson Middle School for support. 4512 Jones Road SE.
UPDATE 5 P.M.
The Oregon State Fire Marshal's office is bringing in air tankers to drop water on a fast-moving grass fire in south Salem.
"Getting aircraft up and to these fires immediately is critical in supporting the local firefighters on the ground," the agency tweeted around 4:30 p.m.
Emergency responders are assembling at Crossler Middle School in south Salem. The city of Salem posted an updated map around 5 p.m. saying people in areas surrounding the fire should be ready to leave at a moment's notice.
ORIGINAL STORY
Over 600 people have been ordered to evacuate the Jory Hill area as firefighters battle a two-alarm grass fire south of Salem.
A Level 3 evacuation order, meaning people should leave immediately, is in effect for people in the west of South Liberty Road and South Jory Hill Road.
The fire was reported around 2:50 p.m. Tuesday, city emergency manager Joe Hutchinson said. The fire is burning south of South Mildred Road and west of Liberty Road, the city said.
"Leave without delay. It is unsafe to stay and threatens the safety of you, your family, and emergency responders. Your life could be in great danger. Emergency services personnel may not be available to help you if you choose to stay," the Sheriff's Office said in its evacuation order.
Tucker Tree Farm on South Jory Hill Road is located west of the grassy area where the fire began.
Farm owner Candy Paige said nobody was at the business when they received the evacuation notice, and she has been receiving continual updates from the fire department.
"We are just sitting on pins and needles waiting to hear more," said Paige.
Paige said her main concern is the houses and people in the area.
At Lofton Dramatque Beaute Photography on South Liberty Road, owner Sara Lofton said employees were packing up and evacuating the office. Smoke was visible over the nearby hill, she said.
South Liberty Road was closed at the intersection of South Mildred Lane, and South Ruggles Avenue was closed at the intersection of South Skyline Road.
An evacuation point is being set up at Crossler Middle School, Hutchinson said.
This story is developing and will be updated.
STORY TIP OR IDEA? Send an email to Salem Reporter's news team: [email protected].
SUPPORT OUR WORK – We depend on subscribers for resources to report on Salem with care and depth, fairness and accuracy. Subscribe today to get our daily newsletters and more. Click I want to subscribe!