The City of Salem Ben Maxwell collection notes that this picture (#512) features:
A parade scene photographed at the corner of State and Commercial Streets. The photo was taken in 1886. John Minto is seen in the lower center of the photo on horseback. (The flags in evidence indicate that the parade may be in celebration for the 4th of July).
However, according to the July 4, 1886 Oregon Statesman, Salem decided not to hold a 4th of July celebration that year, given that in 1886 the 4th of July fell on a Sunday.
Instead, the community worked with the Oregon & California Railway to offer reduced roundtrip train fares from Salem to Gervais (60 cents). Gervais celebrations featured a 48-gun salute with a parade, and a reading of the Declaration of Independence by the Hon. C. B. Moores of Salem. Festivities also included the French Prairie Blitzen Schlaghers (plug uglies) in their full-dress parade uniform, a "fat man" race for men weighing over 250 pounds, a baseball game between the Owls of Salem and the Eagles of St. Paul with fireworks and dancing rounding out the day.
It is clear that this photograph was taken in Salem, at the corner of Northeast Commercial Street and State, looking east. However, it is unclear what event this may have been. According to the Oregon Statesman, there was a "Stallion Show" held on Commercial Street on March 27, 1886, where a procession of 60 horses proceeded from Commercial and Ferry to Liberty, then down Court Street back to Commercial and then down to Ferry. However, this photo does not appear to reflect that event.
It seems more likely that this photo was taken on May 15, 1886 and that it is of a Salem Republican Party event organized to announce the Republican nominees for governor, secretary of state and state treasurer in 1886. According to the May 14, 1886, Oregon Statesman, Salem's 400 enrolled Republicans were requested to meet at 10:00 a.m. sharp on Saturday, May 15, 1886 at Croasman & McCully's store, 249 Commercial Street (the northwest corner of Commercial and State), to finalize arrangements for the street parade. The group met here to organize and plan their parade which would be marching to the Reed Opera House where the Republican candidates Hon. T.R. Cornelius, Hon. Geo. W. McBride and Hon. H. L. Marston would speak.
The Republicans appointed officers and committees for the parade and event, which included a committee for coordinating carriages for the parade, which can be seen in the photo. The Chief Marshal was Geo. H. Burnett, and the President of the Evening was A. B. Croasman. John Minto was appointed as one of the vice presidents in charge of the event and can be seen in the foreground of the photo on horseback.
The Ben Maxwell Collection consists of more than 5000 photographs donated to the Salem Public Library by the estate of Mr. Ben Maxwell, a noted Salem photographer and historian who died in 1967. Maxwell was a native of Salem, where he was born in 1898. He attended college at Oregon State University where he studied history and journalism. He started working with the Capital Journal newspaper in 1939. Because he packed his camera on every quest for historical stories, he was able to illustrate his articles for readers of the Capital Journal, the Oregon Journal, the Oregonian, and several magazines.
He recorded on film at least 13 governors, old-timers now gone, covered bridges now missing, and buildings and homes no longer standing. The collection includes copies of rare early Oregon photographs taken by others which have in turn been copied over and over by later researchers and feature story writers. This collection is a work in progress and many additional photographs remain to be scanned. The collection can be accessed at: https://photos.salemhistory.net/digital/collection/max
The City of Salem's Historic Preservation Program staff within the Community Development Department in collaboration with the Salem Historic Landmarks Commission are in the process of completing an inventory of this collection and working to confirm and verify the content and narratives associated with all the photographs in this collection. Please contact Salem's Historic Preservation Officer, Kimberli Fitzgerald at [email protected] with any suggestions, historic facts, or questions you might have about these historic photos.
STORY TIP OR IDEA? Send an email to Salem Reporter's news team: [email protected].
SUPPORT OUR WORK – We depend on subscribers for resources to report on Salem with care and depth, fairness and accuracy. Subscribe today to get our daily newsletters and more. Click I want to subscribe!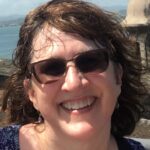 Kimberli Fitzgerald is the city of Salem's archeologist and historic preservation officer. She is a regular contributor to Salem Reporter's local history column.