The greater Salem area is getting about $10 million in state funding approved by Gov. Tina Kotek to help get hundreds into shelter beds and permanent housing under a tight January deadline.
Marion and Polk counties received about $3.8 million for rapid rehousing, intended to provide short-term rental assistance and services to get 185 households into housing quickly. Another $5.9 million will help pay for the addition of 207 new shelter beds in the region.

The funding is part of a nearly $200 million housing package approved in January by the state Legislature for local homeless emergency plans. Of that money, $80 million is going to the state's most populated regions.
The Salem-area funding was awarded to the Mid-Willamette Valley Homeless Alliance to disperse among local service providers. The alliance is the Marion and Polk county region's continuum of care, a program to which the federal government distributes money for homeless services.
The service providers that received the funds have until Jan. 10, 2024, to get hundreds of homeless people in the Salem area into shelter or permanent housing.
"It is a bold program with an aggressive timeline," according to Jimmy Jones, executive director of the Mid-Willamette Valley Community Action Agency. "The funds must be spent by early January, and the hope is that there will be more on that way to keep the additional housing and shelter systems funded through 2024."
Jones' agency is receiving the largest share at $3.8 million, intended for rapid rehousing and family shelter beds.
Rapid rehousing does not include preconditions like employment, income, no criminal record or sobriety and provides services that are individualized based on specific needs, according to a request for proposals from the homeless alliance.
Funding for such efforts allows families to be fast-tracked to permanent housing when shelters and temporary housing have been exhausted.
The funding package includes an influx of state dollars going to Polk County, which has historically received less outside funding than Marion County to address homelessness.
Due to Polk County's smaller population, "there's definitely a feeling that resources have not traditionally been distributed here to meet the needs," said Jeremy Gordon, Polk County commissioner and chair of the homeless alliance. Rural communities in Polk County have struggled with high rates of youth homelessness for years.
Jones said Marion County also had access to a larger amount of direct rental assistance funding during the pandemic than Polk County did.
"There are many agencies in Salem that receive funds to serve Polk County, but it always seems those funds are disproportionately spent in Salem and west Salem. Polk has, thus, a larger rural homeless population than it should for its size," Jones said.
The state funding was awarded to eight service providers in Marion and Polk counties.
Mid-Willamette Valley Community Action Agency
Jones' agency received two grants for rapid rehousing, with $1.4 million for Marion County and $1.5 million for Polk County.
The nonprofit will use the funding to quickly get 100 households, split among the two counties, into permanent housing.
Jones said "a good amount" of those will be people exiting the newly opened navigation center, a temporary shelter where 75 homeless people at a time can get help with mental health and addiction while preparing to move out directly into housing. The ARCHES Project, part of Community Action, is contracted with the city to run the navigation center.
People who need rapid rehousing can be identified through coordinated entry, which links local homeless service providers together through a common database with information about people seeking services and the type of help they need. The data helps identify if someone may be eligible for a specific program, or how vulnerable they are to continued homelessness.
Community Action also received $865,000 to create 36 new shelter beds, "which we will use on developing family shelter here in the community," Jones said.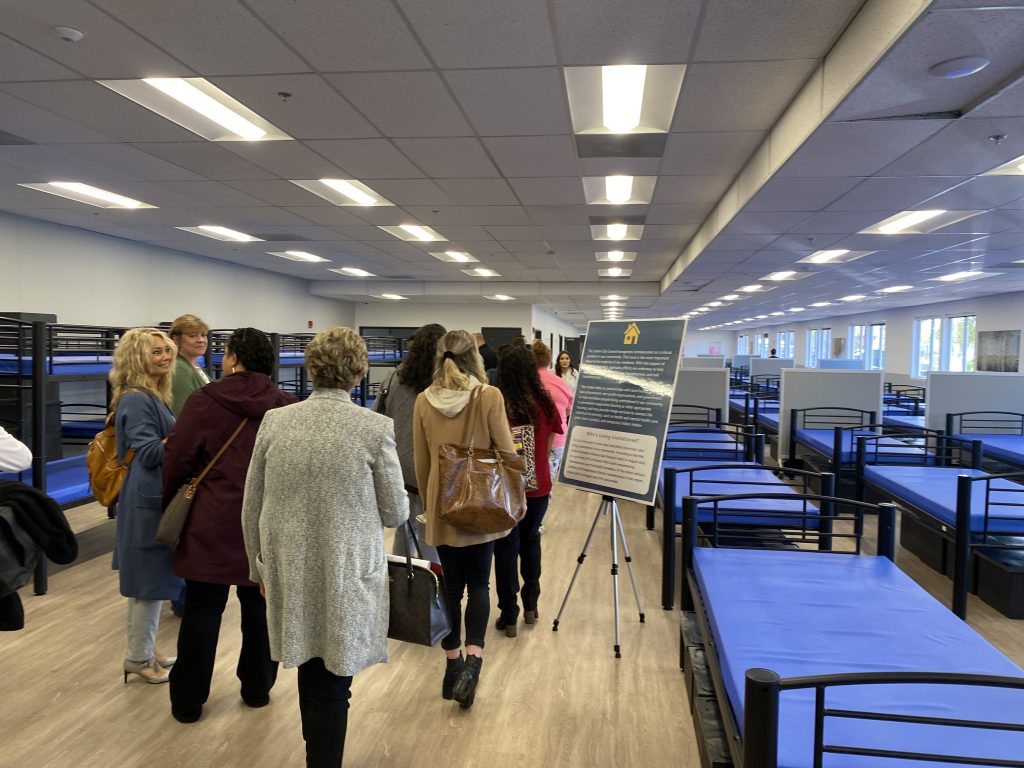 Salem Housing Authority
The Salem Housing Authority is getting $455,000 for rapid rehousing of 65 households in Marion and Polk Counties.
The city agency will focus on helping people who have access to tenant-based rental assistance, a site-based housing subsidy or housing that is affordable to them based on their income, according to housing administrator Nicole Utz. Housing authority workers will help connect families searching for housing with services that address barriers they face.
Utz said the state grant will help pay for removing barriers such as application fees, security or utility deposits, debts owed to previous property owners or utility companies, moving costs and basic move-in needs such as furniture and bedding. Such funding is budgeted at $4,000 per household.
Households without access to rental assistance may be eligible for the city's rapid rehousing program if the agency secures housing where costs including utilities don't exceed 50% of the household's monthly gross income, she said.
Sable House
Polk County nonprofit Sable House will use its $411,000 grant to cover rental application fees, deposits and rental assistance for more than 20 homeless families who are survivors of domestic violence.
"We will also provide extensive housing navigation services to all of those families to ensure timely placement and housing stability and safety moving forward," according to Executive Director Deborah Thompson. "These funds are vital to the safety of survivors and their children who have no other place to go."
Church at the Park
Salem-based homeless service provider Church at the Park is getting a total of $2.4 million to pay for two new micro shelter sites in the region.
The nonprofit is seeking to open a 40-bed micro shelter community in rural Polk County, using a $1.6 million grant.
Polk County's Family & Community Outreach Department will collect data on every resident and "support many of the guests of the shelter with opportunities for rapid re-housing," according to DJ Vincent, founding pastor and chief executive officer.
Another $820,000 grant will pay for a new micro shelter village that will serve 38 young adults ages 18-24 on Southeast Turner Road in Salem.
Vincent said the site will have five trailers containing 40 total beds, as well as "an attractive fence to match the feel and needs of the neighborhood for livability."
The Salem City Council voted in August 2022 to spend $750,000 in state sheltering grant money to open the site at 2410 Turner Rd. S.E. Vincent said at the time the site was expected to open by December.
He said the shelter is now scheduled to open in June after a wetland scientist needed to survey the property, delaying the permit process.
United Way – Safe Sleep United
United Way of the Mid-Willamette Valley has planned to expand its Safe Sleep women's shelter since it first opened in central Salem in 2019, according to Program Manager Lynelle Wilcox.
The shelter, which opened at Inside Out Ministries, a church on Northeast Front Street, has never been able to house more than 19 women at a time. The converted office space where the shelter was based had only one bathroom, no showers and a dining room with space for just six people to eat at a time.
A $620,000 state grant will help pay for remodeling at the site, which is already underway as Safe Sleep has temporarily relocated to St. Mark's Lutheran Church on Northeast Marion Street.
Wilcox said the construction will expand Safe Sleep's capacity to 50 residents, with three bathrooms, a shower and a laundry room. She said she hopes the open space will allow enough dining space for everyone to eat together.
Center for Hope & Safety
Another $825,000 is going to the Center for Hope & Safety. The nonprofit will use the funding to renovate Mosaic, a former motel it bought in 2021 with state housing funds, according to Program Manager Sara Brennan.
She said the renovations will add kitchenettes to make units more livable and add new beds. Some units will be used as transitional housing to help residents build rental history.
"Because of the housing crisis, survivors are staying with us longer and the small hotel rooms with just a small fridge and microwave are not ideal for more than just a couple of nights," Brennan said.
Construction is expected to start soon and continue for eight to ten months, but at least 10 new beds will be added to the shelter by December, she said.
Catholic Community Services
The Catholic Community Services Foundation received about $663,000 for 32 new shelter beds.
The nonprofit will use the funding to complete improvements required by the city of Salem and the state Fire Marshal to allow Church at the Park to operate the foundation's warehouse on Portland Road as a permanent emergency shelter, according to Mona Hayes, Catholic Community Services spokeswoman.
The budget includes fire suppression improvements, bathroom and shower installations, permitting, and architect and construction costs.
Sheltering Silverton
Sheltering Silverton, a low-barrier homeless shelter shelter, also received about $565,000 to expand its shelter and operations, including adding 20 new beds.
Correction: This story was updated to reflect the number of people Safe Sleep originally had space for in its dining room. Salem Reporter apologizes for the error.
Contact reporter Ardeshir Tabrizian: [email protected] or 503-929-3053.
SUBSCRIBE TO GET SALEM NEWS – We report on your community with care and depth, fairness and accuracy. Get local news that matters to you. Subscribe today to get our daily newsletters and more. Click I want to subscribe!
Ardeshir Tabrizian has covered criminal justice and housing for Salem Reporter since September 2021. As an Oregon native, his award-winning watchdog journalism has traversed the state. He has done reporting for The Oregonian, Eugene Weekly and Malheur Enterprise.