Legislative leaders will have a three-day weekend to try to end the Republican-led walkout that has prevented the Senate from voting on bills for nine consecutive days.
The Senate on Thursday failed to reach the two-thirds quorum needed to conduct business. Eighteen senators were present and 12 were absent, nine of them unexcused. Senate President Rob Wagner, D-Lake Oswego, said the Senate would not meet again until Monday, a departure from last week when he scheduled weekend floor sessions after the walkout started.

"Happy Mother's Day," he told senators.
He said in a statement later he hopes the pause will bring progress.
"I will continue to engage in good faith conversations to move our state forward," Wagner said.
The three-day break gives Wagner and Senate Minority Leader Tim Knopp, R-Bend, a chance to work out differences before any senators rack up 10 unexcused absences. Legislators cannot qualify to run for reelection if they have 10 or more unexcused absences because of a voter-approved constitutional amendment that passed in 2022.
The gridlock has forces bills to pile up without a vote, as the House continues to meet uninterrupted. The Senate has not voted on proposals that impact housing, behavioral health and public schools, including budgets.
The walkout has angered some and pleased others, with two rallies scheduled at the capital on Thursday when Wagner and Knopp met again with other legislative leaders. They did not release any details about the meetings.
Knopp, who has had six unexcused absences, said in a statement Thursday that he had asked Wagner for a three-day break.
"It is my hope that this will give us time to work out a legitimate agreement that will benefit all Oregonians," Knopp said. "I have communicated that I will be available over the weekend to have these critical discussions."
Knopp told the Capital Chronicle that Republicans want 20 bills set aside, including on abortion, guns and transgender health care.
So far, three senators have nine absences: Republican Sens. Daniel Bonham, The Dalles, Dennis Linthicum of Klamath Falls and Independent Brian Boquist of Dallas.
Sen. Cedric Hayden, R-Fall Creek, was excused on Thursday to meet with the Legislature's attorney who will investigate his complaint against Wagner. The Senate president denied Hayden's request to take off time for a religious ceremony and help his wife take care of their disabled daughter.
Rallies at the capital
In the morning, a group of about 120 faith leaders and others gathered outside the Capitol building to support protesting senators. They, too, are against House Bill 2002, a proposal that enhances reproductive health care rights and gender-affirming care. Republican senators have criticized the measure and Wagner has said Democratic leaders will not kill the bill to end the walkout.
"The vote must be 'no,'" Brandon Hardy, pastor of Bethel Baptist Church in Salem. Hardy said the bill would "destroy the nuclear family and God's design."
Pastors also focused on an issue Republican senators have targeted: a state law that requires bill summaries have an eighth-grade reading level, which they don't.
"What that means for Oregonians is that you really don't have a fair legislative process," Richard Peil, pastor of Victory Baptist Church in Bend, said in an interview. "You don't have bill summaries written in a way that your average Oregonian can really get a good understanding of what the bill would do if it becomes law, which then disengages them from the legislative process."
A separate rally with groups that support House Bill 2002 and oppose the Republican walkout is scheduled for 5 p.m. today.
Oregon Capital Chronicle is part of States Newsroom, a network of news bureaus supported by grants and a coalition of donors as a 501c(3) public charity. Oregon Capital Chronicle maintains editorial independence. Contact Editor Lynne Terry for questions: [email protected]. Follow Oregon Capital Chronicle on Facebook and Twitter.
STORY TIP OR IDEA? Send an email to Salem Reporter's news team: [email protected].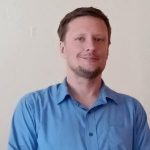 Ben Botkin - Oregon Capital Chronicle
Ben Botkin covers justice, health and social services issues for the Oregon Capital Chronicle. He has been a reporter since 2003, when he drove from his Midwest locale to Idaho for his first journalism job. He has written extensively about politics and state agencies in Idaho, Nevada and Oregon. Most recently, he covered health care and the Oregon Legislature for The Lund Report. Botkin has won multiple journalism awards for his investigative and enterprise reporting, including on education, state budgets and criminal justice.