A concert that began as an idea for women to connect with music during lockdown became a sold-out show in Salem on Sunday.
A regional tour of "She's Speaking – LIVE" brought eight women musicians to center stage at the Salem Public Library's Loucks Auditorium on March 19 for an uplifting and energetic show in a variety of genres including funk, rock and jazz.
The show aimed to promote women artists and to raise awareness about underrepresentation and discrimination in the music industry. The Salem branch of the American Association of University Women was the presenting sponsor of the Salem performance.
One of the performers was Kristen Grainger, the frontwoman of the Salem string band Kristen Grainger & True North, co-founded the "She's Speaking" series. After starting online, the show went in person in 2021, and this year was the first time the show went on the road, with stops in Lincoln City, Salem, Portland and Ilwaco, Washington.
–Abbey McDonald of Salem Reporter

PREVIOUS COVERAGE:
Women songwriters to take center stage in Salem performance
Correction: A previous version of this article shortened the full name of the American Association of University Women's Salem Branch. Salem Reporter apologizes for the error.
STORY TIP OR IDEA? Send an email to Salem Reporter's news team: [email protected].
SUBSCRIBE TO GET SALEM NEWS – We report on your community with care and depth, fairness and accuracy. Get local news that matters to you. Subscribe today to get our daily newsletters and more. Click I want to subscribe!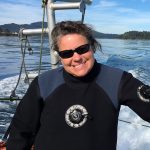 Laura Tesler has lived in Salem, Oregon for 20 years and is originally from Flint, MI. Laura has been an underwater photographer for 15 years, and is an avid scuba diver. Topside, she has been taking photographs since age 12, and currently works on assignment for the Salem Reporter, and full time purchasing land for fish and wildlife habitat in the Willamette Valley. Laura attended Oregon State University, and has traveled extensively all over the world and the United States.