A senior in the culinary program at Salem's Career and Technical Education Center has been named Student of the Year in state competition conducted on Monday, March 13.
Kaylee Peerenboom Dominguez was recognized during the Oregon Hospitality Foundation's ProStart Championships.

The Salem team also took second in management competition.
Ten high school teams gathered at the Salem Convention Center, tasked with preparing a three-course meal within an hour. They also faced a panel of industry professionals in the management competition to pitch a new restaurant concept.
Besides Peerenboom Dominguez, the Salem team included seniors Anastasia Krasovskiy, Brenda Ceja Elias, Dasha Avalos, Graeson Williams, Jesus Silva and junior Kaleena DeVoy.
They started their menu with Dungeness crab fritters – made with Oregon crab. The entrée was chicken sausage roulade, described this way on the menu: "Chicken hind stuffed with sausage made from bacon, Rogue Creamery cavemen blue and Oregon trumpet mushrooms served with a pan sauce, lemon thyme couscous, sauteed broccoli rabe with truffle oil."
For dessert? A white chocolate mousse dome, served with Oregon marionberry, raspberry and peach compotes.
The team from Crook County High School of Prineville won the culinary competition.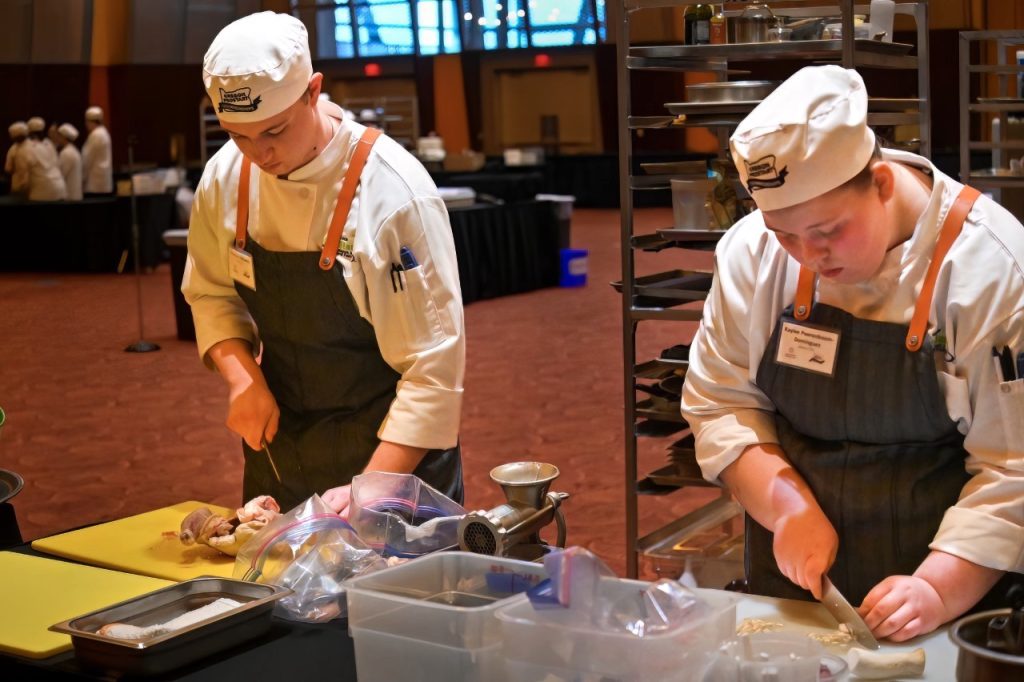 STORY TIP OR IDEA? Send an email to Salem Reporter's news team: [email protected].
SUBSCRIBE TO GET SALEM NEWS – We report on your community with care and depth, fairness and accuracy. Get local news that matters to you. Subscribe today to get our daily newsletters and more. Click I want to subscribe!