Millions of dollars are flowing to Marion County addiction treatment services, providing what many longtime workers in the field say is the biggest expansion of services they've ever seen.
Marion County health providers will receive about $20.1 million this year in new state money, allowing the county, Bridgeway Recovery Services and other local providers to expand detox services, care for jail inmates, add counselors and do more proactive outreach to get people into treatment.
Polk County organizations will receive about $3.3 million out of a total state allocation of $276 million.
"We have never seen this kind of funding pour into addictions treatment and support," said Teri Morgan, the addictions treatment services program manager for Marion County Health and Human Services, who's been in the field for 27 years.
Long-awaited funding
The money comes after a slow and much-criticized rollout of Oregon's Measure 110, the voter-approved ballot measure in 2020 that decriminalized possession of user quantities of illegal drugs and directed a portion of the state's marijuana tax revenue toward expanding services.
A council managed by the Oregon Health Authority selected the grants, which are intended to ensure every county in Oregon provides 24/7 screening for addiction treatment, as well as related services like supported employment, peer support and harm reduction.
"It has put a lot of money and resources into a very under (re)sourced behavioral health system," said Tim Murphy, CEO of Bridgeway Recovery Services, a nonprofit addiction treatment center based in Salem. "Oregon has struggled for years funding behavioral health and particularly addiction treatment."
Each county's grantees form a Behavioral Health Resource Network which meets regularly to discuss and coordinate services.
"For years, providers have been working in silos, and the way we were reimbursed, paid, was also pretty siloed," Murphy said.
Marion County's share of the money is split between six organizations. Bridgeway, which will receive about $11 million, and the county, which is getting $6.4 million, account for the bulk of it.
Also included are Ideal Option, a private medication-assisted treatment center with a Salem clinic; Iron Tribe Network, a Gladstone-based nonprofit providing peer support and housing; HIV Alliance, a Eugene-based nonprofit providing harm reduction services including a needle exchange, where people using injected drugs can swap dirty needles for clean ones; and Pathfinder Club of Oregon, which will provide peer support and mentoring.
Services beyond insurance
Providers said the money will make possible a shift in the way they provide services.
Currently, most addiction treatment is based on a fee for service provided. Organizations like Bridgeway or the county bill a patient's insurance, often Oregon Health Plan, for appointments or medications.
But with grant money available, it's easier to do outreach work to bring people into treatment — a service not covered by insurance — and dedicate time to helping them address other issues impacting their addiction, like housing.
"That's something the health care system has really struggled to fund over the years," said Ryan Matthews, Marion County's health and human services administrator. "It lets us be creative. People are complex individuals. They have a lot of unique needs."
For the county, that means hiring seven more full-time recovery mentors. Four will be assigned to mobile crisis response teams which the county plans to roll out next year, responding to some emergency calls related to people in crisis.
The other three will supplement existing county programs.
Morgan said those expansions will allow people who are ready to get help with addictions to access treatment when they're ready, instead of having to wait until the next day.
"That window of opportunity when someone is asking for help is so important," Morgan said.
The county is also hiring three full-time supported employment specialists, workers to help people in treatment find jobs and gain employment skills. It's a program the county has run for people with mental health conditions that make finding work difficult, but it's never been available as part of their drug treatment services.
Carol Heard, the county's addiction treatment services division director, said they'll also be able to treat people who have health insurance but still can't afford care because of high deductibles or coinsurance on their plans.
Now, she said, the county will still bill insurance, but won't pass along coinsurance or deductible costs to clients.
Without the extra funding, "we wouldn't be able to serve those clients," she said.
At Bridgeway, about half the grant money, $6 million, will go toward an expansion and relocation of its detox center, allowing it to serve 40 patients instead of 27. It's the only detox center in Marion, Polk, Linn and Yamhill counties.
The new facility will be part of Bridgeway's new campus on Northeast Front Street which opened earlier this year.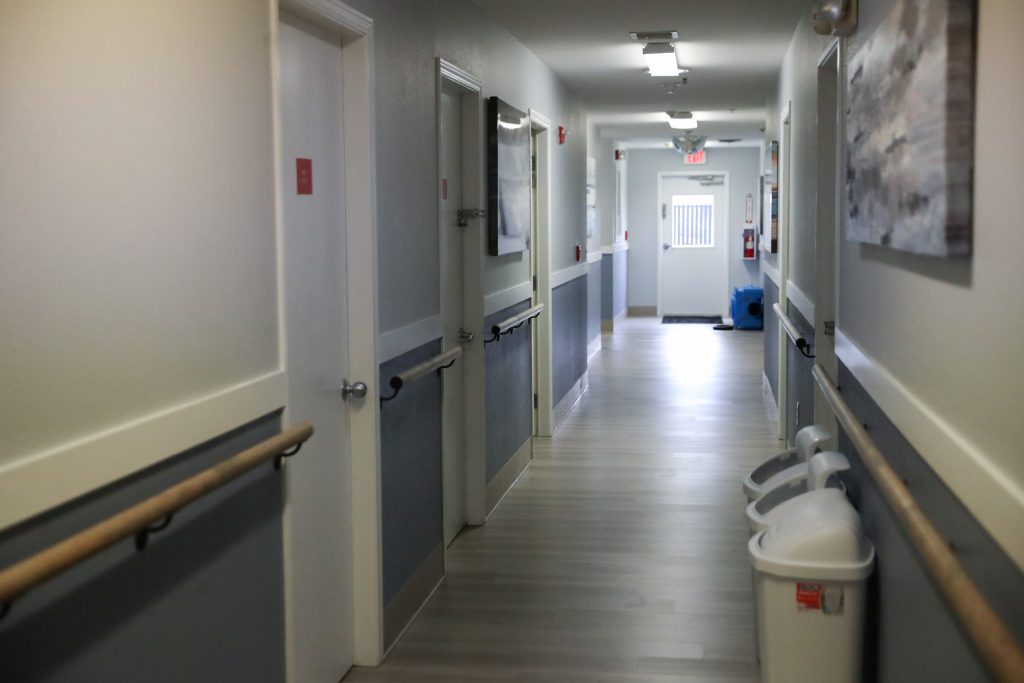 Bridgeway owns the land debt-free and plans to begin construction on a building in 2023, with completion in 2024.
The treatment provider is also using the former home of its men's treatment center as a stabilization center, providing short-term housing for up to eight people who have completed detox but are waiting for a bed in an inpatient treatment program or housing to open up.
"We tend to struggle to find decent, safe, clean and sober housing," Murphy said.
Bridgeway is also debuting a new program called Bridgeway Community Connect which will help people address other needs that might be barriers to treatment or sobriety, like domestic violence, a lack of housing or other basic needs. That means more workers who will help connect Bridgeway clients to other services in the community — the sort of work that insurance programs don't cover.
"If people need certain things we can get it for them. When people need your transportation. We can help them arrange that. People need childcare, we can help them get that, which isn't something that we would normally traditionally do," Murphy said.
Addiction help in jail
Ideal Option is kickstarting a medication-assisted treatment program at the Marion County Jail, allowing people in custody to start treatment rather than suffering from withdrawal.
"We will make sure that they have an appointment for when they get out," said Josh Lair, the Salem-based community outreach coordinator for Ideal Option. The program got a $924,000 grant from Measure 110 funds.
Lair said offering jail treatment will help break the cycle where people addicted to opiates go into withdrawal while in jail, are released from custody and immediately seek out drugs to make withdrawal symptoms go away. That cycle can be deadly as people lose tolerance while in jail.
"People overdose all the time because they think they can use the same amount of opiates they were using prior to going into custody," he said.
The goal is to launch in January.
Ideal Option is hiring two nurses who will work with an existing provider to offer treatment to "as many (people) as they will give us," Lair said.
Contact reporter Rachel Alexander: [email protected] or 503-575-1241.
JUST THE FACTS, FOR SALEM – We report on your community with care and depth, fairness and accuracy. Get local news that matters to you. Subscribe to Salem Reporter. Click I want to subscribe!
Rachel Alexander is Salem Reporter's managing editor. She joined Salem Reporter when it was founded in 2018 and covers city news, education, nonprofits and a little bit of everything else. She's been a journalist in Oregon and Washington for a decade. Outside of work, she's a skater and board member with Salem's Cherry City Roller Derby and can often be found with her nose buried in a book.