America Lopez knows looking for an apartment in Salem is a full-time job.
She spends the day hunting for rentals on behalf of the roughly 10 women she works for at the Center for Hope and Safety.
Lopez is a housing advocate, part of a team of five who negotiate with landlords and help women who have fled domestic violence complete rental applications and secure help with deposits and other costs.
"As soon as we see something that's affordable they have five to 10 applications on that unit," Lopez said.
Across Salem, a tight housing market with few affordable rentals means women are staying longer in local shelters, and the agencies running shelters are spending more staff resources trying to help people find housing.
That comes as Salem already has an unusually high share of homeless women, counter to state and national trends.
Advocates have said a lack of women's shelter space is one reason for the trend — and longer shelter stays mean fewer beds available to get women off the streets. Domestic violence is a major contributor to women's homelessness, and survivors often face additional challenges finding housing when abusers have taken identifying documents, caused survivors to get evicted or forbidden them from working or having their own bank accounts.
The Center for Hope and Safety opened a larger shelter, Mosaic, in a converted motel late last year.
One year later, the average length a woman of family stays there has nearly tripled, from three to four weeks to an average of two or three months, said Sara Brennan, program manager. Finding housing is typically what keeps someone from moving out sooner.
The problem isn't unique to the Center for Hope and Safety.
"Housing is the biggest challenge right now for us. We get our ladies on every housing list that opens up," said Jerri Hunt, the restorative services manager for Simonka Place, a women's shelter run by Union Gospel Mission.
Simonka Place currently has 55 women and 15 children staying there and is almost always full.
"Many women here are working two jobs but still aren't able to make it," Hunt said.
The shelter typically has women staying four to six months, but Hunt said it's increasingly common for stays now to last a year or more because women are unable to find housing they can afford.
The shelter's longest resident has been there a year and a half awaiting a place she can afford to rent.
"There's nothing else we're able to do for her," Hunt said.
She estimated about 40% of the women staying at the shelter are homeless solely because they can't afford market rental prices. The problem has worsened in the past year, she said.
Safe Sleep, a low-barrier women's shelter operated by United Way of the Mid-Willamette Valley, opened in 2019 as an emergency shelter. That meant women were expected to stay 90 days or less, shelter manager Lynelle Wilcox said.
Since the pandemic started, they're operating instead as a transitional shelter, because Wilcox said it generally takes more than 90 days for women to get stable and save money for an apartment or address other issues that led to homelessness.
"It kills me when people say, 'You know there's services, there's housing,'" she said. "Even when you do all those things, maybe you have an appointment with your counselor once a week if you're lucky. You're still homeless. Maybe you're in outpatient recovery. You're still homeless. Maybe you've signed up for every waitlist there is…there's no place for people."
Their longest resident has been at Safe Sleep a year and a half waiting for her name to come up on multiple waitlists for affordable units.
"The stays are pretty long, even when people are doing something to move forward. It's like you're in this purgatory while you're doing what you can," Wilcox said.
A challenging market
Lopez's job apartment hunting at the Center for Hope and Safety didn't exist five years ago.
When her supervisor, Tara Stephen, started with the Center for Hope and Safety in early 2018, the nonprofit had a shelter team that did a little work with housing, providing up to $250 to help with deposits.
Soon after, Jayne Downing, the Center's executive director, applied for their first funding to work on housing specifically. Stephens and one other employee became the first housing team.
They've added workers since, as the need has grown. Now, Stephen said it would be difficult for many of their clients to find a rental without a dedicated advocate.
Lopez and other housing advocates rely on several programs to help the women they work with find housing.
One is rapid rehousing, federal money that helps people without stable housing cover application costs, a deposit and initial rent until they get on their feet.
The Center for Hope and Safety received about $600,000 in federal grants for their rapid rehousing program earlier this year.
Lopez said some of her clients have a job and are able to support themselves or will be with some initial help to get into a unit. Sometimes, she has to offer landlords more than the several-thousand dollar deposit they're seeking on apartments to convince them to take a chance on a client who may have a poor rental history.
Others are waiting for housing vouchers through Section 8, a federal program administered by the Salem Housing Authority which pays rent directly to a landlord for low-income tenants.
A voucher is a huge help toward finding housing, but the amount of rent it will cover is capped by federal policy and often below market rental rates.
For most of Salem, the monthly payment for rent on a one-bedroom apartment is $970, and a two-bedroom is $1,245. Those amounts are set to increase Dec. 2 to $1,075 for a one-bedroom apartment and $1,369 for two bedrooms.
Those are the maximum amounts allowed by federal policy for the city, said Melanie Fletcher, assistant housing administrator of operations for the housing authority.
Meantime, the Salem metro area's median rent was $1,550 in September, according to rental site Dwellsy. Under Oregon's rent control law, most landlords can raise rent a maximum of 14.6% in 2023.
"We are doing what we can to try and match the rental market, so voucher holders do not encounter additional barriers when attempting to secure rental housing – but unfortunately rents have increased so rapidly in the past few years that it's difficult for us to keep up," Fletcher said in an email.
The wait for a voucher can be years long, though the housing authority has some earmarked for domestic violence survivors which can be given to clients more quickly.
Lopez said the survivors she works with typically need two weeks to two months to find housing, but that timeline can be longer if they have a voucher or are awaiting one.
She recently worked with a survivor who was a senior on a fixed income.
A unit became available for seniors while Lopez was still awaiting word on the survivor's housing voucher, but their application was denied because the voucher was still pending.
Lopez emailed the screening company asking if they could put the application on hold, and got approval to pay more for a deposit. But that still wasn't enough until the voucher actually came through several weeks later.
That meant the survivor spent a little over three months at the Mosaic shelter, with about a month and a half on the housing search.
"Had the survivor not gotten that voucher, we were really concerned about their ability to find housing on their own because they're 80 years old, they're on a fixed income and they don't have the ability to increase that income, so not making three times the rent is going to be the reality," said Stephen.
More housing needed
More affordable housing is the long-term solution Center for Hope and Safety advocates say is badly needed to help the women they serve, and others without housing in Salem.
They're kicking off a downtown affordable housing project, HOPE Plaza, which Downing said they're hoping to open in the spring of 2024.
The $14.2 million project will have 20 affordable apartment units at 450 Church St. N.E., next to the Center's current headquarters.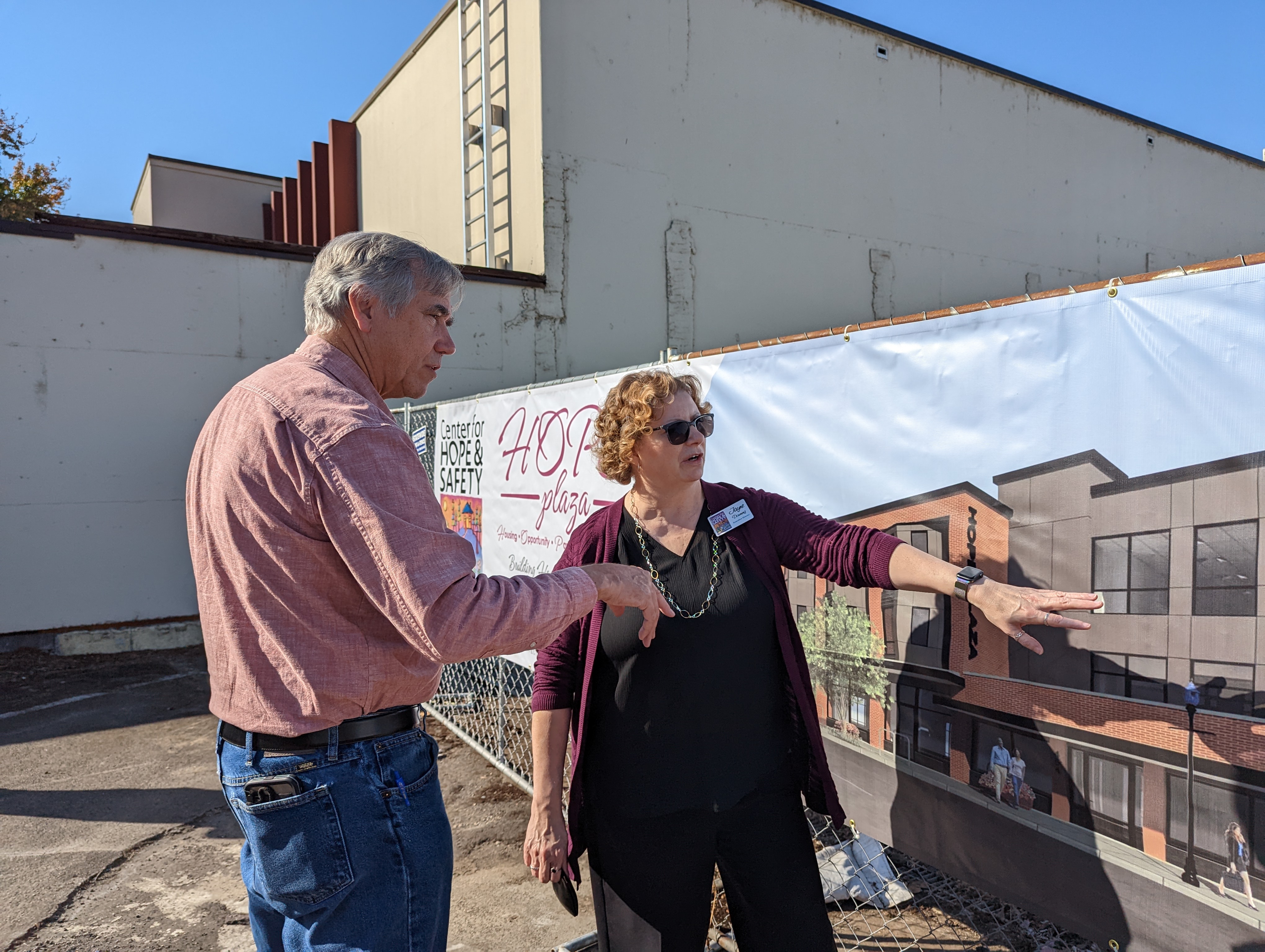 It came together with a $2 million federal allocation secured by Oregon Sens. Jeff Merkley and Ron Wyden, as well as over $7 million from the Oregon Legislature. Following a March groundbreaking ceremony, Downing said construction has been delayed by federal paperwork required before they can begin, but they're planning to begin work this week.
"We see a lot of benefit from the low-income units in town," Stephen said, referring to other housing projects operated by Salem Housing Authority and The ARCHES Project.
At the Mosaic shelter, the Center's housing team is considering getting a bell they can ring every time someone gets housed.
"We love what we do," Lopez said. "The fun part comes when they move and we get to help them find furniture and find stuff so they can call their place their home."
Contact reporter Rachel Alexander: [email protected] or 503-575-1241.
JUST THE FACTS, FOR SALEM – We report on your community with care and depth, fairness and accuracy. Get local news that matters to you. Subscribe to Salem Reporter. Click I want to subscribe!
Rachel Alexander is Salem Reporter's managing editor. She joined Salem Reporter when it was founded in 2018 and covers city news, education, nonprofits and a little bit of everything else. She's been a journalist in Oregon and Washington for a decade. Outside of work, she's a skater and board member with Salem's Cherry City Roller Derby and can often be found with her nose buried in a book.