Many animals are fruit eaters, from ants to grizzly bears and elephants. In the bird world there are fruit specialists like the huge-beaked toucans. 
Here in the Willamette Valley fruit is prized by several species. Robins, bluebirds, sparrows and finches, even our black phoebes. Birds of the World online says this about the phoebe's feeding: "Small fruits in fall, winter, and spring, especially during unfavorable weather."  This is noted because the phoebe is in the "flycatcher" family, so you might assume they only eat insects.
Of all our local fructivores, none is more elegant, more dedicated, more visually compelling than the cedar waxwing. First, you never see just one, or two, in cold months. There's always a flock this time of year. Recently I found hundreds of waxwings feeding in the many fruitful hawthorn trees around the Yamhill municipal sewer ponds. The next day photographer Blake Nolan showed up there. The waxwings were still feeding. He got the pictures you see here.  
Full disclosure—the waxwings were not simply enjoying a gourmet fruit feast.  They were getting a little inebriated. The hawthorn fruit had begun to ferment. Waxwings flew top speed past our heads, our gawking mouths, our knees. In more sober moments this is a bird that would not let you within thirty feet. They were having a serious hawthorn harvest party.  
A smaller band came into our Salem garden, ate all the fruit on our cottoneaster, and left within an hour. They'll be back next year.
The hawthorn is one of several local fruit-bearing plants that have waxy-coated fruit. That means the fruit lasts longer, ferments, but does not dry up or rot. Soft fruits are mostly gone by now: cherries, blueberries, marionberries, blackberries, grapes. Their soft skins do not hold up well with cold and rain and insect punctures. Tougher skins and waxy coating mean that some plants bear fruit that hangs around longer in the wild: hawthorn, madrone, pyrancantha, Oregon grape, osoberry, snowberry. Birds may find fruit on these or similar plants in mid-winter.
It is the fruity diet that give the waxwing that name. They devour lots of waxy fruit. Then they secrete some of that wax through the skin onto feathers where the reddish stuff can form small globules on the wing feathers. Wax wings. The hawthorn contributes its wax to those wings.
These birds often fly around in tight groups. Then suddenly funnel down into a thicket or tree. We have few birds that fly in such tight formations over dry land. Watch for them.
If you want to drink a toast to the waxwings, the Internet is loaded with recipes for making hawthorn wine. Salute!
 Read more about native hawthorns:  https://treespnw.forestry.oregonstate.edu/broadleaf_genera/hawthorn.htm
For information about upcoming Salem Audubon programs and activities, see www.salemaudubon.org, or Salem Audubon's Facebook page.
Harry Fuller is an Oregon birder and natural history author of "Freeway Birding." He is a member of the Salem Audubon Society. Contact him at [email protected] or atowhee.blog. His "Some Fascinating Things About Birds" column appears regularly in Salem Reporter.
JUST THE FACTS, FOR SALEM – We report on your community with care and depth, fairness and accuracy. Get local news that matters to you. Subscribe to Salem Reporter. Click I want to subscribe!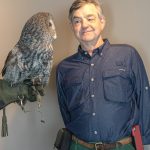 Harry Fuller is an Oregon birder and natural history author of three books: "Freeway Birding," "Great Gray Owls of California, Oregon and Washington," and "San Francisco's Natural History--Sand Dunes to Streetcars." He leads birding trips for the Malheur Field Station. He is a member of the Salem Audubon Society, and leads bird trips locally. Harry has just published a new book, BIrding Harney County.