Marion County Sheriff's Office is investigating a suspicious fire found behind the Safeway at 3380 Lancaster Drive NE in Salem on Oct. 3.
The fire was reported to the sheriff's office, who responded with Marion County Fire District #1. According to a Thursday morning press release, the fire started with some bushes in the alleyway behind the Safeway, and quickly spread to a travel trailer at a nearby RV park. Nobody was hurt in the incident. 
"Detectives are seeking information from anyone who may have any information as to how this fire started. Also, detectives are looking for information regarding a white Scion TC which was seen in the area moments before the fire," the release said. Detectives are interested in talking with those who were in the vehicle to see if they have any information.  
Anyone with information regarding this investigation is encouraged to call Detective Remmy with the sheriff's office at 503-566-6931. 
Contact reporter Jordyn Brown at [email protected]
JUST THE FACTS, FOR SALEM – We report on your community with care and depth, fairness and accuracy. Get local news that matters to you. Subscribe to Salem Reporter. Click I want to subscribe!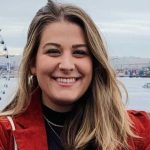 Jordyn Brown is an Oregon journalist who formerly worked for the Eugene Register-Guard.