Salem-area residents have been experiencing issues of mail theft, reporting break ins of mailboxes for apartments and townhouses, even those with locks.
However, officials say they have not seen a rise in theft in the area or nationally, and have tips for people who are affected by the crime to take precaution and help investigations.
"Mail theft is one of those things that happens on a relatively regular basis," said Adam Sale, Postal Inspector for the U.S. Postal Service out of the Seattle Division. "There are a lot of ways that our customers can protect themselves from mail theft, but as far as what's happening we don't see a spike on any level – local, state or national at this point."
According to the 2021 USPS investigative report, there were 1,079 cases of mail theft investigated, leading to 1,511 arrests and 1,263 convictions nationally.
Recent reports shared with the Salem Reporter from residents state there have been multiple mailboxes broken into and vandalized in recent weeks.
Shannon Nelson, who lives in south Salem in the Battle Creek area, said she and her husband first noticed mail being stolen on Labor Day weekend, and they reported it.
"When we talked to the post office people they said that they were already aware that there was a problem and that somebody had made a key to open the front of the mailboxes," she said. Nelson said their mailbox is a large mailbox for their whole community on the road which has individual slots for each home. A key opens the back of the box and gives access to all the slots.
This became a major concern for her and neighbors because she said she was told by postal service workers that six or more community mailboxes in this one area of Salem all have the same master key.
Nelson has since been working to spread the word with neighbors while hoping for some action from the postal service, but said Monday she has not seen any change yet to the locks or other action. In the last week alone, two of her neighbors have had more mail stolen, leading to a case of mail fraud for one. Mail theft becomes mail fraud when the mail is used in another crime, such as taking out a credit card in the resident's name.
"My husband and I are expecting a baby, and so come January, we're going to be ordering birth certificates and social security cards and we can't deliver those to a P.O. box. So what do we do?" she said.
Nelson is also concerned about ballots for the November election getting stolen as well, or not being received because so many submit their ballots by mail.
"Mail theft is a reality all over the community," said Angela Hedrick, Salem Police Spokesperson, in an email.
Salem Police take reports on the crime of mail theft through the non-emergency line at 503-588-6123 under option 1. "If there is no suspect in the incident (e.g., video or a named person), then the report is taken by staff in the Telephone Reporting Office," Hedrick said. "Our staff also remind residents to contact their nearest post office location."
Hedrick said police also proactively route those reports to the local postal inspector.
"There are ways to report mail theft and mail fraud (to USPS) online, but the best thing that (people) can do is prevent being a victim to begin with," Sale said. "We encourage our customers to pick up their mail every day. Don't leave it in the mailbox overnight."
Sale said mailboxes can become targets at night, especially if mail is left unattended and not picked up for days at a time.
"We really encourage customers who are going to be gone on vacation or if you're gone for multiple days in a row that they utilize the mail hold feature (through USPS)," Sale said. "Again, you don't want to have mail sitting in a mailbox overnight if you can help it, so the least amount of time you can have mail in the mailbox, the better."
Mailboxes are protected by federal law and crimes against mailboxes (and the mail inside) are investigated by Postal Inspectors, according to the USPS website. Convictions of destruction of federal property could carry up to to three years in jail and fines up to $250,000.
"Every mail theft is as important as any other mail theft," Sale said. "We investigate every one of them as long as we can with the resources we have available to us. So when I say that, it's not a growing problem, that's really not important to us. What's important is that every single mail theft is a customer that suffered a loss, and so we try to investigate every one of those."
But Sale said that without leads, it can be difficult to track the mail and investigate it.
"When customers call us and say, 'Hey, my mailbox was broken into,' absent other leads, there's really not much we can do. But if they say 'hey, my mailbox was broken into two weeks ago, and now I have a credit card in my name that I didn't apply for,' that's when we can start looking into it and figuring out what happened and who the culprit was," Sale said.
Nelson said since they have already reported the mail theft, and there's awareness of the issue, she hopes USPS will take action for her neighborhood soon such as replacing the lock, having a touchpad key, placing cameras on the mailbox, or other methods.
"If something can speed up the process of something being done, that would be great," she said.
When asked about how USPS handles issues such as master keys being made, he said the USPS Inspection Service "does not talk about ongoing investigations to protect the integrity of the investigations. We have a number of techniques we employ in our investigations that address all of the ways a mailbox is targeted."
He urged people to take the precautions against mail theft as mentioned. 
Contact reporter Jordyn Brown at [email protected].
JUST THE FACTS, FOR SALEM – We report on your community with care and depth, fairness and accuracy. Get local news that matters to you. Subscribe to Salem Reporter starting at $5 a month. Click I want to subscribe!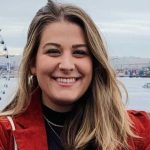 Jordyn Brown is an Oregon journalist who formerly worked for the Eugene Register-Guard.