Kelsey Quinn's grandparents came to Salem because of a travel ad in Sunset magazine.
The Oregon Highway Department — the precursor to Oregon State Parks and the state Department of Transportation — ran such ads routinely starting in the 1930s, intended to draw travelers to the state and show off the state-of-the-art highways.
Quinn, a third-generation Salemite, said her grandmother persuaded her grandfather, a civil engineer, to pack up their Massachusetts home around 1960 and move across the country, sight unseen. Her grandfather went on to work for the very department whose ads lured his family to the Northwest.
Now, Quinn, a senior records manager for the state archives, is assembling a collection of the images produced by the Highway Division more than 80 years ago for a special display at the Oregon State Fair this year, called "Viewing Oregon."
For her, the ads represent a little-known but important chapter in Oregon's history.
"If my grandma didn't see that ad, I wouldn't exist," Quinn said. "I highly doubt we were the only ones who came here because of these ads."
The images date from the era when the same state agency was responsible for both Oregon's parks and its highways. Samuel Boardman, the first state parks superintendent, made a point of including vehicle pullouts in many state parks where motorists could pull over and take in the view, said Carla Axtman, managing editor of the Oregon Blue Book for the archives.
"They wanted people to come on the road and see these places," Axtman said.
Many of the images feature cars prominently, including a shot of a car on the beach at Hug Point in Clatsop County.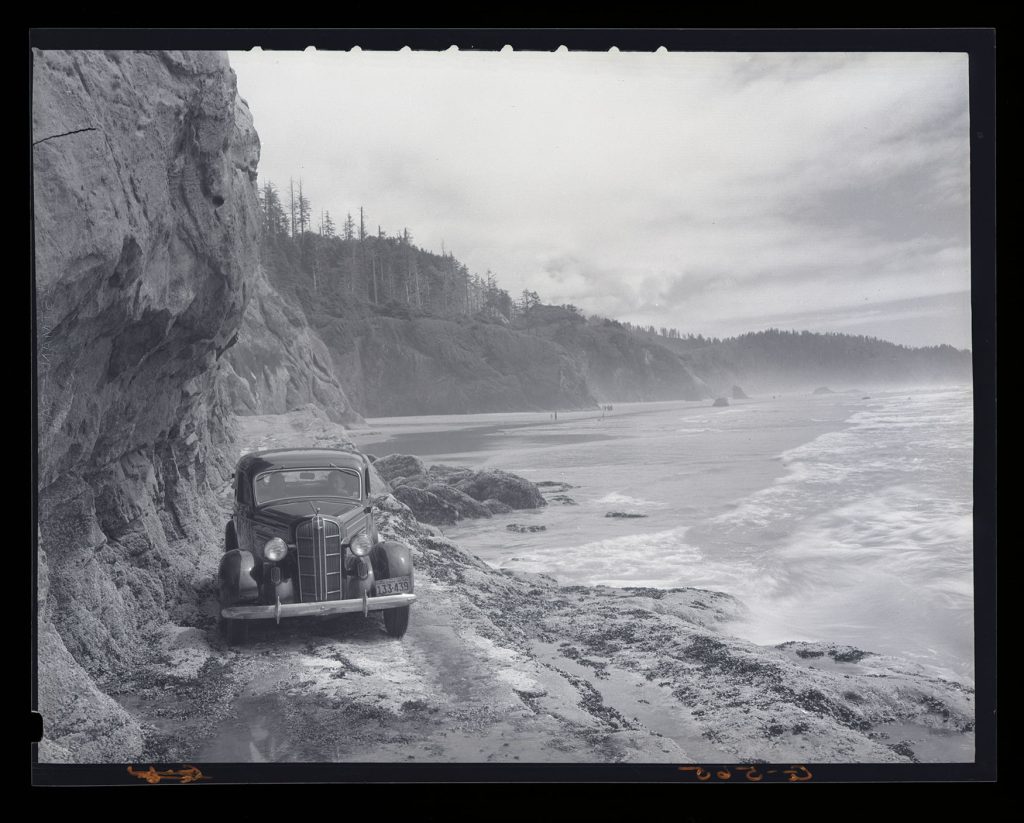 The images are a chance for the archives' employees to explain the work of historic preservation to the public. Quinn said she hopes the exhibit will show Oregonians that the state archives isn't just a warehouse of aging documents recording the minutiae of government business.
As the official repository for state government records, the archives also preserve images taken by state agencies for a variety of purposes, from documenting Oregon's agricultural production to surveying and promoting the state's highways.
"A lot of people don't realize we have a lot of really amazing photographs," she said.
The state highway collection contains thousands of images, about 2,000 of which have been digitized and are searchable in the agency's online database.
Because the archives is a state agency, their collections are freely available to the public. The exhibit includes reference numbers for featured photographs so Oregonians who spot an image they like can reach out and get a copy for free.
"Honestly, there's a couple hanging in my house because I'm obsessed," Quinn said.
The images project a particular vision of Oregon, with the travelers uniformly white and middle-class. In one, a couple with a young boy gazes on Mt. Hood from a roadside pullout. A trio of attractive young women in bathing suits pose on a rocky outcropping at Cape Kiwanda. Another features a group of young men and women roasting marshmallows over a beach fire on the coast.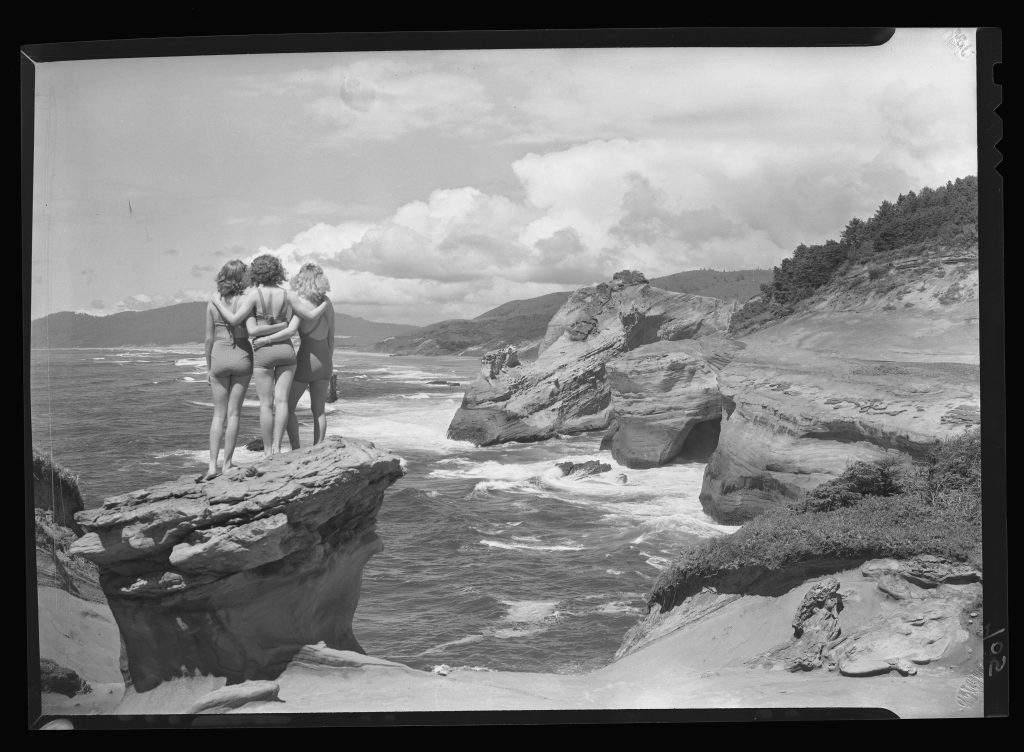 In an era before cameras were widely available or affordable to average Americans, Quinn sees the idealized road trip images taken by state workers as a precursor to today's influencers who post selfies from vacation destinations.
"It's almost this Instagram of the 1930s," Quinn said. 
One image in the exhibit shows a couple at Paulina Peak, with the man chipping away with a rock hammer as the woman looks on in a miniskirt and sandals.
"Why is she dressed like that looking for fossils?" Quinn said, laughing.
The exhibit will be on display at the state fair in the Creative Living building. The fair runs from Aug. 26 to Sept. 5 at the state fairgrounds in Salem.
Quinn said the archives tries to pick exhibits that will draw people in, often because they recognize a location depicted in the photos featured.
Some of the featured photos have visible damage from the negatives degrading over time, which shows as blue tinted areas. Quinn said those images let her and other archivists explain to the public why preservation is important. Without trained archivists recording and preserving them, film negatives would eventually become unusable.
"I like to show that if these hadn't come to us, they would be lost to history," she said.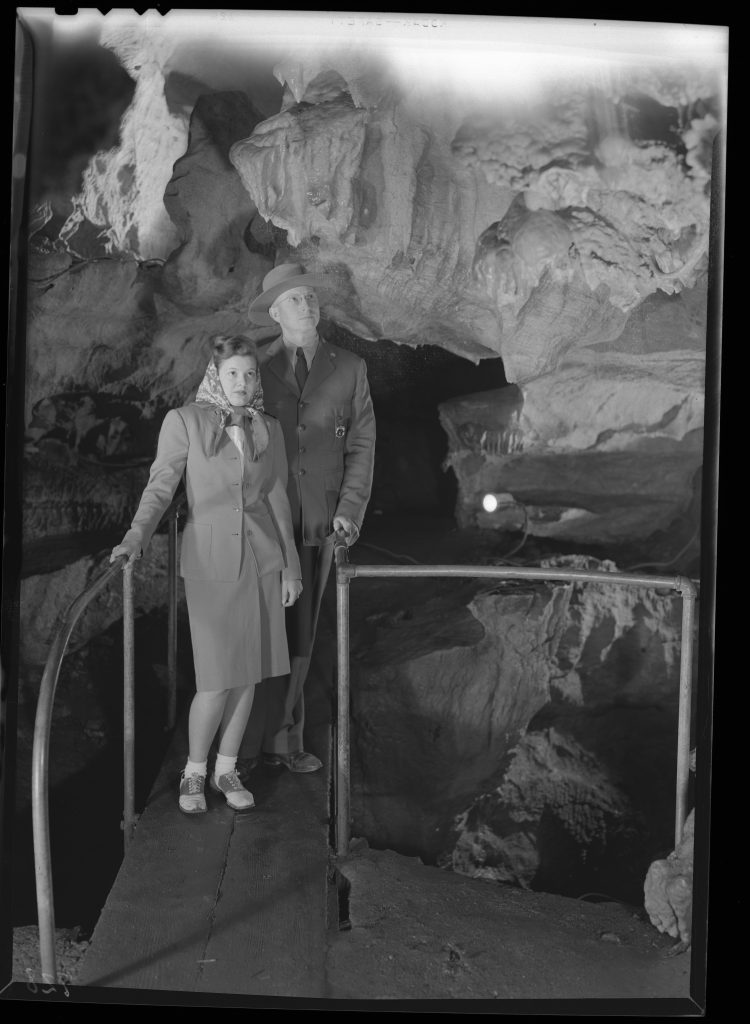 Contact reporter Rachel Alexander: [email protected] or 503-575-1241.
JUST THE FACTS, FOR SALEM – We report on your community with care and depth, fairness and accuracy. Get local news that matters to you. Subscribe to Salem Reporter starting at $5 a month. Click I want to subscribe!
Rachel Alexander is Salem Reporter's managing editor. She joined Salem Reporter when it was founded in 2018 and covers city news, education, nonprofits and a little bit of everything else. She's been a journalist in Oregon and Washington for a decade. Outside of work, she's a skater and board member with Salem's Cherry City Roller Derby and can often be found with her nose buried in a book.