Determined not to let their planned wedding day be disrupted by the pandemic, Alex Younger and Sara Foreman found a venue in a West Salem home, keeping to the June date they set long ago. (Ron Cooper/Salem Reporter)

Weddings, funerals, baptisms, and confirmations, events that traditionally bring families together, have been put on hold during the COVID pandemic, but, with restrictions loosened in Oregon, two Oregon residents found a way to tie the knot.
Monmouth resident Sara Foreman and Alex Younger of Oregon City met in June 2019, and planned a wedding exactly one year to the day after their first meeting, but the coronavirus pandemic and lockdown put their plans in doubt.
As the June date grew near, all churches and other traditional wedding sites were off limits for such gatherings.
When Gov.Kate Brown began a gradual easing of COVID restrictions, it was almost impossible to find a site for the event.
That's when Foreman's sister, Christie, and Christie's husband Scott Miley, reached out, suggesting a possible location. Scott's mother, Sharon, had hosted another wedding at her West Salem home and garden and it was chosen as the site of the June wedding on schedule.
The wedding was a family only celebration , and combined the pair's seven children into a single family.
Contact Salem Reporter by email at [email protected].
SUPPORT SALEM REPORTER'S JOURNALISM – A monthly subscription starts at $5. Go HERE. Or contribute to keep our reporters and photographers on duty. Go HERE. Checks can be sent: Salem Reporter, 2925 River Rd S #280 Salem OR 97302. Your support matters.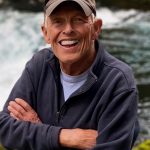 Photographer Ron Cooper and his wife Penny moved to Salem in 1969 to take a job as photographer at the Oregon Statesman (later the Statesman Journal). Their three children, Monica, Kimberly, and Christopher, attended and graduated from Salem public schools. Cooper retired from the Statesman Journal in 2001 but, has continued his passion for photography in many ways, including as a photographer for the Salem Reporter.