New gallery shows are up across Salem, and there are several artist talks and demonstrations throughout November to learn more about the work going up on the walls. This month, exhibitions feature plantation workers in Hawai'i, entries into a statewide wildlife art contest and woven art.
Salem Art Association
600 Mission St. S.E.
Hours: Wednesday-Friday, 11 a.m. – 5 p.m. and Saturday-Sunday 12 – 5 p.m.
Admission: Free
PLANTATION WORKERS IN HAWAI'I: Golden Fruit
Nov. 3 through Dec. 24
Reception: Friday, Nov. 10 from 5:30-7:30 p.m.
Artist talk: Sunday, Nov. 19 at 2 p.m.
Kanani Miyamoto's large-scale prints use Japanese and Hawaiian imagery to explore the history of plantation workers in Hawai'i. Miyamoto earned a MFA in Print Media at the Pacific Northwest College of Art, and works as an artist, curator and educator. She lives in Portland, but is originally from Honolulu, according to the Salem Art Association.
"Important to her work as an artist is sharing and celebrating her unique mixed background in our contemporary art world in hopes to represent her community and the beauty of intersectional identities," her artist's bio said.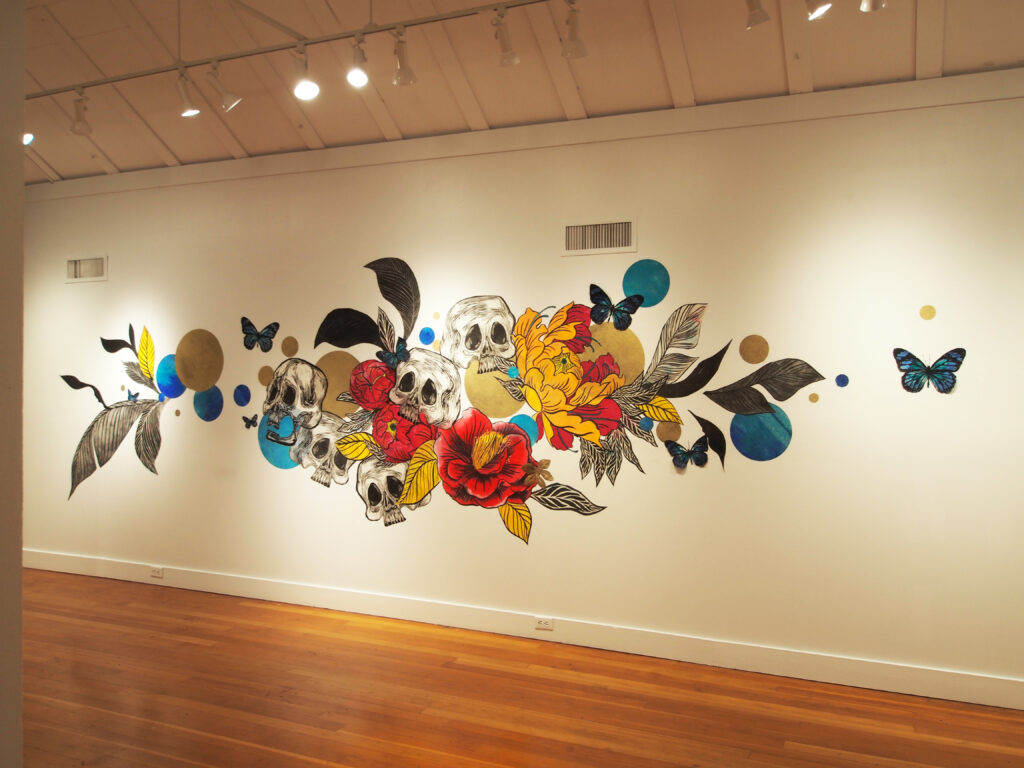 ART IN COMMON: PASSAGES
Nov. 3 through Dec. 24
Reception: Friday, Nov. 10 at 5:30 p.m.
When putting the "passages" exhibit together, curator Kathleen Dinges Rice wanted to put together two artists who have known each other for a long time, but hadn't worked together, according to her curatorial statement.
Sara Swanberg's handmade rivers of wood and clay are displayed alongside Doug Dacar's sculptures. Rice said their work relates strongly but informally.
"There seem to be common themes, common sensibilities, and common conversations that are happening, although never with each other," she said.
VIRTUAL ARTIST TALK: Coming Home: My Introspective Creative Practice
Friday, Nov. 3 from 6-7 p.m.
Free virtual event. Participation information.
Seattle-based film photographer and zine artist Eboni Wyatt will discuss the creative process behind their 2022 project "coming home." The zine includes black and white film photography and prose.
The talk is part of the Salem Art Association's Queer Artists Series, and Wyatt will talk about their life as a Black, queer, nonbinary artist, according to the event description.
WILDLIFE STAMP CONTEST: Oregon Department of Fish & Wildlife Art Contests
Saturday, Nov. 4, from noon to 4 p.m.
Free event at the Bush Barn Art Center
Oregon artists have submitted their work to be considered for the next collector's Habitat Conservation Stamp, Waterfowl Stamp and Upland Game Bird Stamp. Around 60 works will be on display during Saturday's event.
This year's waterfowl stamp will feature the trumpeter swan, and the upland game bird collector stamp will have a gray partridge.
A panel will judge the entry's composition, anatomical accuracy and appeal, and winners will be announced at the event. The winning artist in each category will see their work produced on collector stamps and items benefiting state fish, wildlife and habitat, plus a $2,000 award.
Hallie Ford Museum of Art – Willamette University
700 State St.
Hours: Tuesday-Saturday, 12 – 5 p.m.
Admission: $8 General, $5 for seniors. Free admission for children up to age 17, educators and students with ID and museum members. Free admission on Tuesdays.
PRINTS FROM UMATILLA ARTISTS: Crow's Shadow Institute of the Arts Biennial
Through Dec. 2
The Crow's Shadow Institute of the Arts, located on the Umatilla Indian Reservation in northeast Oregon, is the only professional printmaking studio in a reservation community in the U.S.
The Hallie Ford Museum of Art is the repository for the studio's print archive, and hosts biennial exhibitions displaying the work of artists made at the studio.
This month, over 20 contemporary prints will be displayed. The exhibit includes work that artists Emily Arthur, Jeremy Okai Davis, John Hitchcock, Lehuauakea, Cory Peeke, Ralph Pugay, Wendy Red Star and Fox Spears made during recent residencies at the institute.
CELEBRATING 25 YEARS – Highlights from the Permanent Collection
Through Dec. 16
The Hallie Ford Museum of Art first opened in October 1998, and will celebrate 25 years by showcasing nearly 100 works from its permanent collection, including some on display for the first time.
The art on display comes from the Pacific Northwest and around the world, and spans from ancient to contemporary. The exhibit will also explore the history of the collection and the people who made it happen over the years.
There will be a series of lectures, films, gallery talks and activities in conjunction with the exhibition, the schedule is available online.
Salem on the Edge
156 Liberty St. N.E.
Hours: Wednesday-Thursday 11 a.m.-5:30 p.m., Friday-Saturday 11 a.m.-6 p.m., Sunday 12 – 4 p.m.; closed last Sunday of the month
Admission: Free
WHAT IT MEANS TO SIT: Featured artist M. Shoki Tanabe
Through Nov. 25
Artist M. Shoki Tanabe's mixed-media drawings reflect on the act of sitting.
"The situational act of sitting is myriad and complex in the purposes it serves, while functionally (if not paradoxically) it seems that we sit down either to rest or to work. It is the stopping of other actions we take that allows us the stillness to do one or the other," the gallery's statement reads.
Meet Tanabe at the gallery on First Friday, Nov. 3, from 5-8 p.m.
A NEW STORY: Guest artist Leonard Harmon
Leonard Harmon, of the Lenape Tribe of New Jersey and the Nanticoke Tribe of Delaware, comes from a long line of artists and craftsmen. He is mostly self-taught, and uses his art to celebrate his culture. He currently lives on the Confederated Tribes of the Siletz Indian Reservation.
"I like using older images to tell a new story of putting perspective on our history. As a newer artist, I like exploring all kinds of methods and mediums. Each new style I incorporate helps me express myself in a new way. I'm never scared to try new things and see where my mind takes me," he said in a statement to the gallery.
Harmon will be in the gallery on First Friday, Nov. 3, from 6-8 p.m.
World Beat gallery
390 Liberty St. S.E.
Hours: Tuesday-Friday 10 a.m. – 5 p.m. and Saturdays by appointment.
Admission: Free
A GLIMPSE INTO JAPANESE CULTURE: Windows to Japan
Through Dec. 8
An exhibit at the world beat gallery will give visitors a chance to learn about Japanese music, celebrations and ceremonies.
There will be craft activities and demonstrations throughout the month to accompany the exhibit. For more information or to sign up, contact the gallery at [email protected] or call 503-581-2004
Nov. 5, from 2-3 p.m. – Making a calligraphy fan, taught by Chieko Meyer. The class costs $5.
Nov. 18, from 2-4 p.m. – Origami demonstration and workshop by the Salem Origami Club. Free.
Nov. 25, from noon-2 p.m. – Vegetarian sushi roll workshop, with green tea served. Taught by Naomi Collete and Masumi Timson. The class costs $10.
Willamette Heritage Center
1313 Mill St. S.E.
Hours: Tuesday-Saturday, 10 a.m. – 4 p.m.
Admission: $10 adult, $8 seniors over 65, $6 students and children age 6-17
OREGON WEAVERS: Filaments
Nov. 17 through Jan. 31
A traveling exhibit celebrating filaments, the threads that come together in weaving and fiber arts, will arrive at its last stop in the Willamette Heritage Center this month. The exhibit promises a "visual feast" for art enthusiasts and fans of textiles.
"Whether for domestic use or as artistic expressions, the exhibit highlights the fusion of function and form through the choice of fibers," said a press release from the center.
The exhibit is sponsored by the Weaving Guilds of Oregon, called WeGO, and has been in six venues in Oregon this year from Bend to the coast. 

OPEN STUDIOS – Pre-Holiday Open Studios
Saturday, Nov. 11 from 1-4 p.m.
Free
The artists of Studios at The Mill will open their space to the public on Nov. 11. There'll be art on display, a chance to chat with the artists and options for early holiday gifts.
See the artists' work and social media here.
Salem Public Library
585 Liberty St. S.E.
Tuesday-Saturday 10 a.m. – 6 p.m. and Sunday 12-6 p.m.
Admission: Free
Oregon Black Pioneers: Racing to Change
Through Feb. 1
The library is featuring an exhibit about Oregon's Civil Rights Movement, focusing on the fight for equal rights and racial justice during the 1960s and 1970s.

The exhibit was developed by Oregon Black Pioneers, a historical society that researches, preserves and educates about Black history in Oregon. They've published an online version of the exhibit at the library here.
Update: This story was updated to include the open studios and Racing to Change exhibits.
Contact reporter Abbey McDonald: [email protected] or 503-704-0355.
SUPPORT OUR WORK – We depend on subscribers for resources to report on Salem with care and depth, fairness and accuracy. Subscribe today to get our daily newsletters and more. Click I want to subscribe!
Abbey McDonald joined the Salem Reporter in 2022. She previously worked as the business reporter at The Astorian, where she covered labor issues, health care and social services. A University of Oregon grad, she has also reported for the Malheur Enterprise, The News-Review and Willamette Week.